What is the most prominent thing you see while going to the office or on a road trip? Of course, there are a lot of people and vehicles too. But do they catch your attention? Probably not; then what is it? Well, one thing that really captures our attention is those eye-catching billboards, aren't they?
Yes, billboards are one of the oldest forms of advertising, but they are still very effective. This article is all about billboard advertising and how you can create impactful billboards for your target audience.
What is Billboard Advertising?
Billboard advertising (a category of out-of-home advertising) is a form of advertising where businesses advertise their products or services on billboards (also called hoardings in many European countries), an advertising structure around the roads or high traffic areas. Billboards typically serve a larger audience because they are placed on highways, roadsides, principal arterials, expressways, etc.
Typically brands opt for billboard advertising to launch a new product or service. In fact, startups also focus on billboard advertising for different reasons such as maximum reach, 24/7 availability, easy to notice, etc. Moreover, billboards are something very hard to neglect. That said, pedestrians or passengers are more likely to see a billboard at least once.
Billboard Advertising Statistics
There are no simpler words to say it, but billboard advertising is still one of the most effective forms of advertising. In fact, if you want to target a massive or general audience, billboard advertising should be a mandatory part of your marketing strategy. Here are some statistical figures to prove that billboard advertising is still a very impactful advertising practice.
More than 50 percent of people say that the billboards they saw were highly engaging.
While driving, almost 71 percent of people look at the billboards.
OOH (out-of-home) advertising consumes 6 percent of the total ad spending.
Currently, there are 342,306 billboards in the US.
On average, Americans spend 17,600 minutes in the car annually, which means they are more likely to see billboards around the roads.
There are 8000 digital billboards in the USA.
Every month, almost 83.3% of Australians interact with or see billboard advertising.
46% of people share a view that billboard advertising is the best way to bring new products to their attention.
74% of Australians see the billboards on a daily basis.
71% of the consumers remember the billboards they interact with daily.
57% of the customers believe that messaging on a billboard is more trustable.
How Much Does Billboard Advertising Cost?
The TOTAL cost of a billboard depends on certain factors including,
Location of the billboard
How many people pass by your billboard every day or every week?
How many people are estimated to see your billboard
What kind of audience passes by the billboard?
Billboard's size
Lease period duration
Production, design, and installation cost
Generally, companies have to pay for billboard advertising on a monthly basis. For instance, in the USA, a billboard advertisement on a highway may cost you around $250, whereas it can be around $22000 per month in Times Square. It is important to note that this is just the lease/rent cost.
Moreover, the construction and printing can dent your budget up to $500. Last but not least, the cost of the design, if you are outsourcing it, may stand somewhere between $150- $1000 depending on the designer and complexity of your expected design.
How To Make Your Billboard Effective (Tips)
Now we know that billboard advertising can consume your marketing budget pretty significantly. However, if you do it wisely, it can bring you business on a regular basis. Here are some effective tips to make your billboard advertising effective and eye-catching.
Short storytelling
Storytelling instantly sparks the idea that there will be a lot of words involved. But, modern storytelling is totally different, especially when we talk about billboards. Billboard viewers include pedestrians, drivers, and passengers; that means you have to be very precise and comprehensive at the same time. People don't have time to read long texts, so you need to focus on storytelling through visuals.
This billboard by Samsonite is a brilliant portrayal of storytelling without words. As you can see, the billboard suggests that Samsonite luggage lasts longer; longer than this billboard too.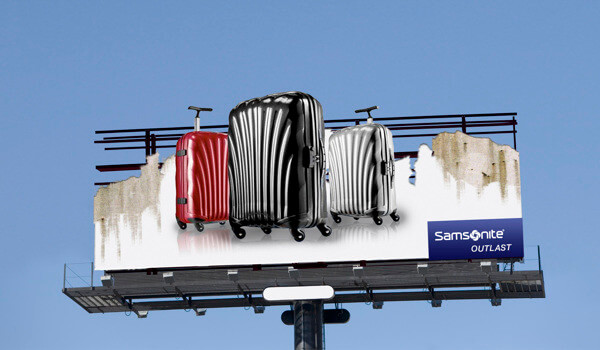 Always Select The Right Location
The location of the billboard plays a vital role in its effectiveness. It should reflect the location in different ways. For instance, you can take advantage of nicknames, sports teams, nuances, or even inside jokes of that specific area. These tactics make the billboards more attractive and relatable.
Here is a perfect example of the advertiser taking advantage of the location; have a look at this billboard in New York City, promoting the new Grinch movie.
Keep it Simple and Bold
Even if you are writing something on your billboard, make it simple, precise, and bold. Imagine someone is driving by your billboard at 70mph; do you think they will stop by and read your billboard? Well, I don't think so. Therefore, keep your design, text, and font simple but bold.
Moreover, color selection is also important for billboards so that they are easy to identify or differentiate. For instance, if you are installing a billboard in a rural area or countryside, try to avoid green, brown, and blue color.
Here is a great example of bold fonts and minimum text by Lamar;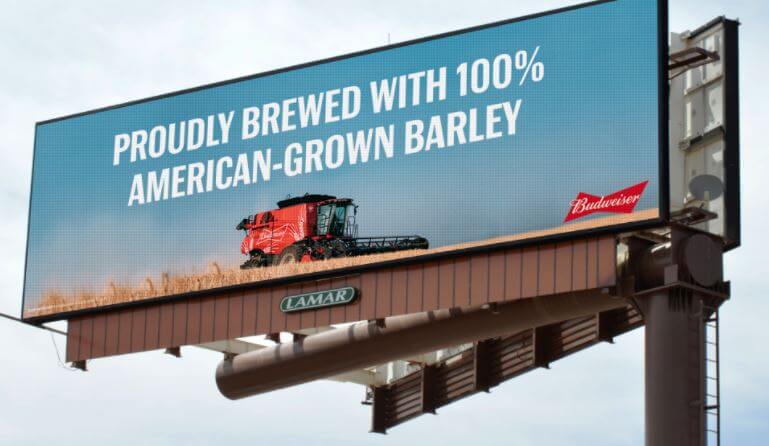 It Should Look Interactive
Alright, we have talked about taking advantage of the location. We can also make use of the surroundings and environment to make our billboard interactive. What if I tell you that brands have used sunlight to make their billboards look amazing?
Here is an excellent example from Koleston Naturals using the environment in the most effective way.
Make It Memorable
Billboard advertising is only effective if it leaves a long-lasting impression on viewers' minds. There are thousands of billboards around, and people cannot remember every single one unless it is unique. Moreover, if you can incorporate creativity with your product, it will be even better.
Have a look at this amazing billboard from Penline Stationery.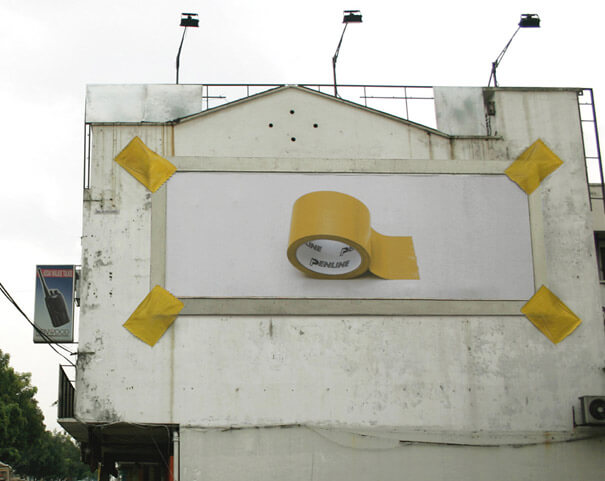 Advantages of Billboard Advertising
Well, we have talked about how important billboard advertising can be; here are some common benefits of billboard advertising.
24/7 Availability
How often do you see a TV or online ad, once or twice a day? The chances of more and more people seeing these ads are low. However, a billboard will be there 24/7 for at least a week, a month, or even more. How can you miss something that is in front of you all the time?
People See Billboards
People see billboards every day; it's as simple as that. In fact, our above-mentioned stats have also supported this fact strongly. Pedestrians, passengers, drivers, etc., everyone at least have a look at these billboards. If you have an eye-catching billboard, you have more chances to get maximum impressions.
Create Brand Awareness
Billboards may not be your go-to option when we compare it to getting responses from email campaigns, websites, or calls. However, they are vital in creating brand awareness. Billboards are viewed by hundreds and thousands of people daily. In fact, the same person may be seeing your billboard regularly. This prompts your potential customers to at least do their search on your brand, product, or service. Ultimately, billboard advertising helps you create brand awareness.
Location Customization
Another good thing about billboards is that you can install them in any location suitable for your business. For instance, if you think a specific town or county has more potential customers, you can install your billboard there. You can install them on freeway exits, busy intersections, etc., to get maximum reach.
Targets Different Types Of Audience
Billboards can be very helpful when you don't want to spend a hefty budget on identifying or researching niche target customer groups. You just have to install a billboard in a good location where it gets maximum reach; it will bring your potential customers to you rather than you trying to reach them. This can save a lot of time, energy, and financial resources. But, you have to be very creative with billboards.
Is Billboard Advertising Really Worth It?
Alright, this is surely one of the most important questions; is it profitable to invest in billboard advertising?
There is no doubt that social media and other online channels have dented the importance of billboard advertising, and it may not be the go-to inbound marketing option for many brands. However, it has proved to be a really resilient industry, and the fact that it has the potential to yield 10 percent annual growth and an ROI of 497 percent throughout 2021 makes it a worth investing option.