You may not believe it, but an average American sees more than 6000 ads every day. Shocking, isn't it? But it is a fact that the fierce business competition in the United States means a consumer will have so many options to choose from. Consumers compare different products, i.e., their benefits, prices, etc.
Now, if you have a startup or a small business, what are your chances to make your brand prominent. Of course, you have to stand out among your competitors by doing and offering something unique.
Yes, you have to run marketing campaigns, but what if you can tell your potential customers that why and how your product is different or better from others? Well, this is just like a comparison, and in business terms, it is called comparative advertising.
So, what is comparative advertising, and what else should you know about this advertising practice? Let's get to it.
What Is Comparative Advertising?
Comparative advertising is an advertising practice in which a business compares its product(s) with its competitors and makes its product(s) look superior. The comparison may include different factors related to a product, such as
Features
Benefits
Cost
Value, etc
Generally, a company practicing comparative advertising prints a side-by-side comparison of the above-mentioned factors and shows the competing product in a disparaging light. Apart from that, comparative ads may also mention a competitor indirectly.
Purpose of Comparative Advertising
Now, the purpose of every advertising campaign is to educate, inform, and persuade people to buy your product. However, comparative advertising educates or informs the consumers in different ways, such as;
Leveraging your product(s) by mentioning the shortcomings of your competitor
How is your product different than others?
Why is your product more beneficial than your competitors
How can your product solve the problems better than others
Are you offering more benefits at the same price?
In a nutshell, the basic purpose of comparative advertising is to tell the consumer; why should they buy your product and not your competitors'?
Advantages of Comparative Advertising
Comparative advertising, if done right, can be very beneficial for any business. Here are some worth mentioning advantages of comparative advertising
Increases Brand Awareness. Brand awareness is a vital element for every business, especially startups. When a new entrant in the market takes on a bigger brand by product comparison, it surely attracts a lot of attention from customers. What's better for a new business to create brand awareness?
Customer Attraction. When a weaker or new opponent stands against the bigger or stronger one, it surely attracts people's attention. Similarly, when a new or less established brand stands up to its competitors, it definitely attracts customers.
Helps Businesses to Focus on A Specific Product, Now, comparative advertising is very helpful in creating brand awareness. However, it basically allows businesses to focus on specific products and promote them. When a business compares its products with its competitors, it helps customers to assess the most suitable choice for them.
Educates The Customers. We know that consumers always look for options before making a purchase decision. You may not believe it, but many consumers don't switch from one brand to another after watching simple ads. However, when a brand puts a comparison forward, it educates the customers and helps them make a purchase decision.
Disadvantages of Comparative Advertising
Comparative advertising may look very enticing, but it can backfire as well; here is how;
Legalities. Well, the first major hurdle or drawback of comparative advertising is that a brand has to comply with strict legal requirements. For instance, the Federal Trade Commission (FTC) regulates comparative advertising practices. If a brand fails to play by the rules, it can face severe penalties.
Boost Competitor's Brand Image. Now, this might sound interesting, but comparative advertising can boost your competitor's brand image as well. Imagine a relatively successful brand that compares its products with a less-known brand. First, if it goes too far, the customers may consider it bullying, and a brand may lose its reputation. Second, such types of comparative ads will end up introducing less-known brands. That's just like digging your own grave.
Lose Customers. It is a good thing to tell your customers why your product is better. However, if you start undermining your competitors and CROSS THE LINE, you may end up losing your customers. People don't like bullying or degrading anyone else, and a brand should respect this.
Comparative Advertising Can Be Very Confusing Too. Comparative advertising can confuse your customer. When you compare multiple products from different competitors with your product, your customer may get confuse. That is, your customer may misunderstand which product is offering better features or which brand is promoting its product.
Real-Life Examples of Comparative Advertising
Apple vs. Samsung
iPhone vs. Android is a rivalry not less than "Real Madrid-FC Barcelona Clash." This ad from Samsung was nothing else but pure entertainment and good product comparison. In this ad, people are waiting in long lines and waiting for their turn to buy their favorite phone (presumably the iPhone).
Meanwhile, they see other people around them using smartphones with bigger screens and better convenience for 4G usage. This surprises people standing in lines that there are other amazing options as well. Samsung didn't target Apple directly, but they made sure everyone knows whom they are talking about.
Wendy's vs. McDonald's
The spoiler alert for Avengers: Infinity War instantly became a meme subject. The spoiler shows that Thanos converts half of the living creatures into dust.
Wendy's social media team got into the action with a meme tweet where a McDonalds Big Mac turns into dust. Now, the meme itself was hilarious and deserved to be viral. But it was the caption ("[That feeling when] your beef's still frozen.") that made people go berserk.
Wendy's never uses frozen beef, while McDonald's is famous for the exact opposite. That's comparative advertising at its very best.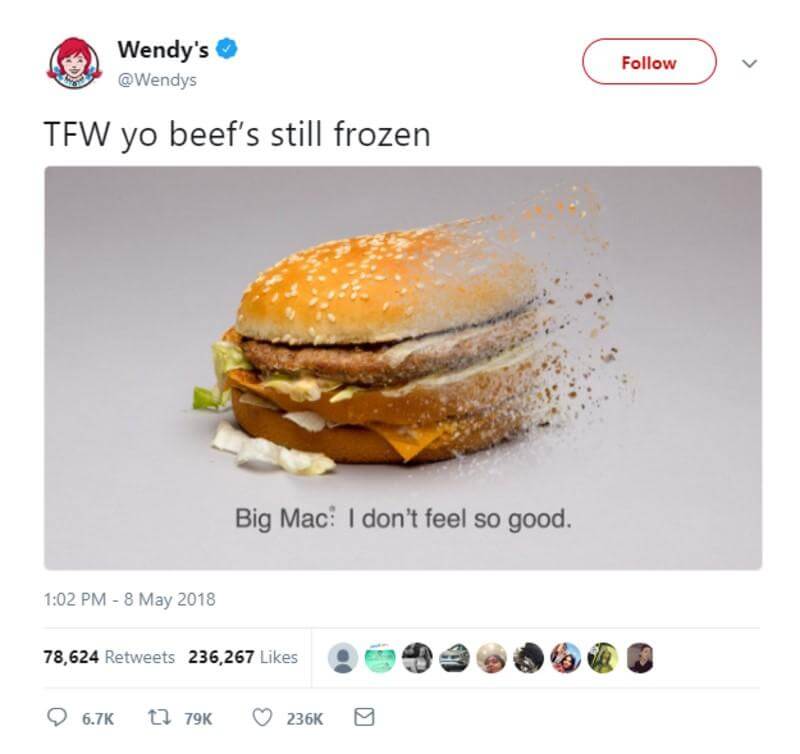 BMW vs. Mercedes
Taking advantage of the Halloween, BMW slightly "trolled" Mercedes. A simple tweet from BMW got countless likes and retweets in no time. In this tweet, a Mercedes car is seen wearing a BMW costume.
The tweet sends an impression that BMW has always been an inspiration for Mercedes, and they always wanted to be BMW. That was a perfect blend of fun and advertisement from BMW's social media team.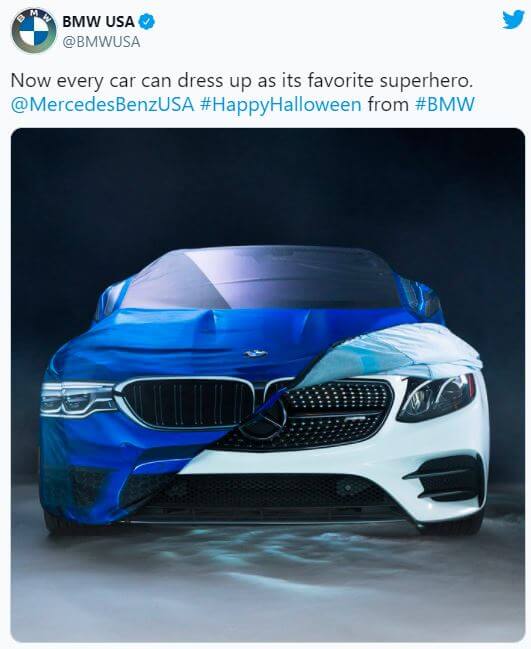 Comparative Advertising Vs. Competitive Advertising
Technically, there is not much difference between comparative advertising and competitive advertising. That is because the basic purpose of both advertising strategies is the same. i.e., a company comparing itself with its competitors. However, here is the main difference between these two.
| | |
| --- | --- |
| Comparative Advertising | Competitive Advertising |
| Comparative advertising is a practice in which a company compares its product with a similar product from the competitor. For instance, if Samsung compares its specific smartphone model with any iPhone model, it will be comparative advertising. | In competitive advertising, a company focuses on comparing itself as a whole with its competitor rather than comparing a product. In short, it's a comparison between two brands, not products. |
Is Comparative Advertising Legal?
Well, the simplest answer is YES; comparative advertising is completely legal. FTC allows businesses to use comparative advertising for healthy competition. Here is what Commission has to say about comparative advertising
"(c) The Commission has supported the use of brand comparisons where the bases of comparison are clearly identified. Comparative advertising, when truthful and non-deceptive, is a source of important information to consumers and assists them in making rational purchase decisions. Comparative advertising encourages product improvement and innovation and can lead to lower prices in the marketplace. For these reasons, the Commission will continue to scrutinize restraints carefully upon its use."
However, there are some noticeable things that you cannot neglect before targeting your competitor. For instance, according to the FTC, comparative advertising should be truthful and non-deceptive. That means you have to back your claims with facts and reality. However, if your ad is misleading or deceptive, your competitor or even consumers can sue you.
But how do we define the term "misleading" or "deceptive." If a brand makes a claim (without any factual proof or omits any qualifying details) that its products are superior to other brands, then this will be an act of misleading the consumers.
Best Practices for Comparative Advertising
Comparative advertising, just like any other advertising strategy, has some must-dos to make it effective. Here are some of the Tips;
Be Factual
Comparative advertising requires you to be completely factual. If you are making a claim about your product or mentioning facts about your competitor's product, make sure you can prove them later. False statements can lead to lawsuits and loss of customers.
Activia brand from Dannon's claimed that their yogurt is scientifically proved to be helpful in digestion. However, the company couldn't provide any scientific proof later had to pay a penalty of $45 million.
Be Specific
While making a comparative ad, you have to be very specific. A general comparison will only confuse or mislead your customers. for instance, if you say your LED light helps in reducing power consumption and save electricity bills, then this is a vague statement. However, if you say your LED light can help reduce power consumption by up to 15 percent, this is more vivid information.
Keep It Light-Hearted
If you want to take a dig on your competitor, make sure you keep it light-hearted. If you sound like bullying, it may backfire. For instance, that tweet from Wendy's or BMW was a light-hearted gesture without targeting any brand directly. Those tweets trolled their competitors DECENTLY.
Don't Use Comparative Advertising for Brands Smaller Than Yours
Well, a smaller company can slightly poke a bigger company because it will be "fun." Bigger companies have competitive advantages, so it won't be considered mocking or bullying. However, if a famous brand tries to play with a smaller one, it may turn into a "disastrous advertising campaign." For instance, if you compare your product with some less famous brand's product, here is what can happen;
You may end up advertising that brand free of cost.
Less-known brands are like underdogs, and people have a special affection for underdogs.
People will most likely consider it bullying.
The Takeaway
Comparative advertising is surely one of the best ways to make your product stand out among many others. It can help you create brand awareness and it is a very effective way to educate your customer in a better way. However, all of this is possible if you do it effectively and play by the rules. If you fail to do it right, it can cost you customers, reputation, and a lot of money.