Online advertising may be the biggest change in 20th-century marketing practices. Yet, the traditional advertising techniques hold equal importance. Businesses may have kept online marketing as their priority. However, that doesn't mean they don't pay heed to conventional advertising channels, e.g., out-of-home advertising.
Even the industry giants such as Facebook, Coca-cola, Amazon, Netflix, etc., spend massive budgets on out-of-home advertising. Out-of-home advertising… Is it a new term for you? To be honest, it is not something you don't know. However, if you are unfamiliar with this term, then this article is a must-read for you.
What Is Out-Of-Home Advertising?
Out-of-home advertising, aka outdoor advertising, is a visual advertising media that reaches the potential customers/target audience outside their homes. It generally includes four broader categories, and they are:
Billboards: such as wall murals, junior posters, posters, digital billboards, and bulletins.
Transit: such as taxis, truckside, digital taxis, mobile billboards, digital transit, digital subway/railway, subway, buses, airports, and digital airports.
Street Furniture: it includes bus shelters, urban panels, bus benches, phone kiosks, news racks, and digital street furniture.
Place-Based OOH: it includes a cinema, health clubs, stadiums, bars, restaurants, malls, digital malls, resorts, etc.
Core Objective Of Out-Of-Home Advertising
Financially, OOH is one of the most expensive marketing strategies. However, an average customer/consumer in America spends almost 70 percent of his/her time outside their homes (Source: Out-Of-Home Advertising Association of America). That is why there is enormous potential in out-of-home advertising to get attention from the target audience.
Basically, OOH is a smaller segment of the above-the-line advertising strategy that focuses on broader reach. Out-of-home advertising focuses on creating brand awareness or brand engagement without much consideration to conversion rates.
What Is Digital Out-Of-Home Advertising?
Digital OOH is the futuristic, more eye-catching, and interactive form of out-of-home advertising. This advertising strategy helps businesses to digitize themselves and make their content easily available to the general public. The best thing about digital OOH is it is resilient to nagging online advertising. However, you need to be very creative to get your audience's attention.
Types Of Out-Of-Home Advertising
Some of us may only be familiar with billboard advertising, but OOH has five major types. Let's discuss all of them in detail.
Billboards
Point of Sale
Transits
Placed Based OOH
Street Furniture
Billboards Advertising
Billboards are one of the most common and the oldest mediums of advertising. You must have seen these elevated boards with ads from different companies. Common places for billboards include stadiums, shopping malls, highways, roadside, arenas, etc.
One very useful thing about attractive billboards is they can reach a huge target audience. Billboards have three main subcategories:
Static/Stationary Billboards: often seen on roadsides, highways, etc.
Mobile Billboards: common examples include ads on buses, trucks, and other vehicles.
Digital Billboards: digital billboards are modern electronic billboards placed by companies for advertisement.
Point-of-Sale (POS) Advertising
Point of sale advertising is a type of OOH advertising in which brands communicate with customers at the cash counters or checkout gates. POS can be very effective in urging customers for last-minute sales by promoting complementary products. For instance, displaying waist belts at the checkout counter in a garments store is POS advertising because a belt is a complementary product for pants.
Point-of-sale advertising has two main types:
Checkout Counter Display: Common examples include display stands around the checkout counter to promote a product.
Visual Aids: Many retailers also place a poster around a shelf or racket of products for the promotion of any product.
Transit Advertising
Transit advertising is an "in-motion" form of advertising. Companies place their ads on buses, trucks, taxis, or other moving vehicles for promoting their products or services.
Transit advertising has three common types:
Subways Advertisements: A huge percentage of people in the USA and European countries travel via trains. That is why subways are a perfect spot for out-of-home advertising.
Taxis Advertisements: Placing or wrapping ads on taxis is also a very common and high-reach form of OOH advertising.
Buses Advertisements: Advertisements on buses can work in different ways. Companies place their ads on both interior and exteriors parts of the bus. This way, they can reach the pedestrians as well as commuters.
Place-Based Out-Of-Home Advertising
Place-based OOH includes advertising in public places. It is another highly effective way to reach a massive audience. Common examples of place-based out-of-home advertisements include malls, cinemas, theatres, stadiums, bars, clubs, etc.
Street Furniture Advertising
Street furniture advertising is another lucrative option for advertisers. Just like billboard advertising, this type of OOH advertising can be used to communicate with your audience from a distance. However, it is important for advertisers to install these ads in close proximity to pedestrians to create brand awareness.
Common examples of street furniture advertisements include ads displayed on kiosks, benches, sidewalks, bus stops, newsstands, etc.
Advantages of Out-of-Home Advertising
Without a doubt, OOH advertising is one of the best and most effective forms of advertising. Here is why:
Cost-Effective Brand Awareness Tool
Some of us may think that out-of-home advertising is very expensive because companies assign huge budgets to billboards, posters, etc. However, there is another perspective that we often ignore, and that is the comparison of different forms of advertising.
For instance, OOH has a much broader reach in comparison to many other marketing types. Yes, a firm, especially a new one, may spend a lot on a billboard, but can you imagine the reach to a target audience?
Moreover, CPM (cost per impression) of out-of-home advertising is more cost-effective as compared to many online brand awareness strategies.
Targeted Audience
Yes, online advertising is mandatory to reach your target audience, but OOH advertising is equally important too. In fact, if you are a local business, OOH advertising can be more effective for you.
Imagine the reach you will have through a billboard in a business location. For example, if you want to sell sports goods, placing your ad around the sports centers or stadiums will give you immense reach.
Attract Your Audience With Impactful Design
If you have a creative marketing team that can attract potential customers through strong visuals and designs, then OOH advertising can be a great option. The design of your ads plays a major role in getting attention.
Beautiful and eye-catching videos or images of your product leave an appealing impression in your audience's mind. That is why OOH advertising is more effective to get your voice heard louder.
Engagement Driver
According to a study, customers tend to give more attention to online ads if they have previous visual contact with such a product or service. That means, if you see an ad on a billboard, you are more likely to click on the online ad of the same product. That's why online marketing campaigns yield better results when combined with OOH advertising.
Broader Reach
Out-of-home advertising is one of the best options when advertisers want to maximize their ads reach. Statistically, 80 percent of people notice OOH advertising on a weekly basis (according to a study by Nielsen). Your target audience can use ad blockers on radio, TV, or social media ads. But, there are no ad blockers for OOH advertising.
Disadvantages Of Out-Of-Home Advertising
OOH Advertising Can Be Expensive
We talked about the CPM and OOH advertising to be cost-effective in specific circumstances. However, installation costs are a great concern for OOH advertisers. A billboard advertisement in a prime location can be very expensive.
Chances of Lesser Visibility
Yes, billboards are huge and easily visible. However, bad weather conditions such as fog, heavy rain, etc., can reduce visibility.
Difficult to Grab Your Spot
Out-of-home advertising is generally expensive, and normally, industry giants can afford it easily. Big companies can make contracts for months or even years to use specific advertising spots. This means that small businesses may have to wait for their turn?
Limited Message Capabilities
Due to very limited space, it isn't easy to share all necessary information while using OOH advertising. Moreover, it is equally difficult to convey your message to "walking target audience." To be honest, people rarely spend minutes watching an ad on a billboard. That means you have to grab their attention in a matter of seconds.
Tips for Out-of-Home Advertising Campaigns
Although very effective, OOH advertising needs pinpoint accuracy and planning. Here are some tips for doing it.
Make It Attractive And Shareable. There is no point in using OOH advertising if it is not eye-catching and shareable. The term shareable means your ad must be so appealing that people take pictures of it and share it with others. This is where you win your first battle.
Location Selection Is Important. Location selection is based on your budget, audience demographics, and geography. Then you have to decide the size and design of your ad. Moreover, while you choose a placement, consider its proximity as well.
Analyze Your Competitors. Competitor analysis is a must-do thing before going for OOH advertising. You need to evaluate their strategy, their pattern, and how they are doing it. Then, you can come up with your own creativity to differentiate yourself. However, don't advertise right next to your competitors because it is not wise to pick up a public fight that is impossible to win.
Don't Exaggerate Or Prolong Things. There is one famous thing about OOH advertisement; the less, the better. People don't have time to read your long and tedious ads. Therefore, keep it very concise yet impactful. An ideal OOH ad will be 20 words or less. Plus, your ad design is crucial.
Examples of Out-of-Home Advertising
Out-of-home advertising is one thing, but effective OOH advertising is another thing. Here are some best examples of OOH advertising
Paddy Power
A betting brand campaigning for social causes? Isn't it something out of the blue? Yes, Paddy Power is not famous for its social work, but their ad "Give Our NHS Better Odds" was a very effective OOH advertising. The ad emphasized reducing healthcare workload and the ad was simple yet effective.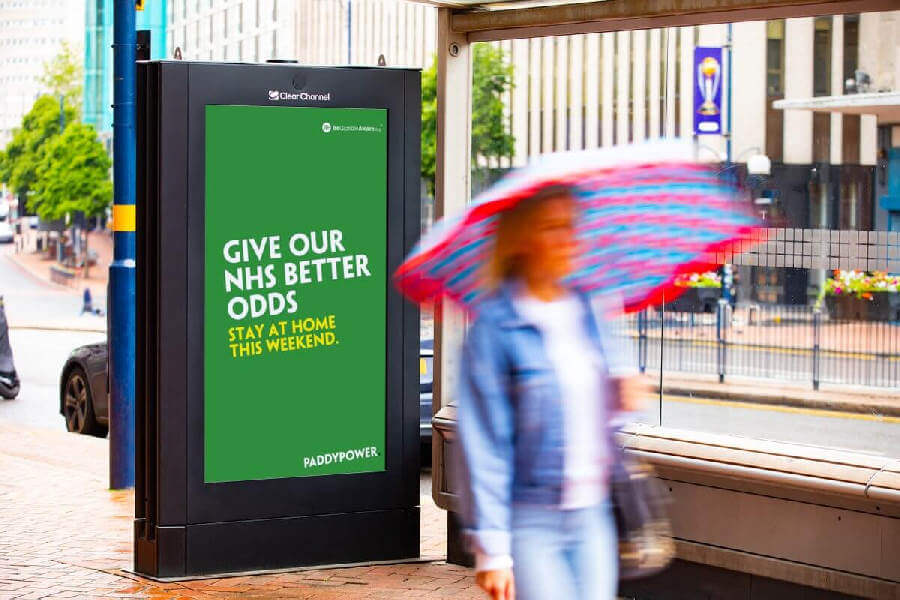 McDonald's
If you talk about brands who don't need to put their name or logo in their ads, then McDonald's is surely one of them. That is why their 'Bitten Billboards' campaign was effective and innovative as well.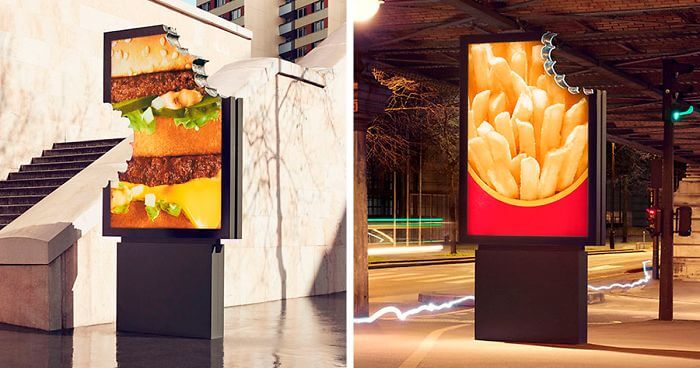 Future of the OOH Industry
There is absolutely no doubt that this is the age of digitalization. With that being said, the future of the OOH industry is strongly linked to digital marketing channels, and the good thing is, it is already happening. The programmatic digital out-of-home advertising is becoming common with every passing day.
Programmatic DOOH is a form of advertising that automates ad transactions and delivery, just like many other online advertising channels. To cut it short, digital out-of-home advertising is the future of OOH. In fact, it won't be wrong to say that DOOH can be the only form of traditional OOH advertising in the future.