The importance of customer satisfaction is simply undeniable in any business. But is customer satisfaction enough for a company to achieve its business or corporate goals? Yes, customers are the backbone of your business, but you cannot thrive in a market if you don't have enough sales volume to achieve your financial goals.
In fact, even if you have happy customers and the sales department is also doing fine, you still have to boost your sales from time to time. Your marketers have to trigger a demand for your product in the market, even if it is for the short term. So, how does a business boost its sales? Well, sales promotion techniques are very much common to achieve such short-term goals.
Is sales promotion an effective technique? Does it really help? Are there any specific sales promotion strategies? We are going to find all the answers in this article. Let's start with the basics!
What Is Sales Promotion?
According to American Marketing Association, sales promotion is nonmedia and media marketing pressure which any seller/business applies for a limited or predetermined time to achieve any of the following goals;
Increase customer demand
Stimulate trial
To improve product/service availability
From this definition, we can conclude that sales promotion is a marketing technique that a business uses to increase its sales by boosting the demand for its product(s) or service(s).
Generally, any organization/business uses sales promotion techniques for the following reasons.
Boost the sales temporarily
Introduce or promote a new product
Customer attraction
Sell out current/existing stock
Objectives of sales promotion
We have already mentioned that the core objective of sales promotion techniques is to boost sales temporarily. However, a business may use this strategy for the following objectives as well.
To Stay Competitive. A business often has to use sales promotion techniques from time to time because of its competitors. If your competitor has launched a similar short-term strategy, you may have no other choice except to retaliate with the same technique.
To Launch a New Product in a Highly Competitive Market. It is very challenging to launch a new product in a highly competitive market, especially when there are other similar products available. That is why companies often use sales promotion strategies such as discounts, offers, penetration pricing, etc., to generate sales at the start.
To Retain Existing Customers. A brand can easily slip through a customer's mind because there are a lot of other options in the market. In fact, poaching strategies from your competitors may easily take your customers away from you. Sales promotion strategies can help you stay close to your current customers.
To Strengthen Brand Awareness. Sales promotion can be beneficial in creating or boosting your brand awareness, and it ultimately helps you generate more sales.
To Enter a New Market. Entering a new market is highly challenging because of high market competition. However, these types of promotional strategies can help a new entrant to attract more customers.
To Earn Trust of The Dealers. If a business operates through dealers or distributors, then sales promotions can help win their trust. Obviously, an increase in sales volume means that dealers will earn more profit/commission, and ultimately they will prefer your brand.
Sales Promotion Strategies
Generally, there are three main categories of sales promotion strategies, including;
Push strategy
A push strategy, as the name suggests, focuses on "pushing" the product towards the customer. That is, the seller/business incentivizes the intermediaries and pushes them to increase the company's sales. The business may offer more commission or increase the profit ratio for distributors, merchants, retailers, etc. so that they can help in increasing the sales volume.
Pull strategy
Pull strategy is the exact opposite of push strategy. In this technique, a business "pulls" or attracts the customer to buy its product(s). In pull strategy, the business mainly focuses on marketing communication, financial schemes, seasonal discounts, etc., to attract customers.
Combination of Pull & Pull (Hybrid strategy)
A hybrid strategy is basically the application of both push and pull strategies simultaneously. The idea is to sell the product without much resistance. A business following a hybrid strategy attracts the customers by offering coupons, discounts, etc., and incentivizes the dealers, retailers, distributors to push the company's product in the market.
Types of Sales Promotions
Alright, there are different types of sales promotions, but we are going to discuss the most common ones.
Save More by Buying More. This is an ideal situation for those customers who want to buy products in bulk but feel reluctant due to the prices. Therefore, companies offer attractive discounts to such customers if they spend more on their products. It is actually a win-win situation for both parties.
Flash Sale. Flash sale is basically a limited-time offer that creates a sense of urgency and compels the customers to buy as soon as possible. Flash sales help the business to get rid of excess stock, and the discounts are generally very attractive. That is why they are short-lived.
Free Returns/Free Shipping. A lot of customers prefer buying from sellers who offer free shipping. And it would be icing on the cake if the seller provides free returns because this way, the customers feel safer about their payments.
Discounted products. Offering discounts on the products is another pervasive and effective way to increase sales. Bargaining is something every buyer loves, and discounts can be helpful to satisfy their "bargaining needs."
Loyalty points. Loyalty points are basically a part of any good customer service strategy. Loyalty points allow the customers to accumulate "points" which they can use to buy products at discounted prices from a brand or avail of other similar offers by the company.
Holiday promotions. Customers usually love to spend more on holidays, and this is the perfect time for any business to generate more sales or create brand awareness. Simple discount offers will do nicely if a business knows how to promote its products effectively.
Price match promise. Ok, this technique is getting famous day by day and is very effective when you are up against a lot of competitors. You give your customers the option of returning your product to you if they find the same product at a low price in the market. This not only helps you to satisfy the customers but you can gain their trust as well.
Competitions. It is probably the "cleverest" type of sales promotional strategies. That is, you will have to give a prize to the winner only, but you can attract a lot of customers in the form of competition participants. Competitions are an effective method to create or increase brand awareness, too.
Coupon giveaway. Coupons are a great way to make our customers feel more "exclusive." You can send coupons to your loyal customers to honor their loyalty. Or, you can give coupons to unsatisfied customers to win their hearts again.
Gifts/Product Giveaways. Product giveaways are very handy when you are launching a new product or creating brand awareness. People rarely resist free products, and if they like your product, they will become your customers. If you cannot offer product giveaways, you can offer free gifts to customers on buying your products
Examples Of Sales Promotion
Alright, let's shift our focus to some real-world examples of sales promotion strategies.
Black Friday
Black Friday sale is something we wait for all the year. Brands all over the globe offer massive discounts on Black Friday and generate huge revenues. For instance, the Black Friday sales offer from H&M was spot on. The company offered a 20% straight discount and free shipping as well. There was absolutely no doubt in customers' minds as to what they should expect from the brand.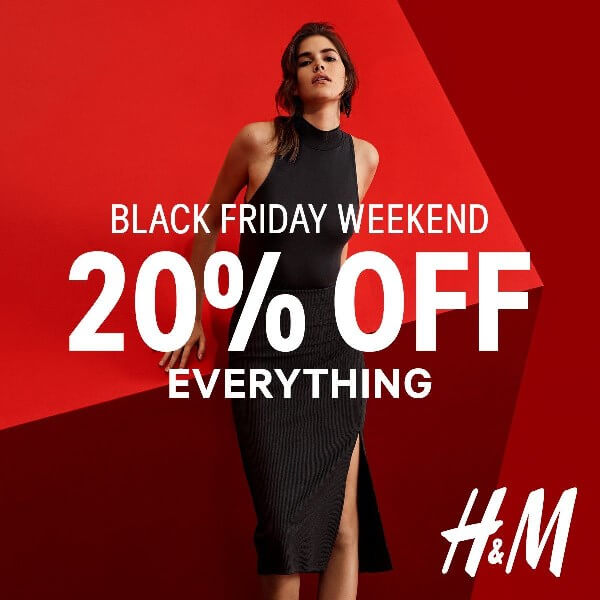 Buy One Get One Free
How would you feel if you could buy two products at the price of one? Well, this is what the "buy one get one free" offer does. A business can easily sell surplus stock, but it is only possible if the profit margin is good enough to cover the cost of the freebie.
For instance, this ad from Ahava is clearly inviting the customers to buy one get one free with free shipping for shopping $50 or more. Customers can boost their inventories while the company gets rid of surplus stock and still makes profits.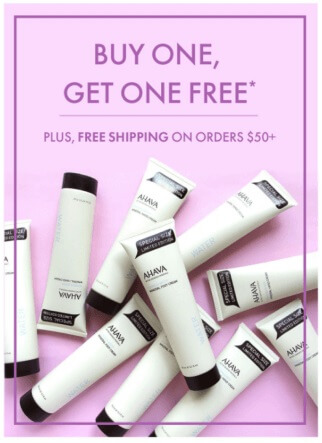 Flash Sales
Flash sales happy hours campaigns are common in the restaurant industry, especially when it comes to beverages. For instance, a restaurant may offer a 50% discount on all available drinks from 7 pm to 8 pm daily.
Tips to Make Your Sales Promotion Effective
Yes, people love discounts or sales promotions, but you still need to do it the right way. Here are some tips to make your sales promotion strategies more effective.
Set well-defined goals for your sales promotion campaign. Do you want to boost sales? Or create brand awareness? Make sure you know what do you intend to achieve.
Know your audience! What are their needs, interests, preferences, buying patterns, etc. Do your research by conducting a customer survey, and offer them rewards to motivate them. You cannot target oldies if you sell skateboards; your ideal target audience will be teenagers or young people.
Offer something unique and practical while you run your sales promotion campaign. Give your customers something tangible and valuable.
Create a sense of urgency by offering something short-lived. Make them realize that they would miss something important if they don't avail the opportunity.
Be mindful of the timing of your sales promotion campaigns. It is pretty effective to target special events such as Black Friday, Cyber Monday, summer holidays, Valentine's Day, Mothers day, etc., to launch your campaign.
Offer free shipping as it can attract your customers from distant regions.