Diversity is something fundamental in every aspect of life, let alone business. In fact, the business itself is a part of our lives. Diversity in business means if you are offering a product, how is it different from others? If you are offering services, how are they different from others? or how are your marketing tactics different from others?
When we talk about diversity in marketing, we talk about different channels or methods of marketing. Generally, there are two major methodologies of business marketing:
Inbound Marketing
Outbound Marketing
What are the key differences between inbound marketing vs outbound marketing and also find out which type of marketing strategy is more effective
Let' find out!
What Is Inbound Marketing?
It is a business methodology where businesses attract or try to attract potential customers or leads by creating customer-oriented experiences or through content creation to develop a bond with the customers or leads. Businesses do it by offering solutions or answers to the specific or unique needs of their customers.
Inbound marketing is a marketing model which focuses on creating quality content for potential customers. It is safe to say that inbound marketing is like organic marketing. It is because businesses don't directly "ask" or invite people to buy their products or services. Rather they create valuable, engaging, and problem-solving content that helps in lead generation and attract customers.
So inbound marketing focuses on three things:
Attracting
Engaging, and
Pleasing or delighting the customers.
Inbound Marketing Strategies
Attracting Strategies
The first priority of the Inbound marketing strategy is to attract the target audience. Businesses can do it through content creation. Content creation may include creating blogs, videos, podcasts, emails, ebooks, whitepapers, or social media profiles. The basic purpose is to educate the target audience through a problem-solving mechanism of your products, customer testimonials, discounts or promotions, etc.
Engaging Strategies
When you succeed in attracting your target audience, the next step is to engage them and build profitable and long-lasting relations. Again, the basic theme is to talk about the problem-solving features (solution-selling) of your products or services rather than product selling.
Delighting Strategies
Delighting strategies simply means retaining your customers by pleasing them or exceeding their expectations. This generally includes after-sale services at any point. Apart from that, businesses conduct surveys and gather feedback from customers to involve them in product improvements.
Challenges In Inbound Marketing
Inbound marketing may seem an easy thing on paper, but businesses often face different challenges while implementing inbound strategies.
Incomplete Strategy
As discussed earlier, businesses attract, engage, and then delight their customers in inbound marketing. However, they need to develop strategies for every section and then integrate them. For instance, if a firm has attracted an audience through blogs or social media, the engagement strategy should be in order.
Moreover, businesses need to do comprehensive research as to which platform their target audience uses the most. Companies often fail to make a uniform strategy for all stages and often end-up losing leads.
Lack of Resources
You cannot create a blog and just start getting visitors or make social media profiles and start engaging the target audience. For that, you need expert blog writers to create engaging and useful content. Then, you need an SEO expert so that your target audience can search your blog easily. Moreover, you need a social media strategist to run social media profiles effectively. Most importantly, you need financial resources for all of that.
Expectations And Reality
This is probably the trickiest part of the process. The thing is, even if you have created high-quality and value-added content and did everything right; still, you cannot expect to generate leads or get organic traffic overnight. Good things take time, and if you have done everything right, it will bear fruits. You have to be patient and observant. So, keep your expectations and reality in alignment.
Examples of Inbound Marketing
Chewy – SEO
Chewy is a dog food brand, and if you search "organic dog food," "dog food," or "cheapest place to buy dog food" on search engines, you will find chewy in top results. The company started in 2011, and you can call it the "Amazon" of pet supplies. They share a lot of high-quality images, offer enticing discounts, and convince your mind with tempting customer reviews.
Social Print Studio – Email
An online digital photo printing service, Social Print Studio is offering breathtaking images in different formats such as sticker sheets, wood prints, etc. Apart from their free shipping and discount campaigns, their email campaigns are very eye-catching. They specifically target different customer types such as dads, babies, grads, etc.
Have a look at it: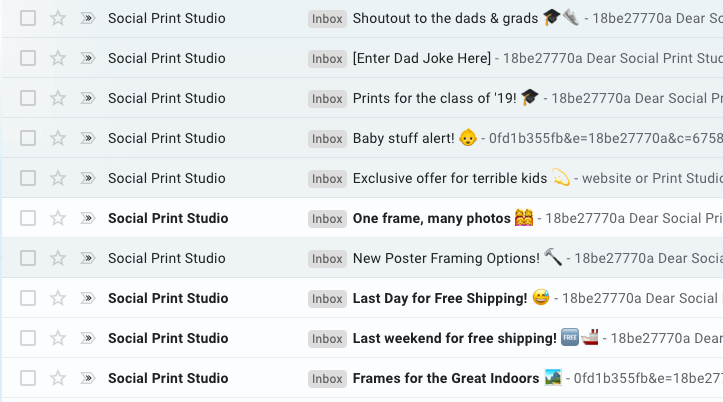 What Is Outbound Marketing?
It is a marketing strategy where sellers/businesses initiate the first contact with their target audience rather than waiting for them to show interest in their products or services. Common examples of outbound marketing include cold emails, cold calling, TV ads, radio ads, print media, trade shows, radio ads, etc.
Outbound Marketing Strategies- Top 3 Strategies For 2021
With the changing market dynamics, inbound marketing strategies alone are not effective in 2021. According to general surveys, these three outbound marketing strategies will be very important in the year 2021.
Cold Emails
Businesses send these unsolicited emails to their target audience without any prior notice. The basic purpose of a cold email is to get a benefit in terms of sales, favor, opportunity, or a two-sided gain (win-win situation). However, Cold emailing is not something you can relate only to sales. For instance, an HR manager sending a cold email for internship spots in his/her company offering a win-win situation.
Cold Calling
Cold calling means businesses contacting a potential customer (who hasn't shown any previous interest in a company's offering) and persuading him/her to buy a company's product or service. It is basically a form of telemarketing, but its significance has increased in recent years.
Direct Mail
One of the oldest but still one of the most effective ways of marketing, direct mail has been in the top ranks when it comes to outbound marketing channels. Companies use the direct mail option to send promotional or discount-related content, new offers, wishes on special occasions, etc.
Challenges to Outbound Marketing
Outbound marketing, in a sense, is more challenging. Here is why:
Difficult to Collect Reliable Data
Data or, you can say, accurate data is the backbone of outbound marketing. It takes a lot of time, expertise, and effort to collect reliable data. For instance, you cannot pitch every sweetener to diabetic patients. Identifying your target audience correctly is not an easy task by any means.
Federal and State Restrictions
There are specific times and days to send a business email to your prospects. Moreover, if your prospect has opted not to receive any promotional content, you cannot contact him/her. If you do, you have to pay hefty fines.
Limited Resources
Again, a common problem for almost every business. If you want results, you need to hire experts, and experts charge a high fee for their services. Besides, research and data collection itself demands "hefty budgets."
Examples Of Outbound Marketing
LeadFuze – Cold Emailing
LeadFuze is a B2B lead generation platform, and the company grew from $0 to $30,000 per month in a span of one year. The credit goes to Justin McGill, who simply nailed it with cold emailing. The company helped Bidsketch and Crazy Egg to generate more than 450,000 quality leads every month.
Canada Direct – Cold calling
Canada Direct is an immigration company that helps immigrants in fulfilling their dreams in Canada. The company mostly works with cold calling (telemarketing) and is one of the top telemarketing companies in 2021.
Difference Between Outbound And Inbound Marketing
| Outbound Marketing | Inbound Marketing |
| --- | --- |
| Outbound marketing is an approach where businesses reach out to even those individuals who may not have shown interest in a product or service. | Inbound marketing focuses on attracting potential customers or leads. |
| Focuses on product selling. | Focuses on problem-solving. |
| Outbound marketing is not that interactive. | Inbound marketing is more interactive. |
| It focuses on reaching out to leads. | It focuses on attracting and engaging leads through value-added content. |
Which One Is More Effective – Inbound Marketing Or Outbound Marketing
Outbound marketing was effective if you go 10-15 years back, but with dramatic changes in customer preferences, things have changed a lot. Currently, and in the near future, inbound marketing is more effective and probably the need of the time. 71 percent of the global organizations are now focusing on inbound marketing – Hubspot's State of Inbound 2017.
One of the most important factors for this change is customer's preferences. Fierce competition has allowed people to choose the "best of best." An individual cannot watch every single ad to make a decision. Therefore, they look for something full of value and can solve the relevant problem. This automatically makes inbound marketing mandatory.
Moreover, inbound marketing is way less expensive as compared to outbound marketing. Outbound marketing has always faced the criticism of being "very expensive." Statically, inbound marketing is 62 percent more expensive than outbound, and the ROI is better in inbound marketing – Hubspot's State of Inbound 2017.
However, there is one legitimate drawback of inbound marketing – difficult to measure its effectiveness. It mainly focuses on creating brand awareness and providing value rather than giving the hard sell. Therefore, it becomes difficult to analyze how effectively your inbound marketing strategy is working.
The bottom line is – it is better to make a blend of inbound and outbound marketing. You simply cannot wait for six months to a year so that your inbound strategies actually start being results. That is why you need to create an integrated marketing strategy.