Introduction
If you are from earth, then you have heard of McDonald's.
The world's largest restaurant chain in terms of revenue, McDonald's has close to 38000 franchises in over 100 countries worldwide. Serving close to 70 million customers every day, this fast-food chain has become a byword in the 21st century.
And while a Happy Meal never fails to bring a smile to the faces of children, in this SWOT analysis we are going to be looking at the key factors that can influence the growth of this restaurant giant, as well as the areas it must look after to ensure its continuous march towards world domination.
McDonald's Competitors. KFC, Burger King, Subway, Starbucks, Pizza Hut, Domino's, Dunkin' Donuts, Wendy's, Taco Bell, Chipotle, Papa John's Pizza, Tim Horton's
Let's dig in McDonald's SWOT Analysis.
Strengths
These represent the core competencies and strengths of McDonald's; the areas which have been responsible for the meteoric rise of this burger behemoth.
International Brand Recognition
No matter where you go, McDonald's is an internationally recognized household name. Grabbing a name from a nursery rhyme, this restaurant chain has been able to achieve global recognition thorough strategic branding, expert marketing efforts and established credibility. After all, who wouldn't recognize those familiar golden arches?
McDonald's Products and Menu. Beverages, Breakfast, Burgers, Chicken & Sandwiches, Combo Meal, Deserts & Shakes, Happy Meal, McCafé Drinks and Bakery, Salads, Snacks and Sides
Product and Service Consistency
No matter where you are in the world, a Big Mac tastes just the same! One of the greatest strengths of McDonald's lies in an extremely efficient system that provides consistent and quality service throughout the world. This has helped to establish a familiar credibility that customers can instantly connect with.
Prime Location Properties
Very few people realize the fact that apart from being a burger joint, McDonald's is also a real-estate company. A large part of the revenue of the company comes from the rent it receives from franchisees for access to its restaurant properties situated at strategic situations. For this very reason, former McDonald's CFO Harry J. Sonneborn was of the view that McDonald's was not really in the food business but rather the real estate business.
Do you know that McDonald's is the most valuable fast food brand in the world.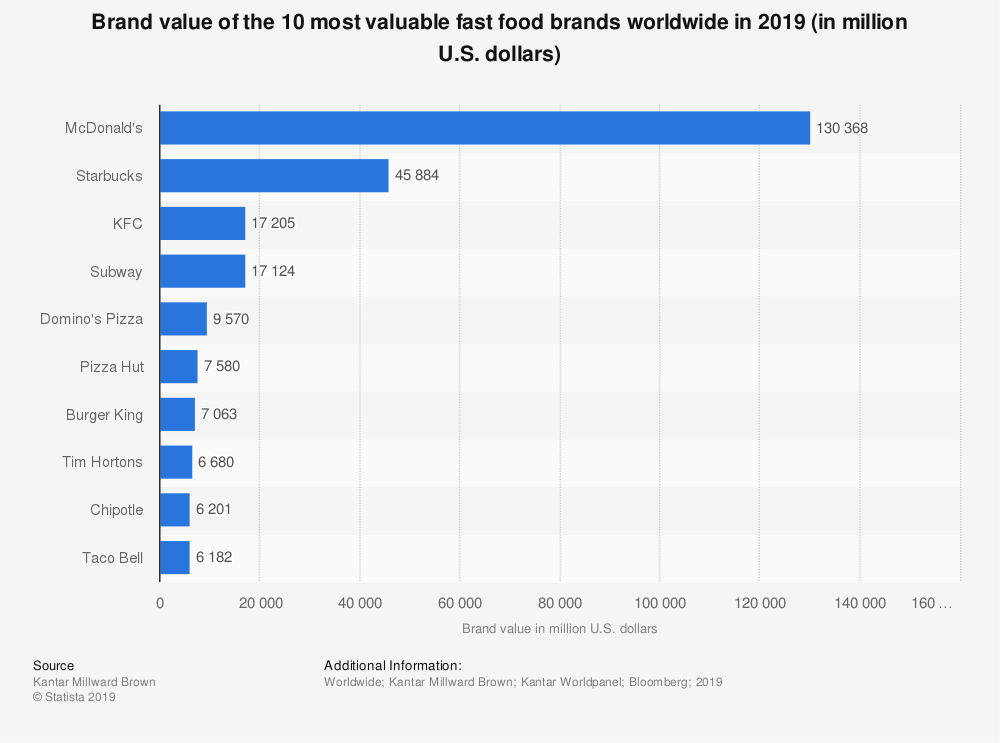 Weaknesses
These are the major weaknesses that McDonald's needs to overcome on its mission of establishing a stronger global empire.
Junk Food Label
McDonald's is the name that comes to the forefront of every talk about junk food and its ill effects. While it is true that recently the company has been making efforts to revamp its menu and include healthier options, the decades of association with fast food is not going to disappear overnight. As awareness about obesity and other junk food-related disorders continue to grow, customers may just find themselves moving away from this brand.
Overreliance On Franchises
Over 90% of McDonald's business comes through its franchise-based business model. While this has no doubt been profitable for the global giant, it nonetheless comes with several drawbacks. Due to being increasingly dependent on the franchises, the company has tied its fortune with these smaller players. As a result, any disruption in their operations can cause the McDonald's service to be severely affected, thereby harming revenue.
Lack Of A Skilled Workforce
The majority of the McDonald's workforce consists of unskilled workers or students trying to pay their way through college. This naturally leads to high attrition which in turn affects the quality of service in the restaurants.
Opportunities
In spite of the above weaknesses, opportunities abound for McDonald's too. The following are some openings that the restaurant chain should look to exploit for a stronger performance.
Expanding Into Untapped Markets
Despite its huge global footprint, McDonald's currently serves only 1% of the planet's population. There is huge potential for the company to expand into markets it has not yet tapped. Countries such as Africa, which have a large population that can quickly identify with cheap yet tasty food, are perfect for the picking.
Making The Menu Healthier
As mentioned before, one of the biggest weaknesses of McDonald's lies in its "Junk Food" tag. But there is scope for improvement here as well. By including healthier options in its menu, the restaurant chain can work towards shedding its image of a disseminator of unhealthy diet. In fact, McDonald's has already taken sincere steps in this direction by including smoothies and other healthier items among its offerings.
Threats
McDonald's may be the emperor of all burger joints, but that doesn't mean it has nothing to threaten its march towards success. Here are the major threat factors that the company should keep in mind.
Competition
It's only natural that the wildly successful run of McDonald's will make it a prime target for competitors looking to overthrow the ruler. Competing chains such as Starbucks, Burger King, Subway and other global and local brands are continually on the lookout to turn the tables on it. McDonald's would do well to watch out.
Growing Trends Of Health Consciousness
Thanks to the proliferation of the internet, the current generation is more aware than ever of the various ill-effects of fast food. As a result, this may see customers moving away from brands such as McDonald's and look for healthier pastures. McDonald's must step up its efforts to become more health-aligned if it wants to retain and grow its customer base.
Fluctuating Economies
As the world looks set for another possible recession, there are dark clouds on the horizon for every business, and certainly so for McDonald's. With lower incomes and higher prices of commodities, the burger giant may just find the line of customers dwindling by a certain amount. This is certainly a cause for concern for the chain.
Wrap UP McDonald's SWOT Analysis
McDonald's is undoubtedly the biggest name in the fast-food industry currently. With global recognition, tasty food offerings, and a strong revenue base, the company looks all set to prosper in the future. It does suffer from weaknesses such as the negative association with fast food and franchisee and employee problems, but there are also opportunities for expansion into newer territory with healthier foods. The company must, however, be aware of the growing competition and global economic conditions that may upset its plans. Overall, we can say if nothing goes severely wrong, McDonald's will continue on its succulent spree.