What do you do to advertise your startup? Of course, you will look forward to advertising it in your local newspaper, get help from advertising billboards, and may distribute your brochures. But is that it? Well, if it were the 1980s, this would have worked nicely for you.
However, this is the 21st century, and you simply cannot advertise your business effectively without going online. Yes, we are talking about online advertising that has become a must-have part of every business's marketing mix. Online advertising is not something new for us, but here is an in-depth analysis of this highly effective type of advertising.
What is Online Advertising?
Online advertising is simply a type of advertising that uses the internet for advertising or promoting any brand, product, or service. Online advertising is also known as digital advertising, internet advertising, online marketing, or web advertising.
Online advertising has been an integral part of every marketing mix, especially for the past 10 years or so. Technically, online advertising is a very vast form of advertising with so many subcategories such as mobile advertising, social media marketing (SMM), email marketing, display advertising, search engine marketing (SEM), etc.
How Effective Is Online Advertising?
There is no better way to explain the effectiveness of anything than facts and stats. Online advertising has been one of the most effective forms of advertising in the United States in the past few years. Here are some mentionable stats:
In 2016, Internet advertising generated more revenues than broadcast television and cable television in the United States.
Internet advertising generated revenue of $72.50 billion in 2016, while this figure climbed to $83.0 billion.
Almost 95 percent of Google's revenue is generated through online advertising.
How to Advertise Online?
Designing your company's advertising strategy can be a challenging task. Of course, the online advertising strategy varies for every brand, but here are some basic elements you should consider.
Apart from careful and prudent planning, it is important to identify the platforms you will use for your online advertising strategy.
Assign a budget to every segment of your online advertising strategy.
Try to incorporate different advertising channels to get maximum results.
Set a measurable standard to evaluate the results of different advertising platforms and adjust accordingly. For instance, it is possible that you may get unexpected positive results from one channel while the other one is underperforming.
Last but not least, you can always reach out to a professional advertising agency.
Types of Online Advertising with Examples
Honestly put, there are many types of online advertising, and it will be a herculean task to explain every single one. So, here are some of the most common types of online advertising.
Social Media Advertising
Any online advertising strategy is simply incomplete without social media advertising. Most of the social media platforms now allow users to maximize their reach organically. That said, brands can enhance their reach even without using paid tools. Social media platforms have so many options for users.
For instance, brands can use relevant hashtags, share user-generated video content (video marketing), initiate online competitions, giveaways, and hundreds of other options. Facebook, Instagram, Twitter, Pinterest, Google, etc., are some of the most famous social media platforms.
Example – Ipsy
Ipsy is a subscription-based platform that provides a little bit of everything in its "glam bag." Ipsy has 2.5 million Instagram followers, and the company keeps them active through its creative Instagram marketing strategy.
For instance, it encourages its user to post with their hashtag to be featured on their Instagram stories. Moreover, the brand also shares relevant memes rather than pitching its products or services all the time.
Mobile Advertising
Everyone may not have a laptop or a PC, but they sure have a smartphone. According to Google, mobile traffic has exceeded desktop traffic since 2016. So, if your business is not taking this platform seriously, now is the time to reconsider your online advertising strategy. It will not only boost your reach but will also help you in improving your SEO through Google's Mobile-First algorithm in ads you are running on your website.
Example – Scrabble
Ogilvy Paris offered Parisians a free wifi connection in those places where they couldn't have got Wifi. However, to enjoy the free Wifi, the users had to showcase their spelling abilities. The higher the score, the more free Wifi time for a user. This strategy ended up with countless Scrabble app downloads, 6000 words unscrambled, and 110,000 minutes of free Wifi.
Display Advertising
Display advertising is a type of online advertising where you advertise your brand or products through videos, images, graphics, or rich media content but your ad is run/placed on a third-party website. Then, when a user clicks on the ad, he/she is directed back to your website.
Display advertising usually works via CPC (cost per click) method. That said, if a user clicks on your ad, you will have to pay for every click. Therefore, it is very important to target your audience carefully.
Example – Geico
Geico is a famous car insurance company, but not many people know that it also offers home insurance. However, this ad from Geico clearly demonstrates it as a home insurance company as well. This perfectly designed display ad is communicating the concept of mixing two different worlds; home insurance and car insurance. 
Search Engine Marketing (SEM)
Search engine marketing advertises your brand, products, or services by enhancing your website's visibility on the search engine results pages (SERP). However, to run your ads and appear in search engines such as Bing, Google, you have to pay via CPC or CPI method. That is why SEM is also called PPC (pay per click).
SEM is totally different from SEO because SEO is an organic method for getting your website in top search engine searches.
Example – Snickers
Targeting misspelled search terms is a common practice in PPC/SEM arena. Interestingly, Snickers utilized this practice to an awesome level. The company got a list of top 500 search terms with the help of Google and AMV BBDO (ad agency). Then, Snickers generated a list of 25,381 various misspellings with the help of a clever algorithm.
The company recorded 558,589 ad impressions in just two days, while the click-through rate was 1.05 percent.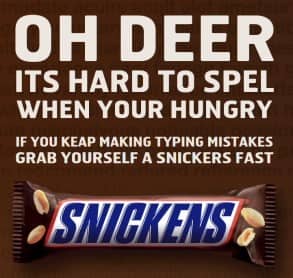 Email Marketing
Email marketing is not something new, but it has re-emerged with better practices and thus better results. The automation tools have made email marketing easier with higher conversion rates. Email marketing is not only effective for current customers but is equally fruitful for potential customers.
Example – Uber
The email campaign from Uber is not only effective but very simple as well. Uber directly gets to the main point with a clear CTA.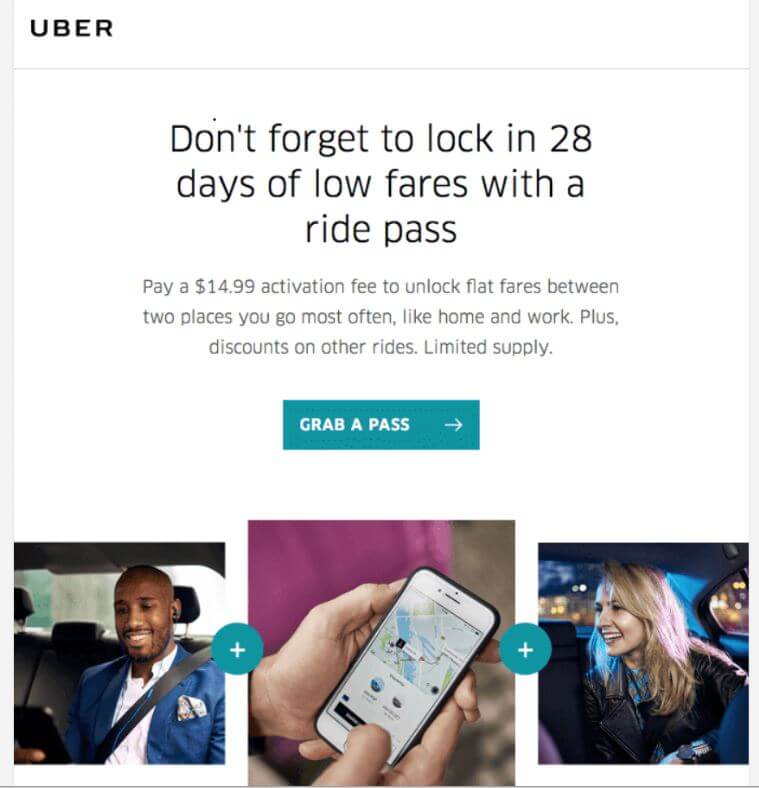 This is helpful for those users who don't have much time to read lengthy details. If a user is interested, he/she can follow the link for more details. How simple and effective is that?
Content Marketing
Content marketing is another very common but effective type of online advertising. It helps brands to convey their messages to the relevant audience. The main focus is to get organic traffic on a brand's website by improving its search engine visibility. Blogs are one of the most common examples of content marketing. Blogs help a brand to educate its target audience and bring them to the website.
Example – Microsoft
Microsoft sure knows how to tell stories, and the company has a dedicated blog "stories" for the cause. Storytelling helps you connect with your customers emotionally and ultimately win their trust.
Advantages of Online Advertising
Online advertising is extremely beneficial in many ways, and here are some of them,
It is a time-efficient and cost-effective option because you require less capital as compared to TV or radio ads, etc. You can start with blogs, email campaigns, etc., with almost negligible cost.
Online advertising is one of the most effective ways to reach a local as well as global audience.
You can easily target from a general to a very specific audience with the help of online advertising.
Another good thing about online advertising campaigns is that you can measure their effectiveness with the help of free tools such as Google Analytics. This allows companies to readjust accordingly.
Online advertising strategies always incorporate after-sales services.
Disadvantages of Online Advertising
Where online advertising helps the business to achieve its goals, it also poses numerous challenges as well.
The most common disadvantage of online advertising is that customers can easily ignore the ads.
Organic channels in online advertising are a luxury, but the paid formats can be very expensive.
Another worrisome fact about online advertising is that businesses have to face fierce competition.
Mistakes made by businesses while implementing their online advertising strategies can be very costly. Failing to understand your audience or targeting them ineffectively can waste a lot of money.
Online Advertising Regulations
Online advertising is regulated by some strict governmental policies, and if it is done wrong, things can turn out to be ugly for businesses.
Data Collection and Privacy
Mostly, privacy regulations require the businesses to obtain consumer's consent before tracking or communicating with the consumer/customer.
Different states or countries have different privacy regulatory policies. For instance, Children's Online Privacy Protection Act (COPPA) regulates the process of online tracking of children. In fact, according to the latest interpretation of COPPA, the ad networks can only track the children after getting consent from their parents.
Similarly, the "Privacy and Electronic Communications Directive" from European Union regulates customer data-collection through websites. This has dented the effectiveness of online advertising in Europe by 65 percent as compared to the rest of the world.
Delivery Method
Online ads (through email campaigns) are regulated with more strict policies as compared to banner ads. For instance, the U.S. CAN-SPAM Act of 2003 requires the advertiser to provide the "opt-out" mechanism to the customer.
Similarly, the Telephone Consumer Protection Act of 1991 (TCPA) requires the advertiser to give the users an "opt-in" option before sending a text message for advertising purposes.