Businesses nowadays develop hybrid marketing plans to promote their brand, products, or services. Any marketing plan that doesn't include advertising or promotion through media has minimum chances of succeeding. That's because media coverage is one of the strongest marketing channels as it helps reach a bigger audience. While talking about media coverage, the press release is a highly effective route to get media coverage.
The Marketing Tutor has prepared a comprehensive piece of content covering the definition, examples, and types of Press Release. Let's learn something valuable today!
What is a Press Release?
A press release, in simplest terms, is a formal news story or announcement made by a business to spread important or newsworthy information through media coverage. Businesses may share information directly through a media channel or give it to other interested parties. However, the core objective is to spread the information through media coverage.
The word formal in the definition means a press release is crafted in a formal manner, preferably following a strict format. Generally, a press release consists of 4 major parts;
Dateline
Header
Body (lead paragraph and body paragraphs)
Boilerplate
Apart from that, it is important to note that a press release must convey something significant related to a business. It can be a change in public dealing, strategic partnering, joint ventures, mergers, acquisitions, rebranding, notable hiring, product launch, or information of great importance.
Importance of a Press Release
To start with, press releases are considered one of the most credible sources of information. Publicly sharing something is not a joke, and people, other businesses, and regulatory authorities take press releases very seriously. Here is why press releases are crucial;
Media Engagement. Traditionally, press releases were limited to journalists or media persons, but with the advent of social media, businesses can make their press releases public via social media platforms. Social media is a great way to engage with the masses and share important information with a targeted or broader audience. However, it is important to market a press release in the right way.
Crisis Management. Press releases are very handy when it comes to handling critical situations. For example, a company can make a press release in response to a spread of misinformation. Businesses also make press releases to apologize publicly or share the news about an extraordinary event before it becomes controversial. Corporations use press releases to inform the public and stakeholders about the crisis and how the company is going to get out of it.
Public Relationship Building. Press releases help a business entity connect with the public, journalists, and business writers. Business writers and journalists often pick press releases that match their interests. Ultimately businesses get a better reach as the content may be featured in news, articles, quotes, newspapers, or other public platforms.
Credibility Building. Credibility is a vital element for organizational success, and press releases help businesses gain more credibility. As mentioned earlier, people consider press releases as a trusted information source. Press releases help companies connect with writers, critics, and journalists.
Characteristics of a Successful Press Release
Just as mentioned above, a press release is a formal mode of communication issued to spread important communication. Similarly, here are some other characteristics of a press release.
Newsworthy Topic. The topic is the first and most important thing to consider for a press release. Press releases are expected to be important; therefore, a business must make sure the topic is strong enough to gain the public's attention. Ordinary topics not only fail in gathering attention, but a business may end up losing its credibility due to unimportant press releases.
Factual Accuracy. Factual accuracy is an important element of business communication, and the same goes for press releases. Misinformation may help companies gain temporary benefits, but it will backfire in the long run.
Relevant. An ideal press release must address the five Ws (who, what, when, where, and why) of communication. Depending on the news or topic, it is necessary to explain why the business made a certain decision? Who will be affected by it? When and where will it happen?
Structured (Right Format). Structuring a press release is very crucial; there is a specific format for press releases (mentioned above). Since press releases fall in journalistic writing, the content is written by following the inverted pyramid approach. Start with the main idea or purpose of the press release and then structure the next paragraphs by adding quotes and facts in the right order.
Well-written. It goes without saying that a press release should be well written. Start with a catchy title (preferably add numbers, action words, and adjectives) to create a sense of urgency or importance. Most importantly, keep the title and the body precise yet meaningful and imparting.
Keep it Short. As we mentioned above, keep your press release short. But the question is, how short should it be? A press release should not exceed 500 words or one page. Remember, you are writing an important story, not an essay. While writing a press release for websites or social media, adding 2-3 internal links is paramount to building credibility.
Types of Press Release
It is hard to number the types of press releases because there can be so many. Press releases can be written to communicate any important information. However, here are some most common types of press releases.
Event Press Release
An event press release, as the name suggests, is written to share information about a significant event a company is sponsoring, hosting, or promoting. It can be a sports festival, business conference, public competition, or charity. The idea is to grab media coverage for the events.
Business Launch Press Release
A business launch press release is written for startups or new business ventures. These press releases generally have two major objectives;
Create public awareness about the startup.
Seek the attention of investors or shareholders.
Business launch press releases help new businesses share their vision, goals, and objectives with the public and what is in it for investors.
Product Launch Press Release
Businesses or service providers use press releases to promote their new services or products to the public. A well-targeted product launch press release can create buzz and get the general public's and media's attention.
Rebranding Press Release
Businesses often issue press releases to announce a significant change in their identity. That can be a change in logo, name, slogan, or anything that can affect the company's brand. Rebranding press releases make sure that customers are pre-informed about the change and how they can identify the products with the new logo or name.
Partnership Press Release
Partnership press releases are created to share information about a company's new joint ventures, strategic partnerships, or even a temporary collaboration with another brand. Partnership press releases convey the message to the customers, investors, and employees of the company.
Hiring Press Release
Businesses usually issue a hire press release when a notable industry expert or a renowned figure joins them. These press releases are issued to boost authority or gain the interest of the public or competitors. For example, in the case of a service industry, a notable hire may increase the clientele of a specific service provider.
Award Press Release
Companies also issue press releases to publicize their achievements or awards they receive. Awards from notable institutions build trust among the investors, customers, and general public.
Merger and Acquisition Press Release
Public announcements are mandatory when a company or enterprise merges with another company, acquires another company, or gets acquired by another business entity. M&A press releases are a vital source of dispersing information because mergers or acquisitions usually affect share prices and investors or public interests.
Format of a Press Release
Press releases are written in a specific format with some mandatory elements in them. Here is a highly recommended format for a press release.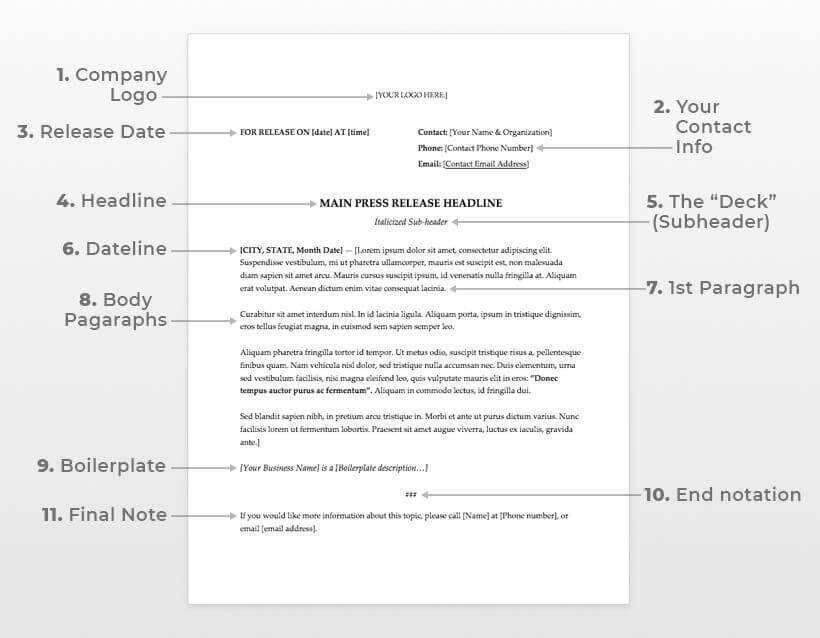 Logo. The logo must be displayed at the top of the page, and the ideal logo size is 200×200 pixels.
Contact information. Contact information is usually added on the right side of the logo. Contact information should include the name, phone/mobile number, and email address of the concerned person so that the business is easily reachable to the journalists or other interested parties.
Dateline or Release Date. The release date of the press is mentioned in two common ways; (1) immediate release when the business wants the press to publish the content immediately. (2) Embargoed release when the content is to be released at a future date. The dateline is mentioned in the top-left corner in bold capital letters.
Headline. A headline is the main title of the press release, formally written at the top and center of the page. An ideal headline should be between 65-80 characters. You can also use a sub-header (preferably up to 120 characters) just below the headline. A sub-header elaborates the headline precisely, aiming to get readers' attention. However, a sub-header is an optional element.
Place, Stamp, and Date of Lead Paragraph. The lead/introductory paragraph of the press release is separated from the other body paragraphs by a dash. The place, date, and stamp of the lead paragraph are mentioned just above the dash.
Introductory Paragraph & body paragraphs. The lead or introductory paragraph is the press release opener, and it should answer the 5Ws (mentioned above). The introductory paragraph sets the tone and helps journalists analyze whether they should publish or not. Ideally, three to four lines should be enough for the introductory paragraph. Body paragraphs follow the introductory paragraph to elaborate on the aspects mentioned in the lead paragraph. These paragraphs may include quotations and facts. Quotations can be customer reviews, comments from a newly hired expert, or remarks of an award-giving institution.
Boilerplate. Boilerplate is the ending paragraph in the press release, more like an "about us" section. In this paragraph, the company introduces itself, its background, notable achievements, awards, etc. It is highly recommended to provide the company's website link and an email address (media contact).
End Notation. End notations are given at the end of the press release to inform the media personnel that the press release ends here. If the press release is extended to more than one page, then add "more" at the bottom center of the page. The press release (1 or 2 pages) should end with three pound signs (###) in the page bottom center. Adding a "call to action" sentence in the end as it encourages interested parties to contact the concerned personnel in the company. 
Example of Press Release
eBay Nominates Jammie Iannone as CEO (New Hire Press Release Example)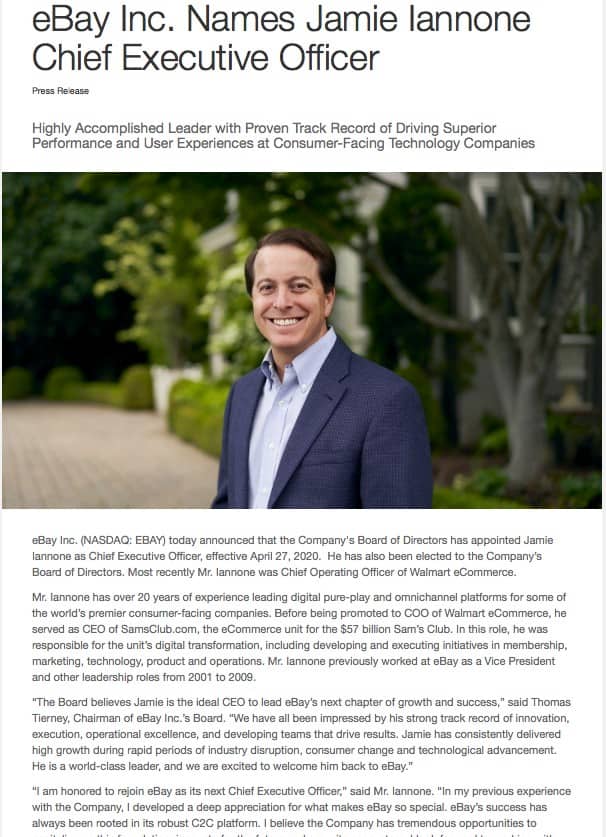 eBay, in the very first paragraph of the press release, grabbed journalists' attention by mentioning that Jammie was Chief Operating officer at Walmart eCommerce. In simple words, eBay is conveying a message that the company now has a more skilled team in the eCommerce section, good news for the investors and customers.
Chevrolet—Launch of Corvette (Product Launch Press Release Example)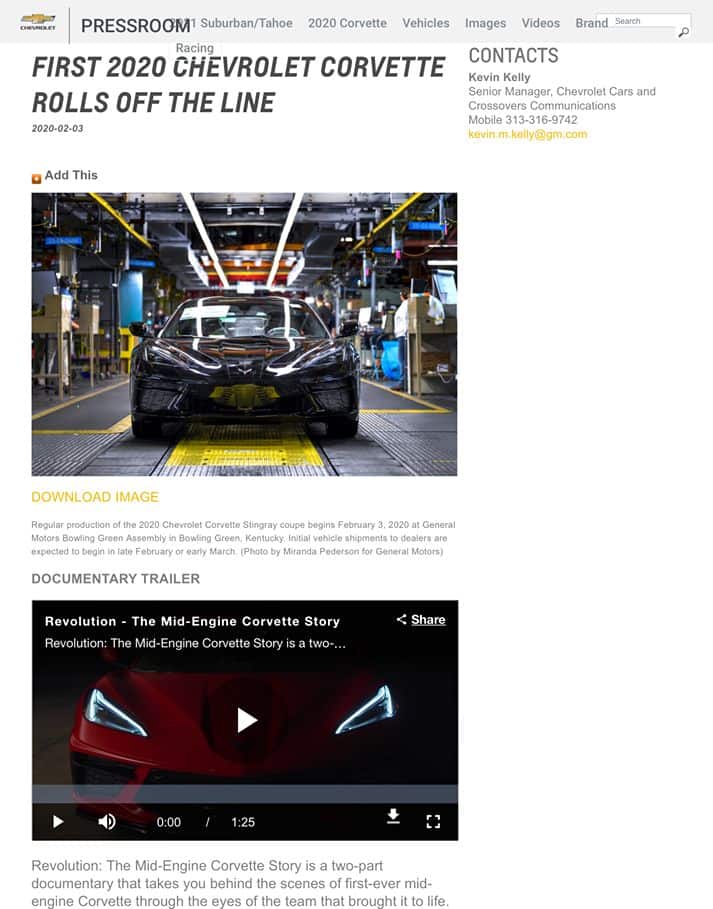 It is one of the most concise yet ultra-effective product launch press releases. Chevrolet's press release on the launch of Corvette in 2020 was only three lines long, while the remaining press release was a detailed, HD video with some development/manufacturing clips backed by the designer's commentary.
Heinz—Searching First Ever "Head Burger Artist" (Event Press Release Example)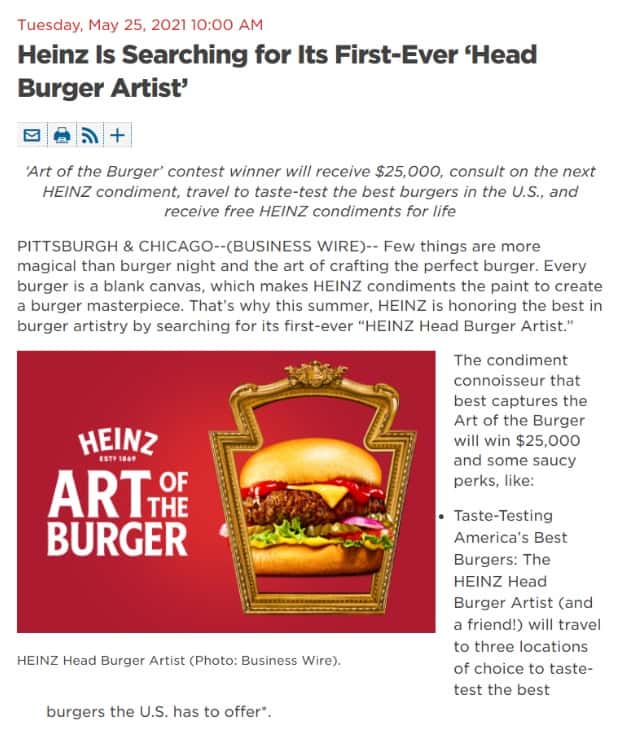 It may seem like a job advertisement, but Heinz held a public contest with a massive winning prize. The company invited people to come up with their unique burger recipes, and the winner got $25000 with some additional benefits.
Press Release- Frequently Asked Questions
How to Send A Press Release?
There are different ways to send a press release. You can either send it to media personnel in your network or distribute them to multiple media outlets. Small businesses can get help from press release distribution services, such as eReleases. These services will share press releases with hundreds of media outlets.
What Makes a Good Press Release?
A good press release is judged based on a number of factors. However, there are two important factors that can be used as a benchmark.
Newsworthiness: how solid and compelling the content/story is.
Distribution: the level of interest of media outlets and journalists in sharing the press release.