What is Slack
Slack is a cloud-based platform that allows people to send and receive instant messages, emails, and notifications by using the single app. In other words, slack is an integration of various miscellaneous platforms into a single one. Whether it's direct messaging or group messaging, you can do it under one roof.
Slack Technologies developed the software in 2013, but it wasn't available for the public to use. However, the company released its Windows version in November 26, 2019. It's android and apple app was released in December 20, 2019. The software is also available for macOS, Linux, iOS and window phone users.
Slack provides very unique and attractive features like individual users can replace the button with some emojis. Teams, groups, communities can use slack by sending an invitation link to other teammates, instead of social media groups where all the people aren't online at the same time.
Slack Revenue and Employees
The annual revenue for 2019 was $401 Million, increased by 81.62% from 2018
The number of employees in 2019 was 1,664.
Here are some of the main alternatives to slack that you can use and they'll be just like slack.
10 Best Slack Alternatives
Microsoft Team
Microsoft Team is a unified platform for the teams and co-workers to have online meetings, conferences, video-audio calls, messaging, sharing files and documents. It is s very good alternative to slack. However, it has very a 360-degree vision feature that companies can subscribe it to check and manage the office productivity.
Brian McDonald, corporate vice president of Microsoft developed the software on March 14, 2017. The company released its windows and macOS version on October 09, 2019. It is also available for android, macOS, iOS, Windows, and Linux.
Microsoft developed the software secure and encrypted, which means the encryption will protect the data you send. The company offers the software into two packages, one is business essential and the other is business premium. Their costs are $5 and $12.5 per month respectively.
Rocket Chat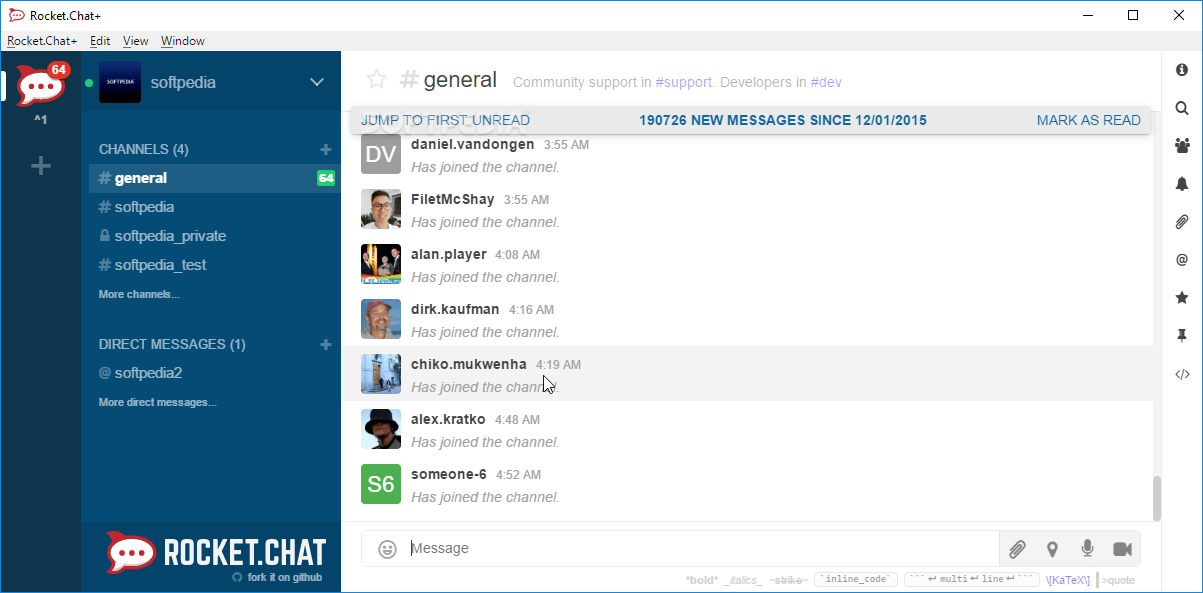 Rocket Chat is free software that allows you to make your own fully customized team and then communicate with them either via text messaging or video-audio calls. People can share files and documents just by uploading it. Businesses can have conferences and meetings by using this platform.
Rocket Chat is well-secured software; it follows the two-factor authentication protocol, where the user has to verify oneself by entering the code sent to one's cell number. It doesn't just rely on the password. The communication on this platform is fully E2E encrypted.
If you want the software to be simpler and make things easier, then the software gives you the option to have your own customized simpler design by paying a certain fee for it. Some of the Rocket chat features are as follows;
Live chat
Translation on time
Works on all the platforms; web, app, desktop, etc.
Customized themes and many plug-ins,
Integrations and import file and data
The community version is free, but its pro version for businesses costs $3 a month and $30 annually. There are different charges for cloud services.
Discord
Discord Inc developed the communication software and app 'Discord' for gamers, where they can chat with one another by using images, text, video and audio calls. Other apps and software that offer the same services are very costly. People can also use the app to work in the team for gaming projects.
Discord also gives the option of choosing public and private channels, once you do that. Then it'd give you an experience of slack. Most importantly, discord is free. The paid version 'Nitro' is more enhanced and offers better aesthetic features for gamers. Since it's for gamers, it doesn't boost up productivity.
When it comes to businesses and team management, then it doesn't integrate with other service apps that could potentially increase the productivity. Discord has a very good feature of push to talk if you want your team to perform more effectively.
Hive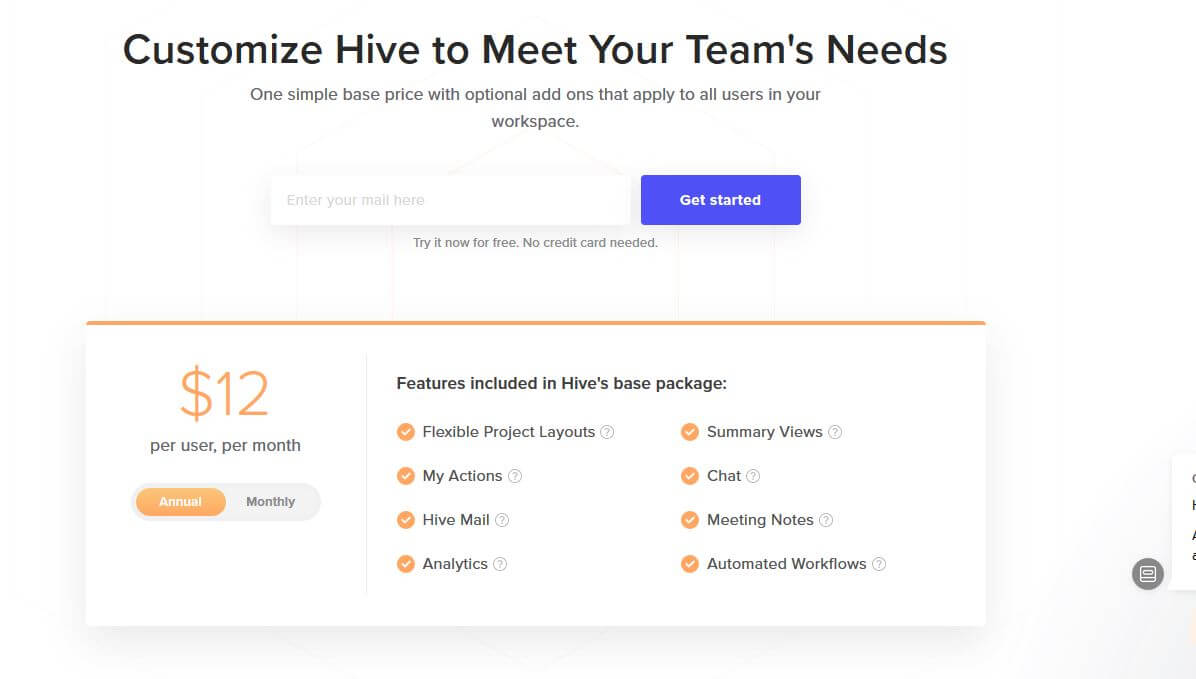 The features and functionality of the Hive are very similar to Slack, where you have the experience of having all the emails, messages, and notification on one page.
What different Hive from Slack that its performance is much better than the slack in terms of speed and efficiency. Especially, if you have got a big team and many people in it, then it gives some other features. Like the management of resources, scheduling of upcoming projects, monitoring the performance and pointing out the risk factor, removing unnecessary emails from the list and focusing on the relevant data.
The interface of Hive is user-friendly, and it even gives you the option to integrate your Slack account into the Hive account. When you do that, then it would synchronize the data and you'd get started right away.
Unlike other freeware, Hive is not free. However, it provides all of these professional services at only $12 a month. Users can also choose the annual package, where they'll receive bills annually.
Chanty
Chanty is a very user-friendly tool for small and medium-sized businesses and teams. It offers almost the same features as Slack and other software are offering. Even the interface of Chanty is very similar to Slack.
The interesting feature about Chanty what other software and apps don't have is the auto-organizing feature. It puts things on them on the folder by the name of 'Team book.'
If you have a team comprising of less than 10 people, then Chanty is free. If more, then you have the package only for $3 a month or you can have the annual plan. In case you buy the annual package, then the company would give additional features like unlimited integration, customer support line, and cloud storage.
Flock
If you're looking for the alternative of Slack, then Flock is the best choice. It's because of many reasons, like the interface of flock is almost the same as the Flock's.
The speed of Flock is much faster than Slack, Flock is more efficient. It even offers the same features as Slack is offering.
The initial version of Flock is free with limited integration approximately 50. If you want to add more people and integrate more apps, then you have to its premium business package costing $4.5 a month. Slack charges $12.5 a month, which means your business would $8 a month and $96 a year.
Google Hangouts
Google Hangouts is a communication service of Google. In 2017, Google divided the service into two parts; Hangout Meets and Hangout Chats. Hangout meets allows users to have calls and conferences, hangout chats allow you to send instant text messages. People can also share files and documents, audio-video calls and team meetings inside or outside the company.
Google hangout is free for ordinary users. But if you want to use the G suit of hangout, then it offers three packages. The basic package is for $6 a month, the Business package is for $12 a month and the enterprise package is for $25.
Google is also planning to close the G suit version of hangout in the mid of 2020, but the company will continually keep supporting the hangout.
Flowdock
Flowdock is also a very good alternative to Slack software. It provides you the same features like integration, team meetings, conferencing, audio-video calling, private and public channels, and sharing of files and documents. Flowdock also has an automated feature of managing and organizing your messages and threads.
Flowdock provides a one-month free trial with a team of 5 people. After that, you can choose either Standalone package that costs $3 a month, or an Enterprise package that costs $9 a month.
Mattermost
Mattermost is a self-hosting, open-source, private cloud and online communication service platform. The functionality of Mattermost is almost the same as RocketChat, it is because it allows users to make their customized design.
Mattermost is very powerful in terms of privacy and security because it has its private cloud and self-hosting services. The features of Mattermost also similar to slack, however, it offers a unique feature of managing the messages that are under different threads.
Mattermost also offers a free trial demo for one month. The user has to choose its Enterprise $10 package costing $3.25 per month, or Enterprise package costing $20 $8.50 per month. The user can have an annual billing plan.
Fleep
Fleep is an online integration and communication service platform. Fleep has an advantage over Slack in terms of user convenience, where the users can communicate with other people outside the organization by having one account.
Fleep is a very good choice if you are managing different teams at multiple workspaces, then using Slack can be very laborious. Fleep can save you from the trouble.
Fleep offers three packages to its users; basic, business and enterprise. The basic package is free for students and individual users with limited features. The cost of the business package is £5, and the cost of an enterprise package depends on the usage and features one chooses.
Conclusion
After thoroughly going through the whole article "Slack Alternatives", we have come to understand that different online communication and integration service tools offer different features. Now, it depends on the needs and requirements of your business, you should prefer that tool whose features suit your business the most. You should also keep in mind the pricing of different software and apps, choose the most efficient package for your business.