Name
TESCO Plc
Year Established
1919
Industry
Retail
Founder
Jack Cohen
Headquarters
Welwyn Garden City, United Kingdom
Area Served.
United Kingdom, Ireland, India, Malaysia, Thailand, Czech Republic, Slovak Republic, Hungary, Poland
Net Revenue
£ 63,911 million (2018-19)
Net Income
£ 1,320 million (2018-19)
Employees
450,000 (2019)
Products
Supermarket
Hypermarket
Superstore
Convenience shop
Competitors
1. ASDA
2. Sainsbury's
3. The Cooperative
4. Costco Wholesale
5. Morrisons
6. ALDI
7. Carrefour
8. Lidl
9. Kroger
10. Waitrose

TESCO is a British multinational grocery and retail company. It was established in 1919, and currently, it has it headquarter in Welwyn Garden City, Hertfordshire, England. In terms of gross revenue and earnings, TESCO is one of the top leading companies in the world, and also in Britain as well.
TESCO has been running its business operation in 14 countries of Asia and Europe, and it has round about 7000 retail stores across the world. According to an estimate, the gross annual revenue of TESCO was 63,911 million pounds, out of which its net income was 1320 million pounds in 2018-19. There are approximately 500,000 people are working for TESCO worldwide.
Now, it's time to find out more about TESCO SWOT Analysis in detail.
TESCO Strengths
Following are the Major Strengths of TESCO Plc.
Biggest Grocery Store in Britain
TESCO has captured the British market in the real sense in terms of revenue. However, it's the top retail grocery store and supermarket in the UK. In the year 2018/19, its annual revenue was 63,911 million pounds both in the UK and Ireland combined. Its annual profit has risen by approximately 11% in 2018/19.
Efficient Network of Suppliers
Suppliers play a very important role in the operations of any business. TESO has been following a very simple business model, and that is to reduce costs by having an efficient waste management system. As a result, it has been having an effective relationship with its suppliers, who deliver the products on time.
Highest Market Share
As a leading supermarket and grocery retail store in the UK, it has also become famous among the people of Ireland as well. TESCO dominates the UK market by holding the maximum market share of roundabout 27%.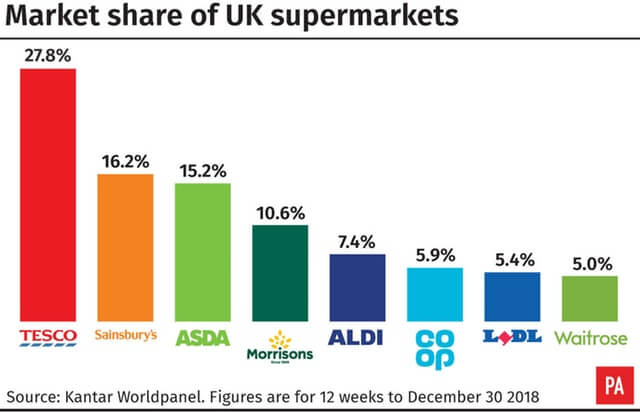 Multiple Award Holders
TESO's performance is not limited to the fans and statistics only, it has won many awards. Some of those awards are 'British favorite Supermarket.' Drink Awards and the Grocer's Label Food award was awarded 25 times. It has also won Best Grocer award ( 2018), Waste Not Want Not award and Grocer of the Year award.
Largest Private Employer in Europe
The other reason for its popularity among the public is that TESCO has been creating more and more job opportunities for people. It has employed roundabout 500,000 worldwide, and it has offered 743k job opportunities so far. Some also claim that TESCO is the largest private job provider in Europe.
Diversified in many Countries
Ever since the establishment of TESCO, it has spread in 14 countries across Europe and Asia where it has a strong market hold. The total number of supermarkets and grocery retail stores is approximately 6800 worldwide.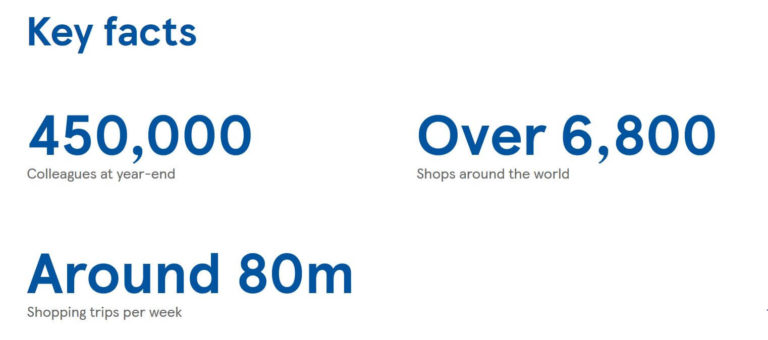 Diverse Retail Stores
Under the umbrella of TESCO, it has launched many stores to cover more demographics of the entire market. Like TESCO Superstores, Tesco Express, Tesco Extra, One Stop, Tesco Metro, Tesco HomePlus, and Jack's business.
TESCO Growth
If we look at the growth of Tesco historically, then it had 3751 stores in 2008. Eleven years later in 2019, it has 6800 stores. Its annual revenue has also been increasing over the years. It is because every new store adds up to the total profit.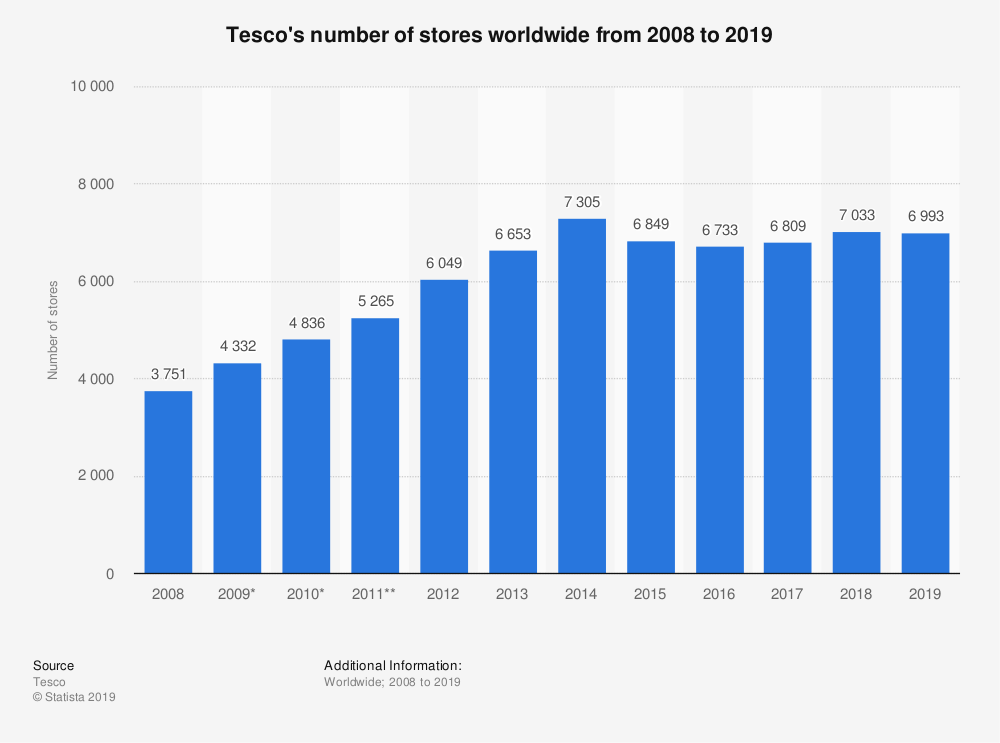 Variety of Products in the Diverse Market
Tesco offers diverse and variety of products and services to its employees across the world like telephonic and financial services, rental DVDs, clothes and school uniforms, mobile phone accessories, home, and ware items and cotton fair trade business worldwide.
Tech Advantage
Tesco has been updating and moving up with the pace of technology in the field of M-commerce. Like it has an advanced featured mobile app for online shoppers, it has also launched an RFID barcode system that automatically counts the products of shoppers.
TESCO Weaknesses
Below are the important weaknesses of TESCO, which can affect its performance and profitability.
Failure in the US and Japanese Market
In 2012, Tesco expanded its business and took it to Japan and the US, but the company has to shut down all of its stores years later. It was because the company couldn't export operations and execute its plans effectively offshore.
Sudden Clubcard Switching
In 2018, Tesco changed its Clubcard without informing the customers. As a result, customers were furious. Angry customers aren't a good sign for the business, because they're likely to go to some other brand.
Accounting Fraud Scandal
In 2017, courts found Tesco guilty of showing less profit in its accounting ledgers to avoid taxes. Such lawsuits and news damage the reputation of the company.
Financial Errors
Tesco's profit is seriously affected because of high credit card debt. Companies use debt for their advantage by increasing the profit if debt reduces your profit. Then it means you aren't using the debt rightly.
Less Operational Profit
The Brexit referendum has been affecting the performance of the company, and Tesco is making less profit because of it. Therefore, the market share price of the company has fallen by approximately 9%. It is not good news, because it wouldn't attract new investors.
Weak Operating Performance
The operational performance of certain stores of Tesco in some countries has always been low, which shows that the marketing department isn't doing sufficient ground research before opening up stores.
Low-cost Technique
Tesco has been following the business model of low-cost strategy, which is to offer products and services at a low price to its customers. But this strategy is costing the company in terms of low profit.
TESCO Opportunities
Here are the major opportunities for TESCO, if capitalized, can improve its performance in the future.
Expansion of Jack's Store
Tesco has launched a new discount store by the name of Jacks, and it has been performing well. The company should invest more in it because it has the potential to grow and compete with low-cost rivals like Lidl and Aldi.
New Emerging Markets
Although Tesco has expanded its business operations in 14 countries, but there are some emerging markets like Turkey, Indonesia, and South Korea. These markets have a great potential to grow,
Alliance with other Brands
Tesco has been partnering up with other brands in pursuit of growth. The purpose is to come up with better products and services to facilitate customers better.
Online shopping store
Tesco has a mobile app for online shoppers, it should upgrade the app and add the feature of home delivery. It would attract more customers towards Tesco.
Joint Venture
There are few Tesco's stores in some countries that aren't performing well. If it partners up with the local businesses and learn the knowledge about the local market, then its performance can move up the graph. Therefore, Tesco should take it as an opportunity and partner up with local businesses.
TESCO Threats
Last but not the least, the following are the threats to TESCO.
Christmas Scandal
In 2017, Tesco's marketers launched a Christmas ad; it was supposed to be funny. But it offended many people; they said that it was disrespectful and a direct attack on the Christian faith. TV ads and commercials should be free from the criticism of every demographic.
National Economic Crisis
National economic factors like taxations, credit, government rules, and regulations are a serious threat to the growth and performance of Tesco in some parts of the country. The company has to be very creative to counter such threats.
Fake Farm
In 2017, Tesco's marketers advertised some of its food products by the name of 'Woodside Farms,' there was no farm at all under its assets lists. However, the court found Tesco guilty of misleading the customers by using the fake farm as a brand name.
Brexit Deal
The British exit from Europe also goes by the short name of Brexit. If this trade deal happens, then it'd have a serious impact on the business of Tesco. It is because Tesco has been running its business operation in many European countries.
Supermarket Competitors
Giant supermarkets like Walmart, Carrefour, and Aldi are some of the main competitors of Tesco, and they are also growing.
Concussion
Tesco is undoubtedly a very big multinational brand. But its competitors are also big and growing aggressively. Therefore, it should take advantage of as many opportunities as possible. The company should resolve legal issues and clear its brand name from all the legal proceedings, and come forward as clean. So the people can trust the brand name again.