Nothing is constant except for the change. Everything, since its inception, has evolved. Talking about evolution, business practices have been a perfect example of this phenomenon. Marketers and entrepreneurs have left no stone unturned when it comes to marketing practices.
Companies have advertised their products or services on all possible channels. They have targeted social media, print media, digital media, transportation, logistics, etc. Marketers have been targeting transit channels for advertising purposes for a long time. Technically, advertisers call it transit advertising. It is not a new concept, but this article will help you learn things you may not know.
So, what is transit advertising, and why is it important? Let's find out!
What Is Transit Advertising?
Transit advertising, in simplest terms, is an advertising strategy that focuses on placing advertisements on public transportation as well as public transportation locations. Businesses place their ads on buses, taxis, trains, subway cars, bus stations, subway stations, etc.
The idea is simple and straight. Public transportation channels are highly crowded places. Most importantly, you can easily find every type of customer at these locations. Although every business can use this as an advertising option, local businesses can get more benefits from transit advertising. That is because they can easily target their local audience. Let's dig a little deeper and discuss the types of transit advertising to make things clearer.
Types Of Transit Advertising
Generally, there are two main categories of transit advertising
Indoor Transit Advertising
Outdoor Transit Advertising
Inside cards
Outside posters
Platform, terminal, or
station posters
Inside Cards
Indoor transit, as the name suggests, includes ad placement in the interior of buses, taxis, trains, etc. If you have experienced riding a commuter bus, you would have seen advertisement cards placed on the luggage area and above the seats. These cards advertise different businesses such as restaurants, hotels, food chains, TV and radio channels, and other products and services.
Apart from that, electronic message boards are a new addition to indoor transit advertising. That said, companies can now run ads in the form of videos and audios to covey a broader message.
Outdoor Transit Advertising
Outside posters
Ads placement on the exterior of transportation tools is not a new thing. Brands place their ads in the form of posters on the surface of buses, taxis, etc. However, the innovation that needs special mentioning is that modern-day buses and taxis now have electronic message boards/LED screens installed on their surfaces. Here are two excellent examples of transit advertising innovations:
Example 1: Air India Express: Window
A low-cost airline, Air India, came up with amazing creativity as they placed an air-plane window poster outside the public buses. It was not only unique but clearly visible as well. Without a doubt, it caught the attention of pedestrians and commuters.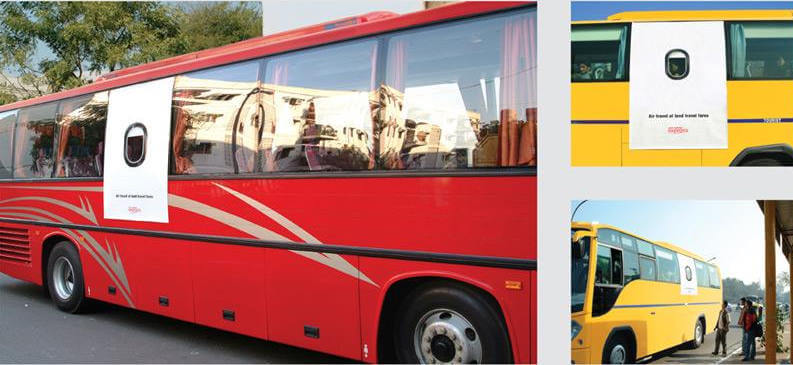 Example 2: Electronic Boards On Taxi Tops In The USA
A Boston-based company, Vert, Inc., has developed a new technology that transforms ads on the top of the taxis. The electronic billboards are installed on the top of the cabs to run the ads in real-time. The best thing about this technology is that it runs relevant ads according to a specific area.
A GPS is installed in every electronic board that receives the communication signals from a web server. The GPS tracker keeps updating the cab's location, and the webserver updates the ads according to the location. For instance, if the cab is passing through a Hispanic community, the ads will be run in the Spanish language. The company is currently offering these services in Boston and New York.
Platform, Terminal, Or Station Posters
As the name clearly suggests, brands place their ads posters on subways, bus stations, airline terminals, etc. They can be in the form of island showcases, floor displays, and electronic billboards. Different brands have taken outside transit advertising to a whole new level because of their sheer creativity. Moreover, Gannet Transits has recently introduced electronic signs on New York subway platforms.
Example: "Absolut" Bloody Campaign
Absolut is a popular vodka brand in Sweden and is well known for its creative ad campaigns. The company's advertisers changed several bus marquees with a better and more sophisticated outlook. It was more like street art, but it was very effective and eye-catching and a perfect advertisement for one of the best vodka drinks in the world.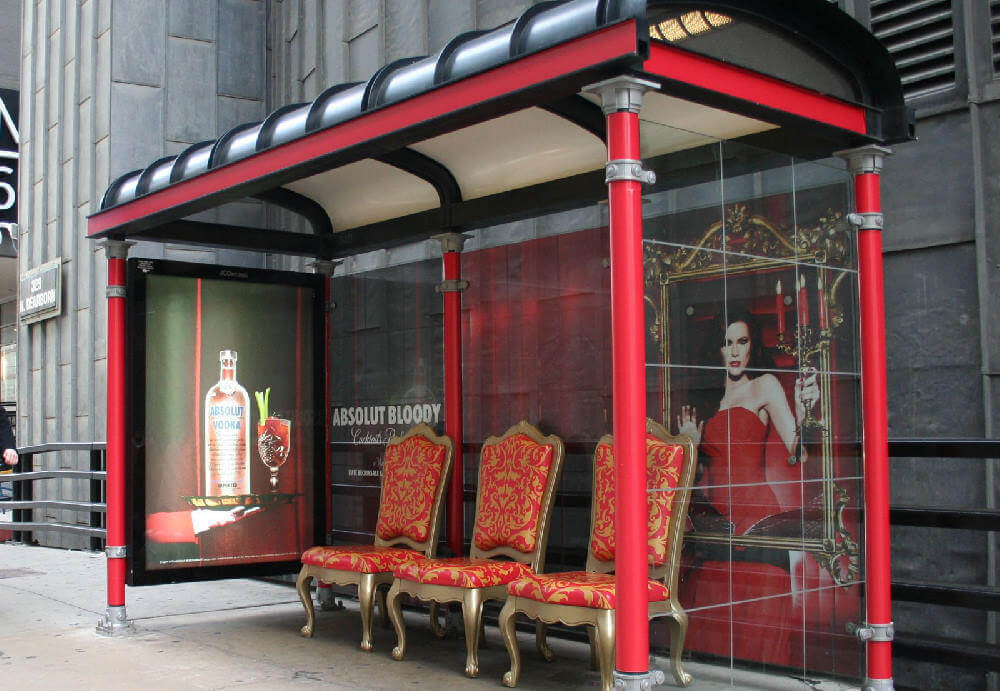 Importance of Transit advertising
Transit advertising is one of the biggest advertising tools in the United States and Europe. It is simply impossible to avoid or neglect this advertising channel. Here are some eye-opening stats:
Approximately 30 million people see different ads on buses every week.
98 percent of the UK population is exposed to OOH advertising (transit advertising is a category of OOH advertising).
According to stats, 83 percent of people remember OOH advertising which they see 30 minutes before shopping,
Most of the adults in the United Kingdom spend 70 percent of their time away from their homes.
Examples of Transit Advertising
King Kong Bus Ad
Kong is one of the most famous animated characters in cinema history. The iconic giant guerilla has been featured in several films such as King Kong, Kong: the skull island.
Yes, these movies were super-hits, but it was the franchise's advertisers that grabbed public attention. Their creativity with the transit ads was remarkable.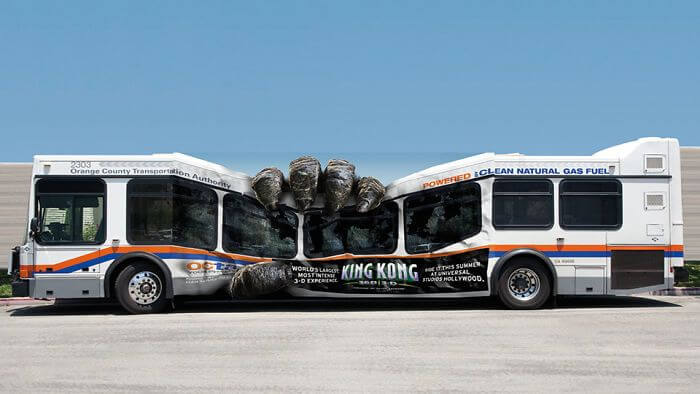 The ad poster on the bus was mind-blowing and eye-catching. Kong's pawn can be seen squeezing the bus. It looked so realistic that visitors couldn't take their eyes off it. Indeed, it was a perfect example of creative and effective transit advertising.
Bus Back Crash- Specsavers
A British multinational optical chain, Specsavers, was very creative with their transit advertisement. The company placed a poster on the bus rear, which shows that a bus just crashed a sign pole. The message reads as "should have gone to Specsavers." This surely was a great example of transit advertising.
Advantages of Transit Advertising
Better Exposure. Transit advertising gets massive audience exposure, and this is probably the best thing about it. On average, a person spends 45 minutes on public transit. That means he/she is most likely to see almost all of the ads on a bus or train at least once.
Repetitive Exposure to Ads. Buses and trains are one of the most common transit channels in the United States and European countries. That means people may travel daily on the same route and get frequent exposure to advertisements placed in buses, trains, terminals, stations, etc.
Geographic Advantage. Transit advertising works much better for local brands as they can easily target their local audience. They can select the market segment they want to target and place their ads on buses or trains in that specific area.
Timeliness. Transit advertisements can change customer decisions even at the last minute. For instance, shoppers mostly travel on public transit, and it is possible that a commuter may change his/her mind related to buying a specific product after watching an ad on the bus.
Cost-Effective. Another good thing about transit advertisement is that it is relatively cheaper than many other modes of advertisement. A company can purchase an ad on the side of a bus at a very affordable CPM.
Disadvantages of Transit Advertising
Difficult To Reflect True Brand Image. One major problem with transit advertising is that it is very difficult to reflect the true image of a brand. Many advertisers believe that transit advertising doesn't convey the message related to products or services as a firm would like to do.
Limited Reach In Specific Areas. Yes, a brand can get great exposure if it uses transit advertising in urban areas. However, transit advertising is almost non-existent in suburban areas. That means a brand cannot reach their potential customers in suburban areas with the help of this advertisement channel.
Creativity limitations. One of the biggest challenges for transit advertisers is to convey the brand message within the fewest possible words or images. You simply cannot write detailed ad copies on a bus. Your advertisers need to be on the top of their game to attract your target audience and convey the message effectively.
Changing Routes of Public Transit. Another issue with public transit is that buses may not follow the same route for longer periods. To reduce wear and tear, transit companies use their buses on different routes. For instance, transit companies may replace the city route for a bus with a longer suburban route. That means your ads may be seen by people who are not your target audience, but you will have to pay for the ads during that time period.
Highly Dependent on Audience Mood. What are the odds that an average commuter will always be in the same mood all the time? Yes, people may feel depressed, rushed, unhappy, angry, etc. If a passenger is in a hurry or thinking about something else, will he/she see the ads around him/her? Well, the chances are very bleak.