What is Dropshipping?
Dropshipping is the process where the seller doesn't keep or own the stock and inventory like a retailer; instead, the store buys the product/service from the third-party, wholesaler, manufacturer and get it delivered directly to the customer.
How Dropshipping Business Works
The difference between ordinary retailing and Dropshipping is that the store or the seller does not keep the stock and inventory of items that do not sell, because it would be nearly impossible and highly expensive to keep and maintain the stock of everything. Therefore, the store purchases the required items from the third party, it could be other retailers, wholesalers, or manufacturers, and then get product/service directly shipped to the customer. The seller or the store doesn't have to deal with the product or handle it directly in the Dropshipping.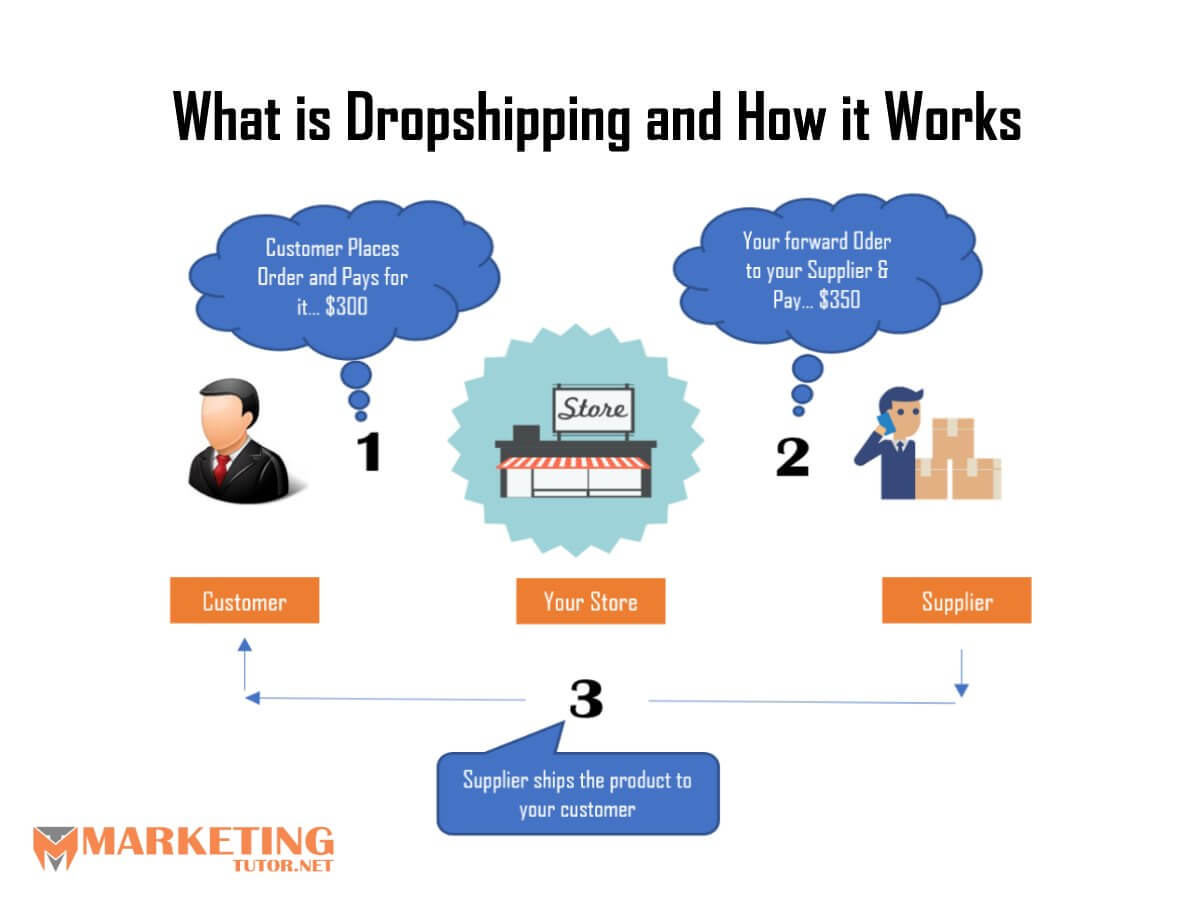 Dropshipping Vs Affiliate Marketing
Affiliate marketing is a way through which you earn commission by promoting the product of some other company on your platform. When the sale actually happens, then you get your commission.
Dropshipping stores can also use their platform for affiliate marketing by promoting the product/service of other companies. When the customer buys something by using the Dropshipping stores, then they would get a percentage of commission from it.
Dropshipping Vs Drop Services
Drop service is similar to the Dropshipping, but a little different. You have an online store in the Dropshipping. But you act like an agent or a contractor in the drop service, where you help your client to find the suitable services for them and get paid from the order.
In the drop service, the client doesn't know that you are outsourcing other services for them. You make your client feel like you own the other services. In reality, you are facilitating the process by finding other people who will do the service for you, and earn your commission from the sale or the order.
Dropshipping Vs Wholesale
Wholesale is the process where you goods in the large quantities from the distributors and manufacturers, storing the stock of it in the warehouses and then reselling it to the other business. Wholesale is a very good example of business to business model.
One of the main differences between wholesale and Dropshipping is that you don't sell products directly to then end consumers in the wholesaling. But in the dropshipping, you buy goods from the wholesaler and get them delivered to the end customers.
Advantages of Dropshipping
Some of the benefits and advantages of dropshipping are as follows;
Few Resources Required
One of the main benefits of dropshipping is that you don't need a plethora of resources to start. In other words, you don't have to rent a building for maintaining inventory or establishing any store. Traditionally speaking, you require a building for store and another building for warehousing.
But with the concept of dropshipping, you don't have to buy an inventory of products, unless the customers have already paid you to do so. All you have to do is to find the target market through the internet and social media and get orders. When you have the orders, transfer them to the wholesalers and get them delivered to the customers.
Easy to Start
Dropshipping falls in the category of e-commerce, where you don't have to worry about the physical expenses like; inventory and warehousing cost, maintain record of inventory, packaging of products, managing orders, and the stock level, and managing shipments and deliveries.
When you don't have to worry about the abovementioned costs, then you can easily focus and start your store.
No Inventory Cost
Inventory management is a serious business in any physical store. It involves a lot of renting and maintenance costs like buying of various inventories, storing it, and expiration cost of earlier products. Therefore, you need a vigilant inventory management system for the smooth running of all the business operations. If you're unable to manage it well, then all of those costs would keep on accumulating. But the dropshipping model takes off the big inventory management cost from your shoulders.
Online
Since dropshipping is an e-commerce business and you need only a fast internet connection to stay online and remain connected with distributors and suppliers. Therefore, it excludes the rent of the building cost.
Offer Variety of Products
Since dropshipping doesn't involve inventory management cost. Therefore, you can offer a variety of products to your customers. All you require is to develop and maintain relations with more suppliers and make them agree with your terms of business.
Test before Launching a Store
One of the best advantages of dropshipping is that it gives you the option to check whether your store would work or not. You can start with an online store and maintain relations with suppliers for a short time. If you start receiving orders and a good response from the customers, then you can invest more capital in the inventory and building.
Easy Scaling
Scaling means evaluating the performance of your business, it usually brings extra work. If we compare the scaling of dropshipping with traditional business, then scaling of dropshipping is easier.
Disadvantages of Dropshipping
Some of the flaws and disadvantages of dropshipping are as follows;
Fewer Profit Margins
Dropshipping has become a very competitive business in the recent times because the cost of establishing an online store is very low. This low cost has attracted a lot of new competitors into the market; they are willing to work with less commission and offer less price to the customers.
The suppliers who agree on the less and dropshippers who are willing to work at a lower commission are not usually quality conscious people. But the customers don't know that all they see is two dropshippers. One is offering products at a higher price, and the other is offering it at a lower price. In such circumstances, it has become very difficult to differentiate your brand from the competitors and stand out from the crowd.
Stocking and Inventory Problems
Although managing an inventory cost is very high, but if you hold a good market share and sufficient orders, then it's worth spending the inventory cost. If you don't, then you'll be completely relying on your suppliers to complete the orders.
In the online world, there's no such thing as timing. You can place your orders at any time. Now, you have to check whether your supplier and shipment service offer 24 hours service. If not, then all of your orders would be shipped late. It convey a bad message, negative marketing is not good for your business.
Shipment Cost and Complications
If you are offering a variety of products to your customers at your online store, it means that you would have to deal with multiple suppliers at the same time.
If a customer places an order of 3 separate products from three different suppliers, and they will ship the product three separate. But the customer would pay for the one-time shipment. Even though it's understandable to charge the customer for three separate shipments, and you have no other choice but to charge him at once.
Suppliers' Mistakes
If a customer has placed an order, and your store would transfer it to the suppliers, and the department makes a typographical mistakes, or mix some names. As a result, customers would receive the wrong deliveries. Even though it's not your fault, but you would have to accept the blame from the customers.
Limited Branding
If your online store has its own inventory, then you would have control over packaging and printing your brand logo on all the deliveries. When your store has multiple suppliers, and it is their job to ship the product directly to the customers, then it's highly probable that they would use their own logo and brand name. If they do that, then your brand would have a limited exposure.
Dropshipping FAQs
Here are some of the frequently asked questions, and their answers are given below;
How Much Does Dropshipping Costs?
The cost of an online dropshipping store varies from the category of the product, but there are some fixed costs like domain and hosting and online advertisements. You can start with approximately $500 a month if you manage everything.
What are Dropshipping Suppliers?
Dropshipping suppliers could be manufacturers, distributors, or retailers depending upon the category of the product. Suppliers are those entities that provide you the products that you're offering to your customers.
Is Dropshipping a Legitimate Business?
Yes, indeed. Dropshipping falls in the category of e-commerce business where you sell products online, and deliver it to the customers at their doorstep.
Is Dropshipping Profitable?
Yes, dropshipping is a highly profitable business with minimum risk. The amount of profit depends on the number of orders you get. More orders mean more profit. Your store can have more exposure by advertisement. More exposure can also bring you more orders.
Conclusion
Now, if you're planning to start an online dropshipping store. You should be very cautious about the inventory, and a trustworthy supplier. If the category of your store involves more than one supplier, then you should rethink the planning that how you can minimize the risks.