Adidas is a German multinational sportswear manufacturing company. It is the biggest company in Europe and 2nd largest company globally after Nike. The products of Adidas are shoes, clothes, and other sportswear accessories. The annual revenue of the company was 25.961 billion US dollars by the end of 2019, and the overall profit of the company has risen approximately 1.22% compared to 2018.
Adolf Dassler is the founder of Adidas and he started his journey at his mother's house in 1924. The logo of the company is comprised of 3 strips, which its manufacturer prints it on all of its products. In 2018, there was roundabout more than 57000 people working for the Adidas around the world. Headquarter of the company is situated in Herzogenaurach, Bavaria, Germany.
It's time to study the SWOT analysis of 'Adidas' and understand more about the company and its functionality.
Adidas Strengths in Swot Analysis
The main strengths of the company are as follows;
Brand Value & Position
Brand value means the financial position of the company in terms of customers' perception that how much they'd be willing to pay for the product. However, according to the ranking of the Interbrand, where Adidas ranks 45 worldwide and the estimated its brand value is $ 11.99 billion US dollars in the year 2019. On the other hand, Nike's brand value is $ 32.4 billion.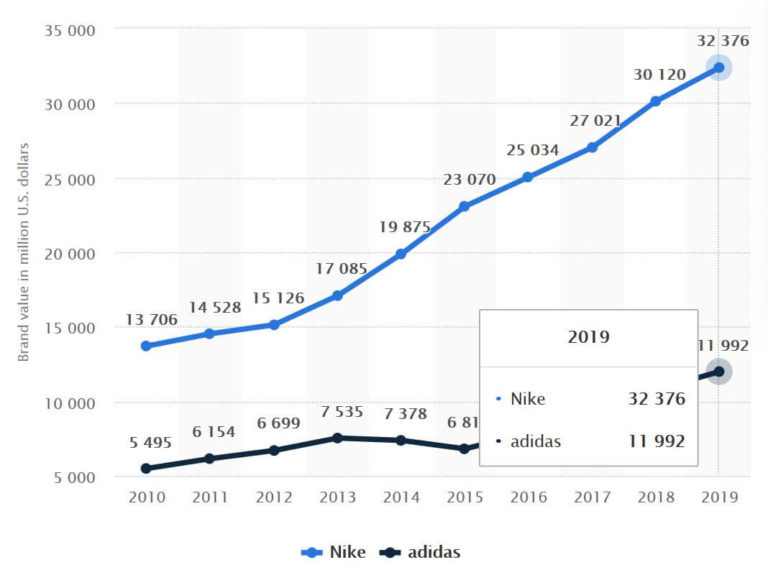 Adidas is a Leading Brand for Teenagers
No doubt, Adidas is the most favorite brand among teenagers. The demographic comprises teenagers and young people falling between the age of 18 to 24. The reason behind this is that Adidas is very cautious about the quality of its product, that's why it's very popular among youngsters.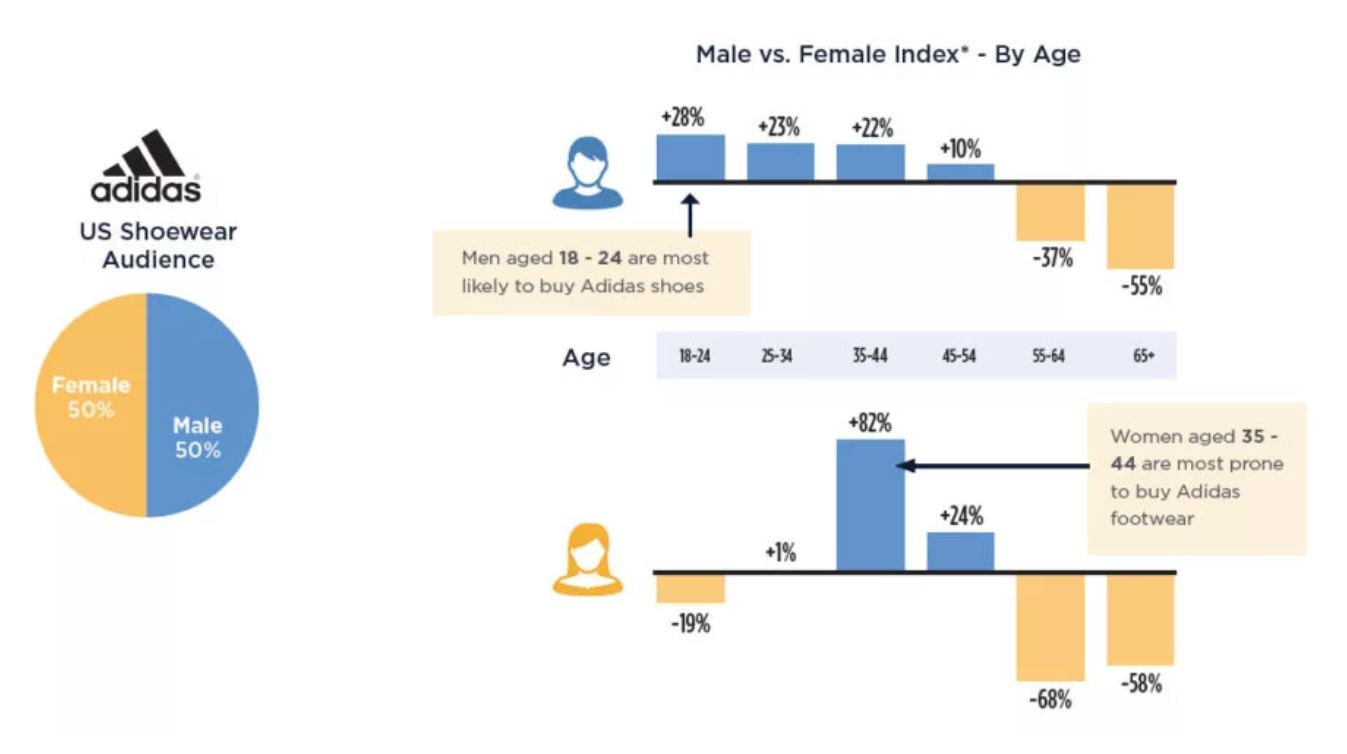 Prestigious Legacy & Brand Icon
Adidas has a long legacy of prestigious heritage, and the company has inspired different cultures and ears in different periods across the world. For instance, Adidas had a great influence in shaping the hip-hop culture of 80s and sports culture in the 70s.
The three stripes logo of the company became so popular in the Urban areas, that people started recognizing it as some sort of cult.
Sponsor International Sports Events
Adidas had the opportunity of sponsoring some of the global sports events like the Olympic Games, NBA and FIFA World Cup Russia. Such platforms are a great platform to advertise your brands and influence people across the world.
Innovative Products
Ever since its establishment, the main objective of the company has always been to deliver high-performance products in a sustainable way. Even in 2018, the company invested approximately 153 million Euros, comprising 0.7% of its total annual sales, on research and development.
In the category of large enterprises for its speedfactory, Adidas won the "German Innovation Award 2018".
Diverse Portfolio
The portfolio of the company isn't limited to sportswear products only. Adidas offers a diverse range of products to its customers like footwear, sportswear, apparel, and hardware accessories.
Efficient Supply Chain Management System
Supply chain plays a very important for the effective running of every organization, and Adidas has a very efficient system of supply chain. According to a study, Adidas outsources almost all of its products, and the company has multiple partners that work closely with the management to keep operations running smoothly. There are different outsourcings countries specializes in different fields which are as follows;
| | | | | |
| --- | --- | --- | --- | --- |
| Production | Asia | America | Europe | Africa |
| Footwear | 97% | 2% | 1% | 0 |
| Apparel | 91% | 4% | 4% | 1% |
| Hardware | 79% | 1% | 19% | 0 |
Endorsement of Celebrities
The other reason for its popularity among youngsters and teenagers is because of the brand endorsements from TV and film celebrities. There's a long list of celebrities who endorsed Adidas brand over the years like Beyonce and Kanye West.
Diverse Distribution Network
The company has a very strong network of distribution world. According to an estimate, Adidas has over 14000 franchise stores, more than 150000 co-branded wholesale and retail stores, and over 2300 company's self-owned stores across the world.
Online stores and e-commerce can increase the sale to a great extent by targeting the specific market; you can sell your products directly to them.
Innovative Marketing Strategy
Adidas marketing strategy is focused on three different pillars i.e. focus on 6 different geographies and target markets, focused on speed-to-market strategy and collaboratively worked with athletes, celebrities.
World-class Athlete's Ambassadors
World-class athletes like Sachin Tendulkar, Messi, and David Beckham who have millions of followers worldwide, when they sponsor your brand. Then it gives your brand a unique competitive edge.
Financial Strength
Admit or not, finances play a very crucial role in the life cycle of an organization. The more financially stable a company is, the more chances that the company would be successful. However, Adidas is one of the most financially strong companies around the world. It is because of the financial strength; a company can push short competitors out of the market and protect a long term market share.
Adidas annual revenue for the year 2018 was $25.882B, which increased 7.92% increase from 2017
Net Income for the year 2018 was $2.01B, which increased 62.11% increase from 2017.
EPS for 2018 was $4.97, which was a 63.5% increase from 2017.
Acquisitions
Adidas has acquired 7 different organizations that include Salomon AG (1997), Reebok International (2005), Mitchell & Ness (2007), Textronics (2008), Five Ten USA (2011), Adams Golf (2012) and the most recent acquisition was Tuntastic 2015. in 2005, Adidas acquired Rebook Int. for $3.8 billion that all it to compete with Nike the world-leading sports footwear and apparel brand.
Adidas Weaknesses in Swot Analysis
Product Pricing Strategy
Adidas has adopted premium pricing strategy and it makes products less affordable for middle-class consumers and in underdeveloped regions. The main reasons for premium pricing are the use of innovative technologies and manufacturing methods.
Adidas Endorsement Deals
Nike endorsements with athletes are very high in number than Adidas, Under Armour or any other brand. In 1980, Adidas was passed on a potential endorsement with American basketball player Michael Jordan. But Nike was able to snag Jordan endorsement deal and even today the brand is generating billions of dollars revenue for one of the leading brand Nike.
Adidas Products Turnaround is very Slow
According to a businessinsider article, Adidas turnaround time is about 18 months from design to store which is an alarming weakness of Adidas. This turnaround is very slow and the company is unable to capitalize on emerging trends in the market.
Adidas Opportunities in Swot Analysis
Product Line Expansion
Besides improving its existing product line, Adidas should also focus on production line expansion to increase market share and at the same time differentiate itself from competitors.
Exploring the Emerging Markets
For apparel and footwear brands emerging markets have dynamic growth opportunities. Adidas should also avail the opportunity because new markets have low competition and developed economies are difficult to compete in.
Technological Advancement and Integration
There are no define ends of technological advancement as it is an integrated process from design to shelves. For example, Adidas should embed 3D printing in Speedfactory Technology and furthermore the data collection integration technology in products to measure performance. Adidas can use the data through artificial intelligence technology to find out the changing trends of consumer behavior. Technological advancement is an important opportunity for Adidas.
Endorsements
Adidas need to sign endorsements contracts with different athletes and non-athlete superstars and celebrities. Because Celebrity-infusion strategy has worked for many sportswear brands like PUMA. This can certainly increase the financial performance and brand presence of Adidas.
Adidas Threats in Swot Analysis
Strong Competitors
Though Adidas is one of the most leading brands in the world but still the brand is facing strong competitors like Nike, Under Armour and PUMA in sports footwear and apparel.
Economic Uncertainty
Adidas has already issued a profit warning and blamed uncertainty in Russia. There are other economic factors that affect its financial performance, for example, currency fluctuations and strong dollar.
Dependence on Suppliers
Most of the Adidas production is outsourced. According to The supply chain structure, in more than 55 countries there are almost 800 independent factories manufacture Adidas products. Asian countries like China, India, Indonesia, and Korea are producing 68% of its products. Though the company is focused to maintain long term relations still suppliers have strong bargaining powers.
Laws and Regulation
Compliance with Governmental regulations and laws key threat to Adidas. Asian countries are manufacturing 68% products of Adidas. Government regulation, labor laws and taxes can affect the pricing and financial performance of the company.