Chipotle Mexican Grill also goes by the name of 'chipotle,' it's an American fast-food chain that has been running its business operations in like UK, France, Germany, Canada, and the US. The main products of Chipotle are salad, burrito, tacos, Tex-Mex cuisine, etc.
The banding cliché of the company is 'food with integrity,' these aren't only just branding words. The company is committed to offer fresh dining meals to its users always.
| | |
| --- | --- |
| Company Name | Chipotle Mexican Grill, Inc |
| Year Established | July 13, 1993 |
| Industry | Restaurants |
| Headquarters | Newport Beach, California, USA |
| Area Served. | United States, Canada, U.K, Germany, France |
| Net Revenue | $ 4.865 billion (2018) |
| Net Income | $ 0.177 billion (2018) |
| Employees | 73,000 (2018) |
| Menu | Burrito, Bowl, Tacos & Salad |
| Competitors | Taco Bell | Panera Bread | Moe's Southwest Grill | Qdoba Restaurant Corporation | MTY Food Group Inc. | Mswg LLC | Rubio's Coastal Grill |
Anyways, in the SWOT analysis of Chipotle, we'll discuss various aspects of the company in detail from multiple angles. Here it follows;
Strengths of Chipotle
As we know that the strengths are the internal competencies of an organization or a company; like any other company chipotle also its strengths which are given below;
Tasty Food Menu
The usual menu of Chipotle is tacos, burritos, salad and burrito bowl, but what differentiates chipotle from competitor's hotels and restaurants is its unique taste with spices. It is because tasty food is the base of any hotel which brings people to come and have a meal there. If it's not offering something unique, then people won't come.
Company's Mobile App
The company has also launched a mobile app, where users can choose the dish of their choice and place the order. Instead of waiting in the lines, customers can place the order immediately after coming into the hotel. In April 2019, the company started a loyalty program to increase the use of its app, it however resulted in 14400 downloads of chipotle app. The company has 25700 daily active users, and figure is increasing consistently.
Classic Cooking Style
The cooking style of chipotle's chef is classic. Instead of having ready-made and industrially prepared ingredients, its restaurants still use knives to cut fresh meat and vegetable and then cook it in pan and pots. Either grill it or stove it, depends on the customer's choice.
Quality Food
'Food with integrity' there's a reason that this phrase for branding, it's because they prefer fresh ingredient to prepare the food for their customers.
Fresh & Clean Food
Usually, hotels and restaurants use frozen meat and vegetable, but chipotles are famous for using completely fresh meat, vegetable, rice and other ingredients for cooking. Everything comes to the kitchen fresh and the chef uses it daily. Instead of freezing it, and keep on using it for weeks.
Economical Pricing
Chipotle offers freshly prepared food which usually costs more, but they charge very economical prices to their customers. The food item menu contains prices ranging from $1.5 to $8 dollar for different products.
Regular & Reliable Supplier
Cooking a meal with fresh ingredients is a very challenging task, it is because of the availability of the fresh items. It means you have to have a very strong network of suppliers, and then you'd be able to offer these services.
Rightly Processed Meat
Lately, there's been a lot of discussion on the welfare of animals and they must be kept well in a humane way, before slaughtering them. Especially chickens and pork, chipotle are cautious about these things. Therefore, they prefer those suppliers who treat animals well in their farms.
Weaknesses of Chipotle
Weaknesses are also the internal flaws of a company, which the management must be aware of. Because it doesn't matter if they don't know their strengths, but knowing your weaknesses is more important. Competitors usually target your weak points to take the competitive edge in the market. That's why it's important to know your weakness. Some of the important weak points are as follows;
Few items in the Menu
When you have a brand like chipotle that is operating in the six countries, then it must be offering a wide range of dishes to its customers to target a much larger market. Instead of just relying on the few items on the menu, it should add more dishes on the menu like Panera bread.
High Sodium Level in its Products
We all like salt to make our meal tasty and spicy, but some blood pressure patients avoid salt in their diet. Chipotle food items are salty and have a high sodium level, which is good for healthy young people. But not for people having higher BP, they must offer some salt-free items. Or they add lemon which is sour but doesn't have sodium.
Relying on Few Suppliers
Chipotle heavily relies on its supplier to have fresh chicken meat, fresh vegetables, rice, and other ingredients. If there's anything happen in the supplier network, then the whole business would be in great jeopardy. Therefore, it must have some alternative or its supplier network to minimize the risk factor.
It takes around 60 avocados to make one batch of fresh Chipotle guacamole.
Opportunities for Chipotle
Opportunities are the external factors that a business can use for its advantage to increase the market share and profit as well. Some key opportunities are as follows;
International Market Expansion
The USA is the major focus of Chipotle, although it has hotels and restaurants in other countries. But they're very few, approximately 37 to be more precise. That's very low for a multinational brand, the international market is very big. Chipotle must keep on spreading its business operation everywhere like McDonald and King Burger, instead of whole relying on the US market.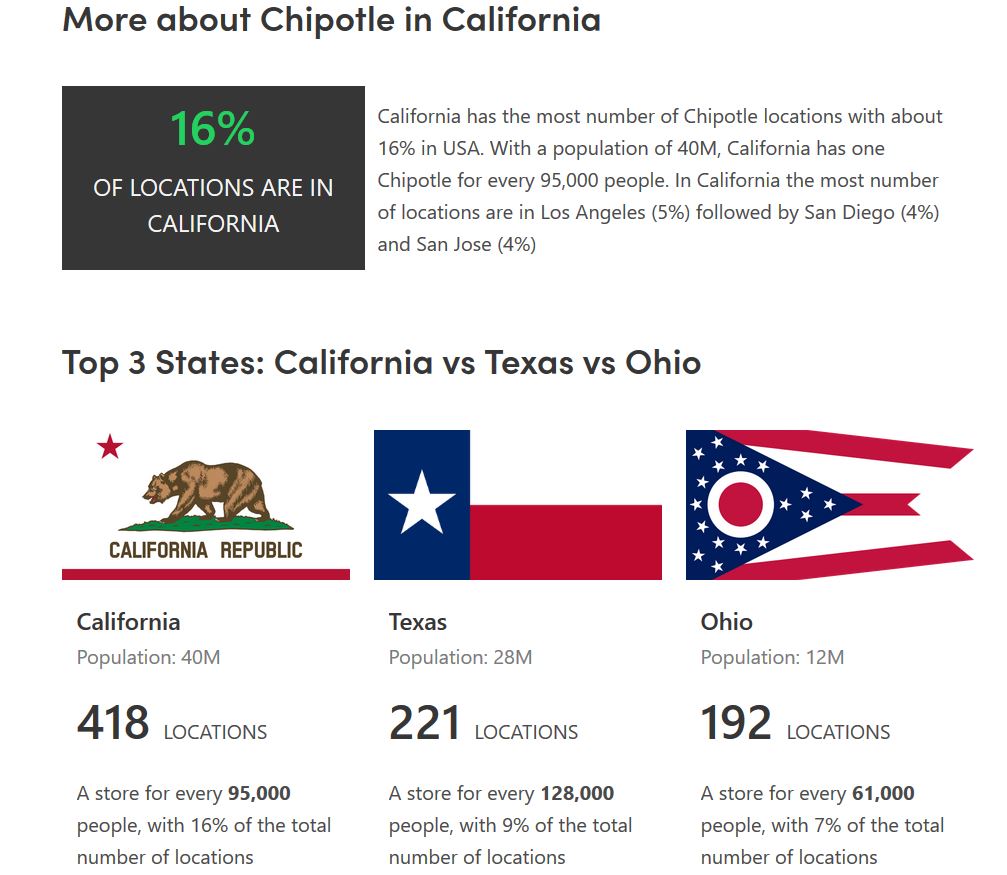 Update & Upgrade
The customer and market is very dynamic, it just keeps on changing. They always prefer something different, whether it's the food, taste, or menu. If chipotle keeps on changing and offering something different to its customers along with their main product, they'll keep on coming.
Orders from the App
By the end of 2019, chipotle's orders from the mobile app have increased to a great extent, generated $257 million which is 18.3% of the total sale. There's a huge opportunity for chipotle to work on its online ordering and delivery system, because it's a growing field and it has the potential of making more money. Especially if you compare it with the online orders of Uber Eats, GrubHub or DoorDash
Drive-through Service
Drive-through is a type of service where customers don't have to leave their car; they can do shopping by staying in the vehicle. Chipotle has recently launched this drive-thru service at its restaurant in Yuma, Arizona, the company did is planning to add the same feature in the other cities as well.
Training & Keeping Highly Skilled Employees
Skilled employees are an asset to an organization because they'd not only keep on adding value to your product. But they'd also bring more business because of developing relations with customers. Therefore, chipotle needs to provide training to its employees regularly, and provide them market-competitive salaries. So that the retention level of employees remain up, and they won't leave.
Delivery Service
People are getting more and more because of technology and changing socio-economical environment. Nowadays, people prefer food on their doorstep instead of traveling and waiting in the lines. Chipotle has recently partnered up with DoorDash for the delivery service; it should invest more in the delivery service to compete in the market.
Threats to Chipotle's Business
Threats are also the external factors and influences that can hurt your business. Threats to chipotle are as follows;
Unhealthy Food Violation
Chipotle has a long history of violating health and safety standards; it happened many times over the years that people got sick after eating food from some of their sub-branches. It is a miracle that the company is still in the market and profiting, scandals and incidents like these are disastrous to the life of a business. Chipotle must take these incidents very seriously and it should make sure that such incidents should never happen.
Highlighted Legal Issues
Chipotle has also been falsely claiming that it has low calories in its products; the ground reality is far from the truth. It should be very careful with such legal proceeding.
Difficulties with Employees Retention
Chipotle is also not investing much in the career of its employees; it usually hires employees temporarily. Instead of retaining skilled employees, they simply let them go.
Inconsistent Supply Chain
Animal protection laws are getting more and more tough, which makes it difficult for chipotle to have a reliable and consistent supplier. As a result, it puts the whole business in jeopardy, because when customers are at your restaurant, they want food.
Strong Competitors
The business in the food industry is growing, so as the competitors. More competitors are dividing the whole market share, which leaves a very deep impact on an individual business.
Conclusion
Now, we've discussed the Chipotle SWOT analysis in detail, and it has become clear to us that threats pose a great danger to the life of business. It's because of the lurking lawsuits, the company's reputation and growing competition in the market. Chipotle must be very cautious threat and at the same time, it should take advantage of the available opportunities. This is the only way to survive in the competitive environment of the 21st century; otherwise, the company's name and its business operations are going to keep on shrinking.