Company Name
Google LLC (A Subsidary of Alphabet Inc.)
Year Established
September 4, 1998
Industry
Internet
Cloud computing
Computer software
Computer hardware
Artificial intelligence
Advertising
Founder
Larry Page
Headquarters
Mountain View, California, U.S
Area Served.
Worldwide
Net Revenue
$ 136.82 billion (2018)
Net Income
$ 30.74 billion (2018)
Employees
114,096 (2019)
Products
Technology, Internet, software, Life sciences, Autonomous cars, Research and development,
Biotechnology, Video games
Competitors
1. Facebook
2. Microsoft Corporation
3. Amazon.com
4. Apple
5. Bing
6. Baidu
7. Verizon
8. Samsung
Google LLC formerly Google Inc. is perhaps one of the best-known names in the entire IT spectrum. Founded in 1998 in California, they now serve worldwide in various industries such as cloud computing, software and hardware, advertising, and various internet related verticals in general. It is most widely known for its self-titled internet search engine that is used by all internet users. Google is one of the largest IT companies in the world comprising of almost 115,000 employees and it is currently led by Sundar Pichai and Ruth Portat.
The reason why Google has been able to succeed in multiple spheres is due to certain acute strengths. They also face certain weaknesses much like other IT giants. In this article we will be analyzing factors that strengthen and weaken the company along with future opportunities and threats it faces.
Here we will be performing Google SWOT Analysis in detail.
Major Strengths of Google
Brand Presence
Due to its undisputable search engine that is perhaps used by almost every internet user Google garner the most amount of online traffic to its website. It is the largest website in terms of traffic and other search engines such as Bing or Baidu are nowhere close to it as competitors. For this reason alone, the company continues to thrive and will do so for most of the foreseeable future. The brand presence of Google in any sector of the IT industry is immaculate and very few brands hold the capability to compete with it.
Global Market Share
No doubt, Google is the leading search engine worldwide. In October 2019, Google had a market share of 87.96 percent whereas search engine Bing market share accounted for 5.3%. In India, Google has a 96 percent market share.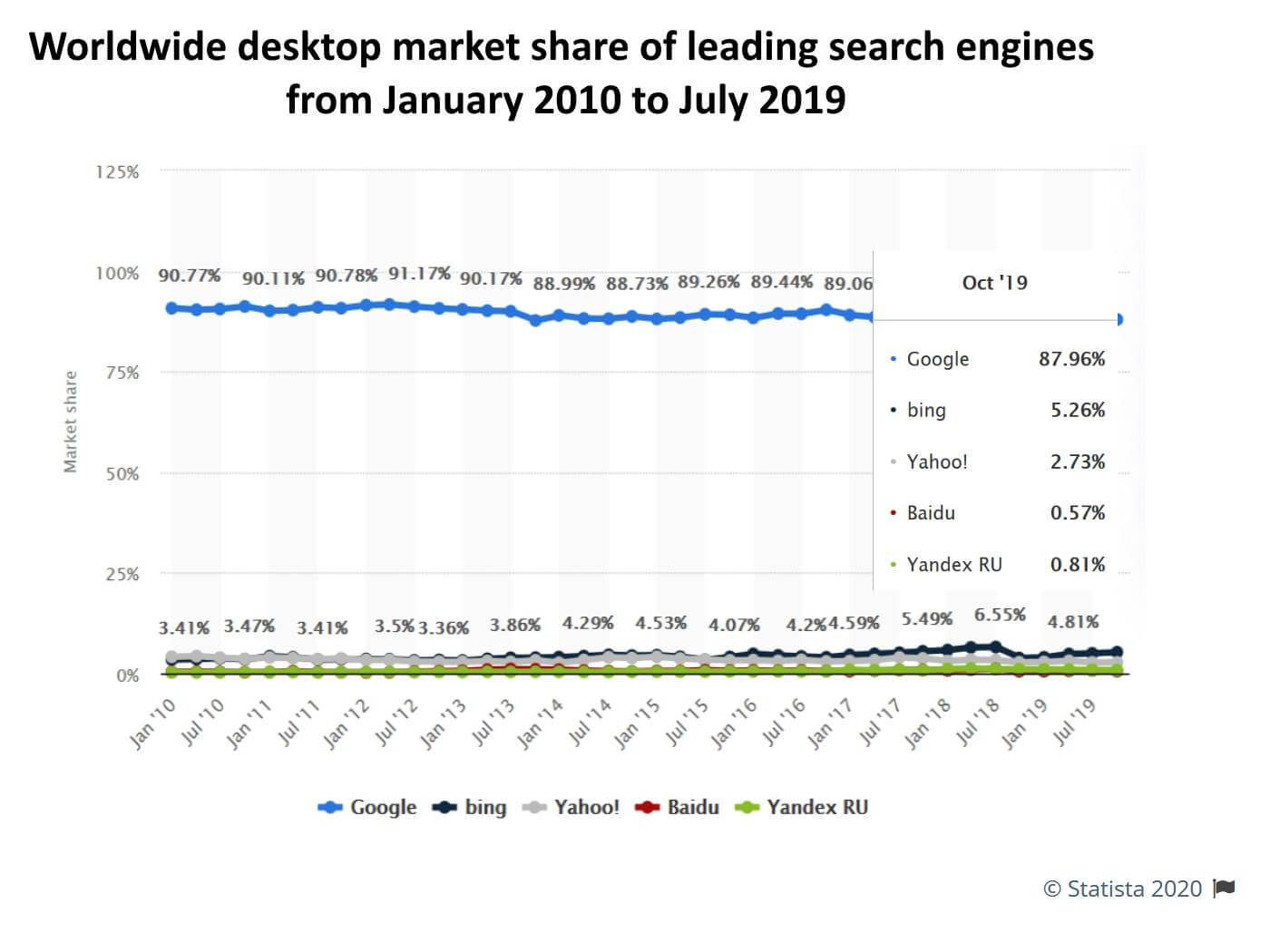 Google is a leading Subsidiary of Alphabet Inc.
Technological Adaptability
Google is at the forefront of modern technological usage. It has become synonymous with Android phones and it is readily adapting AI-based tools on its various platforms. In terms of tech advancement, it is in direct competition to Apple and Microsoft. Apart from this, Google also rolls out various software regularly such as the browser Google Chrome and cloud-based tools such as Google Docs and Google Sheets. These software are used by the online population and also considered to be at the forefront of cloud-based tools.
Google's mission is to organize the world's information and make it universally accessible and useful.
Google Revenue
In the year 2018, Google revenue amount to $136.22 billion whereas its net income accounted for $30.74 billion whereas it was 12.66 billion in 2017. Most of the Google revenue comes from advertising which was $116 billion in 2018. As of June 2019, Google market capitalization was $741 billion.
Major Weaknesses of Google
Non-Transparency
Being the largest search engine on the planet, users expect Google to be transparent about how its mechanics operate. However, Google is absolutely non-transparent about its algorithms and does not reveal any of its user patterns or other information. This has led to strong criticism of the platform by internet users and businesses who strive to rank high on Google searches.
Reliance on Advertisements
The largest portion of Google's revenue is generated by the advertisement features on its websites. But with new privacy laws coming into place about user data collection, targeted advertisements may see a significant drop across various industries. This will inadvertently reduce Google's revenue scale and topple their position as an IT leader.
Recently a slew of brands from various industries withdrew their advertisements from Google-owned platforms citing Google's support towards unethical content being advertised. This is another factor that has led to downscaling of the brand's revenue charts. Some of these brands that chose to boycott Google are giants in their own industries such as Johnson & Johnson, Marks & Spencer, Audi, Volkswagen, AT&T, HSBC, etc.
In the Year 2018, Google revenue by advertising was 85 percent of the total revenue.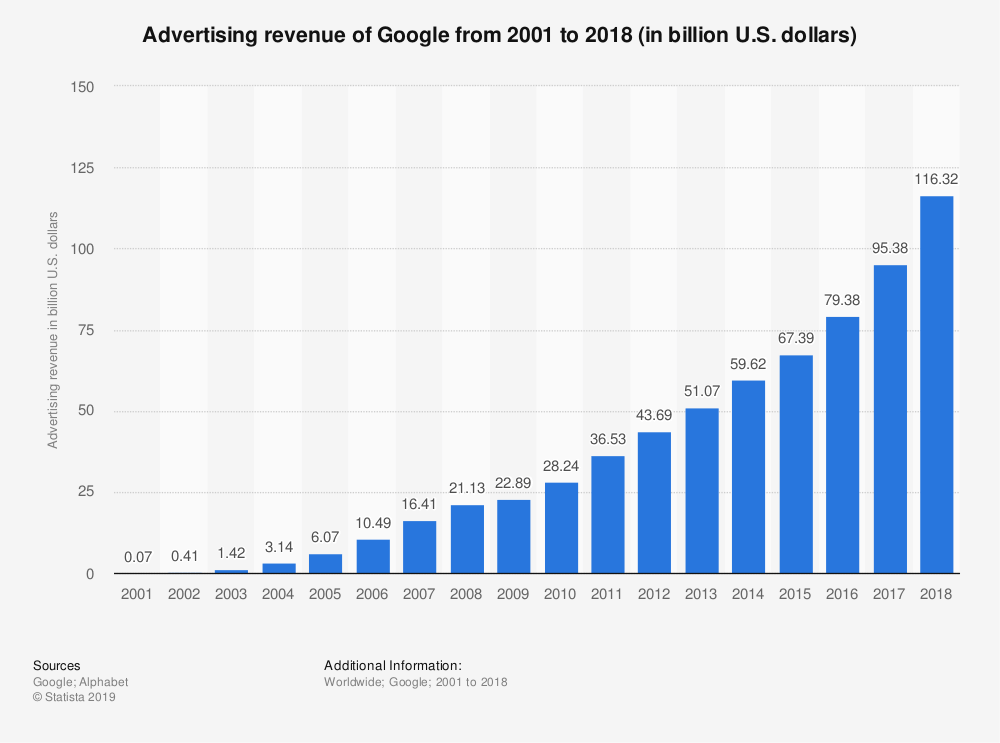 Major Opportunities of Google
Wearable Technology
Google has been rather slow in entering the wearable technologies market. Recently it acquired Fitbit and it is also supposed to launch its own series of smart glasses that integrate various AI software. This is a hugely popular market that is set to face massive growth in the coming decade. If Google can successfully become a leader of this industry, it can relieve its stress from falling advertisement levels and also maintain its revenue scale.
Google Non-Advertising Businesses
It is the right time for Google Alphabet to focus on side activities other than the advertising business. In 2018, the company generated $20 billion revenue from Non-advert activities which was only $0.8 billion in 2009.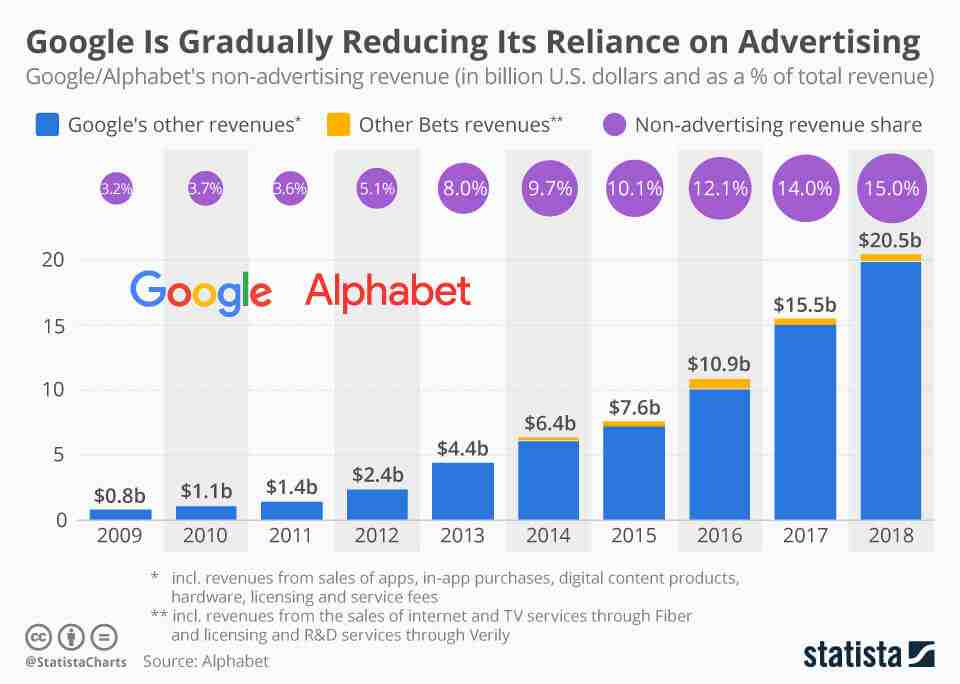 Android and Cloud
Google's integration with the Android OS has proven to be a massive success for the brand. Continuing down this path is one of the best opportunities for Google to capitalize on the growth of the smartphone market. Although it had tried to create its own Smartphone in the past it did not succeed. But the association with Android has turned out to be the best way for them to make it in this industry.
Since last year Google has been a provider of professional cloud software services to various industries. This has led to the brand being looked at as a leader in cloud-based enterprises. As the usage of cloud tech grows throughout the IT spectrum, it is expected that more companies will make use of the Google's cloud software services.
Major Threats of Google
Fall in Shares
Due to strong criticism from advertisers and its own stringent policies, Google has been facing a downfall in shares from the market. At the same time, brands such as Amazon, Facebook, Instagram, etc. are facing a rise in their market shares. So, not only does Google have to ensure that it recovers its market presence, but it also has to deal with smaller brands holding the capability to become competitors in the near future.
Ethical Concerns
Google has faced a string of whistleblower-based controversies that surround its workplace and business model ethics. The first of these is Google's gender bias in the workplace, followed by the political criticisms of its absence of content filter. Various harmful entities are able to advertise themselves on Google-owned platforms without any backlash whatsoever and this had led to Google being considered as an unethical entity. If the brand does not review its policies soon it might face a very strong backlash from most of its clients. As per reports, the brand is set to roll out renewed policies soon that address these concerns.
Concluding Google SWOT Analysis
The above information on the strengths, weaknesses, opportunities, and threats of Google should provide a clearer analysis of the brand's industry position. Despite all of its concerns, the brand is still one of the largest IT entities in the world and it will not be removed from this position any time soon. However, there exist multiple areas where Google may enable itself to be a better business and further strengthen its position. It is expected that the company will rise to the occasion and steer through its weaknesses and rise as the undisputed IT giant.
Image by Simon Steinberger