Advertising is perhaps one of the largest industries to currently exist, and it will not be going out of place anytime soon. This is because advertising exists in various forms, shapes, and sizes. It can be a catchy jingle or a simple slogan, or it can be an entire story or a theme. A survey conducted on more than 1000 American citizens showed that they are exposed to about 10,000 advertisements in a single day.
What is Advertising?
Advertising is meant to influence a consumer through the usage of various means.
So, how does one define an advertisement? In the words of Philip Kotler, "an advertising is any paid form of non-personal presentation and promotion of goods, services or ideas by an identified sponsor."
Frank Presbrey – "Advertising is a printed, written, oral and illustrated art of selling."
Objectives of Advertising
While selling a product or solution is the end goal of an advertisement, it is not what it immediately tries to achieve. Rather, these are the three acute objectives that any advertising process tries to ensure.
Inform
If a consumer is unaware of a product's existence, they will end up ignoring it regardless of how good the product is. So, the first objective that advertisements try to achieve is fully informing the consumer market regarding a product. Through this process, brand awareness is created.
Persuade
The next objective of advertising is to persuade the consumer to perform a task. This can be testing a product, taking part in a social convention, or even buying the product.
Remind
Maintenance of brand awareness is as important as creating it. And thus, the last objective of advertising is to remind the consumer market that the product is still available and is frequently used by other consumers.
Characteristics of Effective Advertising
For advertising to be effective it needs to have various characteristics. These are:
The advertising must add value to the product. It must try to speak the best of the product while not crossing the line of truth.
It must try to strike a conversation within the consumer. Every consumer has a reason for their purchase and this is what an advertisement must target.
It must try to incorporate artistic measures to provide the content. The better written and produced the advertisement is, the better its chances of success.
If it's free, then it's certainly not good advertising. Creating a brand value costs quite a bit be it digital or non-digital adverts.
Types of Advertising
Advertising can be categorized based on a variety of factors. These include form, medium, or level of penetration. But the three basic types of advertising (above the line, below the line and through the line advertising) that exist are based on what the advertisement is trying to achieve. These are:
Above the Line Advertising
Advertisements such as the ones we see on television or newspaper do not try to gain a targeted reach. These are targeted towards all consumers in a broader sense of the market. Examples of above the line advertising include:
Print Media (Newspapers and Magazines)
Radio
Television
Billboards
Theaters
Below the Line Advertising
Advertisements that try to be personal and target a specific audience are known as below the line advertising. Such advertisements use conversational tones, market-specific lingo, and visuals, etc. Examples of below the line advertising includes:
Direct Mail Campaigns
Social Media
In-store Marketing
Telemarketing
Kiosks
Through the Line Advertising
This is a mix of both the previous ATL and BTL advertising, Through the line, advertisements try to build brand awareness and visibility while also targeting a specific market setting. Examples of through the line advertising include;
Importance of Advertising
Advertising is an immensely important industry and can serve as a reflection of society itself. Here are the ways in which advertising is important.
Importance for the Customers
As a consumer, we all have the right to know what we are consuming. Being able to make informed decisions is what provides us with the power to either accept or reject a brand. Advertising also gives rise to a promise of quality on behalf of the brand. Such methods of regulation are highly important in order to hold brands accountable for the quality of their products.
Importance for the Business
Advertising is the best way to create brand awareness and to let people know that a certain product or solution exists for their consumption purposes. It helps portray the vision of a brand to the consumers and thus allows a line of conversation to exist between both the parties. It is also the most valuable method of promotion that can exist for any business.
Importance for the Society
Advertisements are market-specific and thus they bring out various nuances of every social setting. If a brand is trying to base their product on the various social evils then it is made clear through their advertising, and thus the people stand a chance to reject said brand. On the flipside, they also gain the power to support brands that are promoting ethical business ideas.
Advantages of Advertising
When a new product is introduced to the market its knowledge can be made available to the market through advertising.
Various forms of advertising can be used to take a product out of a certain market and place it in new ones.
Advertisements increase the knowledge of the consumer thereby allowing better decision making possibilities.
Good advertisements can lead to an increase in sales.
Advertisements are the best way to develop a brand image.
Disadvantages of Advertising
Advertising is a costly affair and can lead to a good amount of increment in the cost of the product thereby reducing its chances of being sold.
A poorly made advertisement can take buyers away from purchasing a product even though the product may be good.
On the other hand, it can also be used to sell poor products disguised as a good one and thereby cheat customers.
Advertising can confuse customers and not give them the ability to make an informed choice.
Advertising Examples
If we watch TV, play with our mobile or go to the market, everywhere, we all are surrounded by advertisements. Below are some great examples of advertisements.
TV Advertisement Example
Most people consider "Guinness' – Horses and Surfers" the most favorite TV ad of all time. This campaign was launched in 1999 by Diageo.
Digital Advertisement Example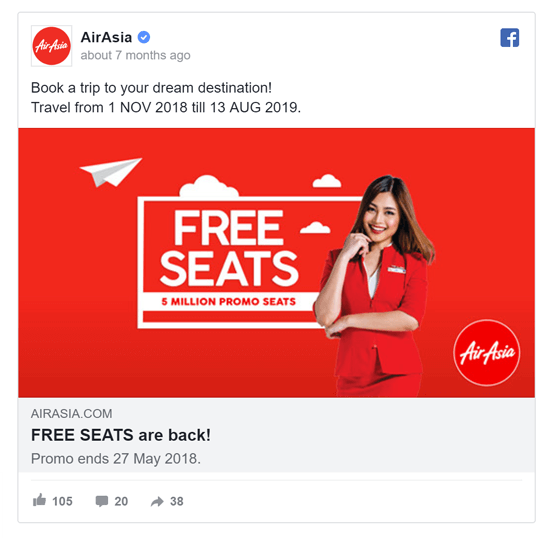 AirAsia advertisements on Facebook is a simple and straightforward digital advertisement with no hidden agenda.
Print Advertisements Example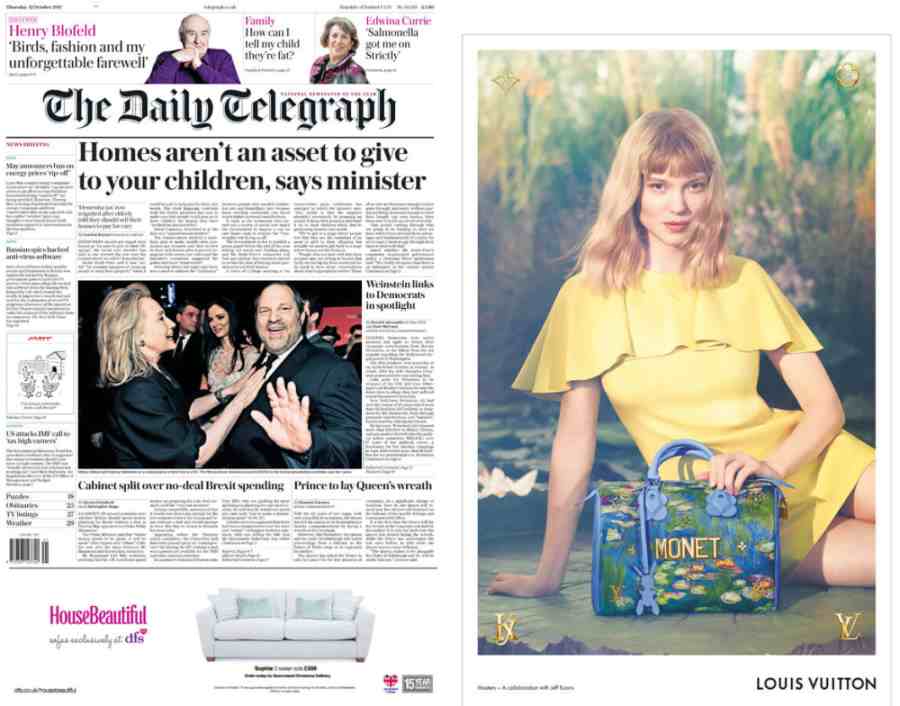 Louis Vuitton Well-Crafted print advertisement meant to reaffirm the brand image.