Don't tell me that you have never seen McDonald's billboard on the highway, a flashy 30-second Netflix ad on Youtube, or those in-between ads while watching your favorite TV show. Advertising is now an essential part of our lives, and an average person comes across 5000 advertising messages daily.
Obviously, the main purpose of advertising is to tell people about your product, service, or business. But, what exactly is advertising, and why do brands advertise? Why is advertising important? What benefits does advertising bring? So many questions, right? Let's find their answers.
What Is Advertising?
Different marketing experts have defined advertising differently. For example, according to Kotler, advertising is an act of promoting or presenting ideas, services, goods, etc., by an identified sponsor in a paid form.
Similarly, UK's Advertising Association states that advertising is a paid communication with intentions to inform or influence consumers' buying behaviors.
In a nutshell, advertising is an act (mostly paid) of communicating your ideas, products, or services to the right group of consumers and affecting their buying behaviors.
Characteristics of Advertising
We can associate multiple characteristics with advertising, but here are some of the most important ones.
Advertising is basically a form of mass communication. The advertiser always communicates with a group of consumers. In short, it is a non-personal form of communication.
Advertising is an important part of any business's marketing mix and a strong marketing tool.
Advertising is a paid form of promotion or communication. Companies set hefty budgets for advertising. It is safe to say that advertising is one of the most expensive tools to communicate with the consumer/customer.
Brands can use advertising for different purposes or objectives, including improving brand awareness, increasing sales, strengthening public relations, etc.
One of the biggest misconceptions about advertising is its "limited applicability." People believe that advertising is associated with businesses. However, government institutes, charitable organizations, educational institutes, etc., also communicate through advertising to achieve specific goals.
Advertising can be visual, oral, written, audio-visual, oral-visual, etc.
There are several mediums for advertising, such as print media, audio-visual media, outdoor media, etc.
Advertising is a one-way communication method. Only the advertiser conveys the message to intended recipients.
Objectives Of Advertising
As I mentioned earlier, organizations can advertise for different objectives that may include increasing sales, building public relations, etc., but there are 3 core objectives of advertising.
Informing
Advertising is a mode of informing the target audience and creating brand awareness. Basically, businesses advertise their products or services to inform their potential customers. In other words, advertising is an "announcement" of a brand's existence.
Persuading
It is not enough to just inform your target audience about your brand. You have to persuade them to buy or at least consider your product or service while making their purchase decisions.
Reminding
Ok, you have informed and persuaded people to buy your product or service, but the job is not done yet. You have to stay "alive" in their minds and resend your message again and again. This will help you to minimize the risk of your competitors "stealing" your customers.
Apart from that, businesses advertise to expand their customer base, change peoples' perspectives about their products/services, create demand in the market, etc.
Importance Of Advertising
Advertising helps different parties in different ways. Here is how advertising helps businesses, customers, and the general public.
Importance Of Advertising For Businesses
It helps businesses in creating product or brand awareness.
Advertising helps in increasing sales.
Businesses use different channels of advertising to create a brand image in the minds of the customers.
Advertising is a great way to differentiate your product or service from your competitors in the market.
Businesses can control the prices of their products in the market through advertising. Customers will know what the actual price of a product is even if a retailer is charging higher prices.
Importance Of Advertising For Customers
Advertising helps customers to make more informed purchase decisions. Targeted advertisements are very helpful for customers to identify if they need a specific product or not.
It creates awareness, and customers can choose from multiple options. Obviously, customers have more options to choose from when different brands advertise their products. In other words, advertising allows customers to select the best possible option.
Advertising makes sure that customers are buying a product at the actual price. Customers can easily determine if a retailer or seller is charging higher prices than advertised.
Importance Of Advertising For Society
Advertisements from charity organizations, public agencies, or even from brands help society in multiple ways. For example, advertisements about child labor, health problems related to liquor consumption or smoking, family planning, etc., create awareness among the general public. In some countries, tobacco/cigarette brands are legally obligated to mention the side effects of smoking in their ads.
Types Of Advertising
Generally, we can categorize advertising into 3 major types, including
Above the line advertising (ATL)
Above-the-line advertising is basically a non-targeted or general type of advertising where the main objective is to get maximum reach. Common examples include advertising through TV or radio. The results of this type of advertising are not measurable.
Below the line advertising (BTL)
In below-the-line advertising, businesses target a specific group of potential customers with intentions to convert them into actual customers. Common examples include sponsorships, billboards, in-store advertising, public relations, sales promotion, etc.
Through The Line Advertising
Through-the-line advertising is a combination of the above-mentioned types of advertising. This helps businesses to create brand awareness as well as employ more targeted advertising strategies. Examples may include digital advertising, cookie-based advertising, etc.
Mediums Of Advertising
Businesses are using various mediums of advertising, but here are some of the most common ones.
Print advertising. Print advertising is one of the oldest yet highly effective mediums of advertising. Print advertising can be further categorized into sub-categories, including magazines, newspapers, brochures, newsletters, etc.
Broadcast Advertising. Broadcast advertising has been an effective and widespread medium of advertising, especially television advertising. Companies spend huge amounts on advertising their products or services on television because of its extended reach. Broadcast advertising includes radio and television advertisements.
Outdoor Advertising. As the name suggests, outdoor advertising deals with out-of-home mediums of advertising. Common examples of outdoor advertising include billboards, banners, points of sales display, and ads on vehicles, bus stops, phone booths, etc.
Digital Advertising. Digital advertising is the latest entrant in the businesses fraternity, and most importantly, it has become a core ingredient of any marketing mix. Businesses specifically hire people with expertise in digital advertising. What's more, digital advertising brings so many options for brands. Common examples of digital advertising mediums include social media, internet, podcasts, videos, emails, etc.
Advantages Of Advertising
It won't be easy to include every single benefit of advertising, so we are going to mention some of them.
Develops Brand awareness. Advertising is a great tool to build brand awareness among the masses. The good thing is you can advertise according to your budget and target audience. If you want to go at the national level, you can advertise on national television, newspaper, radio, etc. If you want to target a town or city, go for billboards, banners, online channels, etc. But, You Can't Sell If You Don't Tell.
Increase sales. It is obvious that when a business advertises intelligently, it surely generates more sales, thus increasing revenue. An increase in sales also reduces the overall costs of production, ultimately increasing the profits.
Builds trust. A brand pubically advertising its products gains customers' trust faster than those who don't. Most countries don't allow "unreal" or "novelistic" advertising messages. So, the marketers have to develop "honest" messages and claims carefully because the company can be sued if it fails to deliver what was promised.
Helps stay competitive. A business, especially in the 21st century, cannot succeed without staying alive in its customers' minds. People have so many options to choose from, and they can simply forget your brand if you don't communicate regularly; you are out of competition. With advertising, you will be able to communicate with your customers easily.
Helps in launching a new product or service. Even an established business has to advertise its new product or service before it is launched. Your customers would never know you have a new product in the market if you don't tell them.
Reduces customer turnover. When the competition is intense, brands try different things to avoid customer turnover. They offer discounts, promotions, offers, etc. All of this is done through advertising.
Helps in entering new markets. Whenever businesses try to expand their operations in new markets, they have to advertise it. In fact, entering a new market is more difficult than growing in the current market. Strong advertising strategies can make this expansion easier.
Disadvantages Of Advertising
It is hard to believe that advertising can have disadvantages. But yes, there are a few, including;
Adds to the cost of the product. Yes, advertising can increase sales and reduce overall costs. But, the cost of advertising is eventually added to the product price to stay profitable. Who bears the cost? Of course, customers.
Advertising is less suitable for small businesses. Small businesses have limited funds, while highly effective advertising channels are costly. In other words, advertising is easier for big companies, and this ultimately weakens the competition.
Ineffective advertising may confuse the buyer. Over-advertising or advertising in the wrong way can backfire. It may confuse the buyers or even trigger outrageous responses from customers if a brand somehow hurts their feelings.
May mislead the customers. Brands sometimes create misleading ads, either intentionally or unintentionally. For example, Red Bull was sued by a customer who claimed that Redbull didn't give him "wings" (in response to the company's famous ad). Can you believe Redbull had to pay $13 million to settle the claim?
Promotion of inferior products. Great advertising strategies can help businesses sell low or inferior-quality products. Some businesses prefer mass-selling rather than repeat customers, and advertising can make it possible.
Examples Of Advertising
Print advertising Example – Keloptic Print Ad: Van Gogh
Keloptic is an optics company dealing in sunglasses and eyeglasses. In this ad, the company showed a blurry self-portrait of Van Gogh but placed glasses in front of that portrait to clearly reveal Gogh's face. Simple, yet effective and impactful.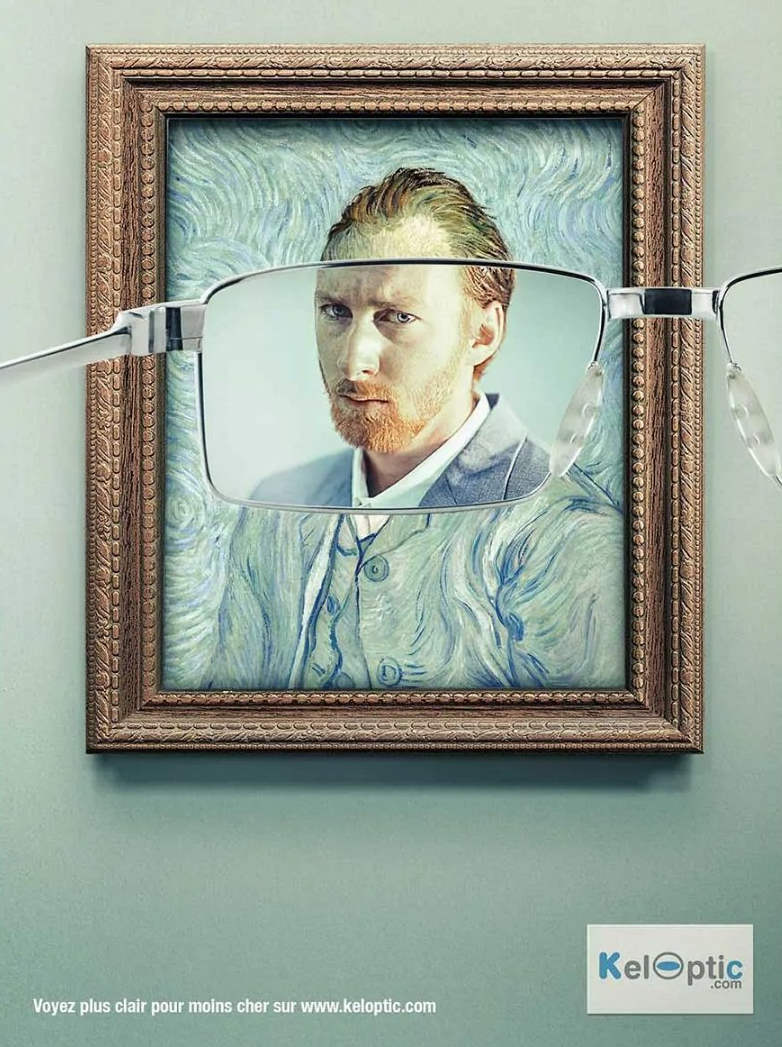 Television Advertising Example – Freeview (Singing Cat And Budgie)
This is one of the best ads of all time by Freeview, a digital terrestrial television platform in the UK. In the ad, a budgie and cat fall in love with each other and set aside their differences, which is quite unusual. Such a cute and lovely gesture.
Outdoor Advertising Example – Nationwide Insurance – USA
Trust me; this is not an ad for a paint company. Does that sound a little off? Basically, it is an ad by an insurance company, Nationwide Insurance, that offers different types of car insurance. Message? Get your car insured to avoid financial losses due to sudden calamities.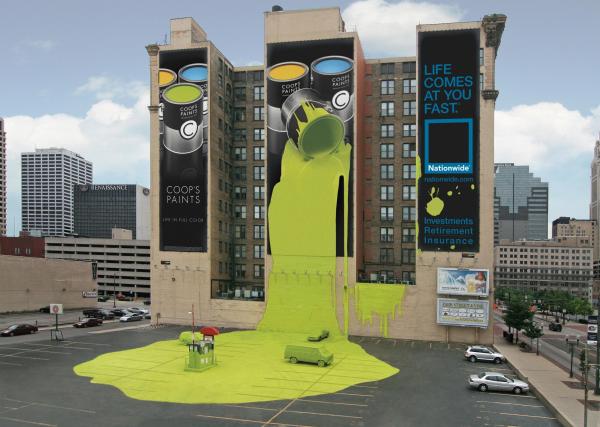 Digital advertising Example – Like a Girl- Always
Digital ads are the ones we often see on social media platforms, such as Facebook, Youtube, Instagram, etc. In fact, you might be seeing digital ads on this website too. Here is one of the most iconic digital ads of all time.
"like a girl" girl campaign from Always just made our eyes teary. The ad focuses on how a young girl faces the challenges of puberty with confidence. Indeed, a great message to all of us.