Facebook is a social media platform and technology company, founded on February 04, 2004, having 2.89 billion users worldwide. Its founders are Mark Zuckerberg, Chris Hughes, Eduardo Saverin, and Dustin Moskovitz. Facebook is a public limited company and it has 44942 employees. Headquarter of the company is located in Menlo Park, California. The annual revenue of the company is 70.7 billion US dollars, out of which the net income of Facebook is 18.5 billion dollars.
Facebook offers the following products and services; Messenger, stories, Instagram, Whatsapp, Lasso, Oculus, Portal, Workplace, Calibra, Watch, Marketplace, Facebook Dating, newsfeed, and social media platform.
Facebook has many competitors in various categories. For instance, Twitter, WeChat, LinkedIn, Snapchat, and Pinterest the social media and messaging competitors; Google and Amazon are in the advertisement category, YouTube and Tik Tok are in the videos, Slack, Zoom, and Microsoft are in the business category, Tinder, Bumble, and Hinge are in the dating, and PayPal and Venmo are in the electronic payment category competitors.
Now, it's time to study swot analysis of Facebook and discuss the internal strengths and weaknesses of the social media and technology company, and how it can utilize and manage external opportunities and threats. Here it follows;
Strengths of Facebook
Some of the main strengths of Facebook are as follows;
Well Established Brand
When we compare it with other social media platforms, Facebook is at the top of the list. According to an estimate conducted by Forbes at the end of 2019, Facebook ranked at 5th world's leading brands with a total worth of 88.9 billion US dollars. Having billions of users across the world is proof that Facebook isn't only a stable, but also a sustainable brand in the long term.
Offers Diverse Products/Services
One of the main reasons behind Facebook's success and survival in a fast technological period is that it hasn't limited itself to one product or service. It kept on adding various products to its portfolio over a while. A diverse portfolio made the brand stable financially by spreading the risk.
People would have gotten bored with Facebook if it was the only platform. But they keep on adding other products to facilitate their users. Like WhatsApp, Instagram, Messenger, Oculus, Workplace, and Calibra.
Strong Market Position
According to Statista estimate, It has approximately 2.9 billion active users. These figures show the market dominance of Facebook. You can easily attract and convince advertisers and marketers by showing them these figures.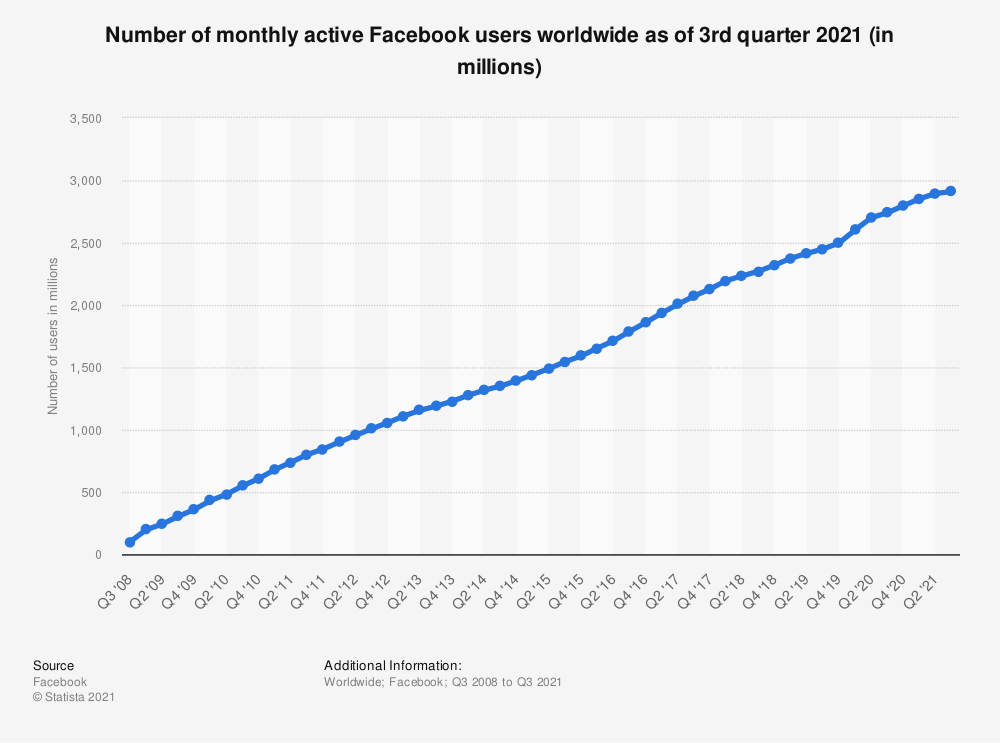 Loyal Users
The regular users of Facebook, roundabout 40% of the world's population, consider its product portfolio irreplaceable. It's because of diversity, creativity, and stability over the period. That's why people are addicted and loyal to Facebook.
Customer loyalty means that you would have more active monthly users. If customers are getting bored with your products, then they would move to platforms and your monthly active users' ratio would fall.
Strong Leadership
The success of Facebook achieved in a very short time is because of the visionary leadership of Mark Zuckerberg. His never-ending struggle for innovation, creativity, and keep on getting better brought the company to this level. That's why we see the structure of the company is stable and properly ranked. He laid the foundation of innovative culture, where people learn and experiment with new ideas every day.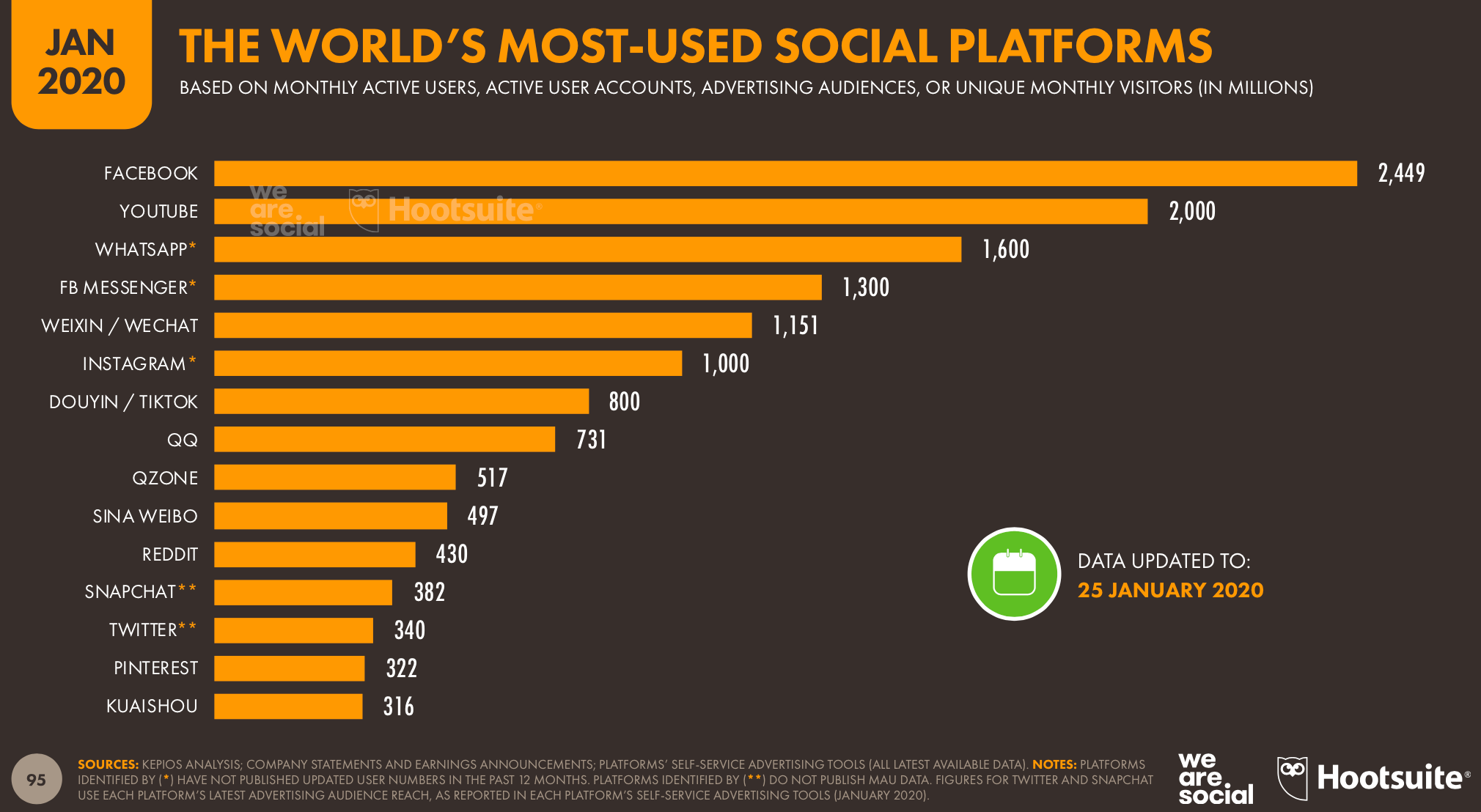 Research & Development
We are living in a technological time, where success means maintaining consistency over time. If you're a tech innovative leader, then it means that you have to keep on delivering innovativeness and creativity through research and development.
When we talk about R & D, Facebook is a market leader in this category. According to an estimate, Facebook spent 19.1% of its annual revenue on R & D in 2019, and that is approximately 13.6 billion US dollars.
Advertisement and Marketing
Advertisement is the major source of income of Facebook. According to an estimate, 98.5% of its revenue in 2019 comes from ads. Now, the question is why marketers prefer Facebook ads, it's because of 2 billion active users across the world. The advertisement tool for Facebook is very simple and effective; it allows you to choose your target audience.  
Weaknesses of Facebook
Some of the main internal weaknesses of Facebook are as follows;
Privacy Issues
Since it's a social media platform where people share their pictures and other ideas with their friends and followers, but recently it has come to our attention that user's data isn't safe on Facebook. The company is losing popularity among users in some parts of the world because of privacy concerns. If the management doesn't take it seriously, it would very badly affect the active users' ratio in the future.
According to a study conducted by Edison Research Data, since 2017 the company has lost approximately 15 million users.
Relying on Ads
The business model of Facebook is very weak; it solely relies on the users' traffic and advertisement. If some events affect users' traffic in the future, the company would lose its major source of income. The earning comes from ads is roughly 98.5%. The company should look for other paid services.
Fake News
In recent years, Facebook has become a playground for spreading misleading information, propaganda information, and fake news. Surprising Facebook hasn't been able to tackle and control such material. If it stays that way, serious people would leave Facebook permanently.
Conflict among Management
There was a scandal aired on all over US media that Russia meddled in the 2016's election through Facebook's data, that's how Donald Trump was elected. As soon as the news broke out, the top management of the company didn't take any responsibility. Instead, they kept on point fingers at one another.
Opportunities for Facebook Inc.
Some of the external opportunities that Facebook could use are as follows;
Paid Services
A diverse portfolio is one of the main reasons behind the popularity of Facebook among users. But the company's main source of income is through advertisement. If the company starts offering paid services like Facebook dating or business tools, then it would help the company to open another source of income for the company.
Platform Expansion
Since the company has a known legitimate brand name and billions of users, and the company is also involved in other businesses. The management should also consider competing with other brands like eBay, Amazon, Netflix, Apple, Tinder, etc.
Integrate with other Applications
Integration is a great way through which you use the information of one platform to connect with the other. If Facebook opens its borders for other websites, blogs, reviews, games, e-commerce stores, etc. It would help the company to attract new customers and cement the loyalty of existing customers.
Diverse Audience
The majority of the users of Facebook belong to the demographic of tech-savvy and young people. If the company starts adding some other features for the senior, business-minded people, and adult demographic, then Facebook can also pull some more users into its platform.
New Acquisition
Facebook has a history of successfully acquiring well-established platforms to increase its product portfolio; Instagram and Whatsapp are good examples of it. Young startups and entrepreneurs don't have the capital to expand their platform into the next, and Facebook buys it from it at a huge amount. It's a win-win situation for both parties.
Exploit New Trends
Now people prefer to use various social media platforms through their mobile devices because it's easy and flexible. It's a great opportunity for Facebook to add an extra feature of ads on mobile devices. According to an estimate, ads on mobile devices would increase by 26%, and it won't cost a bit to the company.
Threats to Facebook
Some of the external threats that Facebook should avoid are as follows;
New Competitors
The popularity of a new platform like Tik Tok among the young generation has weakened the company's strength in the future. Facebook has started its video platform by the name of ''Lasso'' to compete with Tik Tok and attract young people.
More Regulations
New laws and regulations about users' safety and data privacy have posed a great threat to the company. Like Spam, data breach, Child nudity, sexual harassment, violent content, drugs, terrorist propaganda, hate speech, and firearms. The purpose of such laws is to make Facebook accountable and transparent. It means that the users would turn into the other platform for ease and flexibility, and the company would lose market share.
Countries Banned Facebook
Easy and false information is acceptable in the democratic country, but they're a great threat to the dictatorial regimes. Countries like North Korea, Russia, China, and Iran have recently banned Facebook in their countries.
User Data Hacked
Facebook is a goldmine for hackers to steal personal data from billions of users and use it for negative purposes. In December 2019, hackers hacked into the database of Facebook and hacked the private data of roundabout 267 million users.
More Taxes
The UK and the European Union has started a new category of digital tax that would make Facebook to pay taxes. If other countries impose the same digital taxes, then it would cost a lot to the company.
Conclusion
The swot analysis of Facebook tells us that the company is performing well and it has acquired a major market share. But the management should also keep in mind the new regulation, hackers' threats, privacy issues, and competitors like Tik Tok. If the company doesn't make some new radical changes, then the future of the company would be in great jeopardy.