Introduction to Volkswagen
Company Name
Volkswagen AG
Year Established
28 May 1937
Industry
Automotive
Founder
German Labour Front
Headquarters
Wolfsburg, Germany
Area Served.
WorldWide
Net Revenue
$ 278 billion (2018)
Net Income
$ 13.96 billion (2018)
Employees
656,000
Products
Automobiles, Commercial Vehicles, internal combustion engines, motorcycles, turbo-machinery
Competitors
1. Toyota
2. BMW
3. Ford
4. General Motors
5. Honda
6. Tesla
7. Daimler
8. Hyundai Motor
9. Fiat Chrysler Automobiles
With a good mix of cost-effective vehicles and luxury models, Volkswagen is one of the largest vehicle manufacturers in the world. The brand was founded in 1937 in Berlin, and now holds a revenue of $278 billion and houses more than 302,000 staff worldwide. It also functions as an umbrella brand for various independent vehicle brands such as Audi, Skoda, Bugatti, Porsche, etc. Volkswagen has had various acquisitions over the years to become the vehicle manufacturing giant it is now.
There are a number of factors that affect Volkswagen in the current market. And we will be breaking down these factors under the strengths and weaknesses that the company holds in the current markets. Additionally, we will also explore the opportunities and threats that Volkswagen entitles in the present era.
Here is the SWOT Analysis of Volkswagen.
Strengths
Following are the strengths of Volkswagen.
Global Structuring
The global umbrella presence of Volkswagen is one of its primary strengths as it ensures a high level of efficiency. It has a range of products in its portfolio other than vehicles and all of its operations always perform at optimum capacity. There is a constant level of R&D being maintained and most importantly the brand ensures that it connects with its global market. At the same time, the brand ensures that its presence is also strong in its homeland, where they can employ the entire town for Volkswagen.
Branding Capability
While Volkswagen primarily serves as an umbrella organization, it always ensures that its own presence remains strongly in the market. So, as much as people are aware of Audi and Porsche, they are also aware of Volkswagen being the mother brand. It has shown amazing capability in the past regarding brand promotion and will continue to do so in the future as well. A strong brand presence is one of the most important components of a global vehicle manufacturer.
Partnerships
Volkswagen has a number of partners serving its various sectors such as supply chain, accounting, etc. The most important among these is Accenture which serves as a primary consultant and also handles all hardware and software requirements. Such strong partnerships ensure that the brand can concentrate on its primary necessities such as R&D and business management. They also ensure that Volkswagen remains a primary vehicle brand in most countries.
Worldwide Presence
When It comes to international presence, the Volkswagen Group is selling in 153 counties. There are 122 production plants in 20 different European countries and 11 production plants in America, Arica and Asia. In addition to this, the Volkswagen Group is also offering various financial services i.e. insurance, banking, leasing and financing to both dealers and customers.
Shaping Mobility for Generations
The company is looking forward to invest more than €30 billion in the project of expansion of electromobility "TOGETHER – Strategy 2025". It is planning to expand its full electric vehicles from 6 to 50 models by the end of 2025.
Leading Car Manufacturer in the World
Volkswagen is a no-doubt one of the leading manufacturer in the world. it has sold more than 10.9 million vehicles and generated annual revenue of US$278 billion in 2018.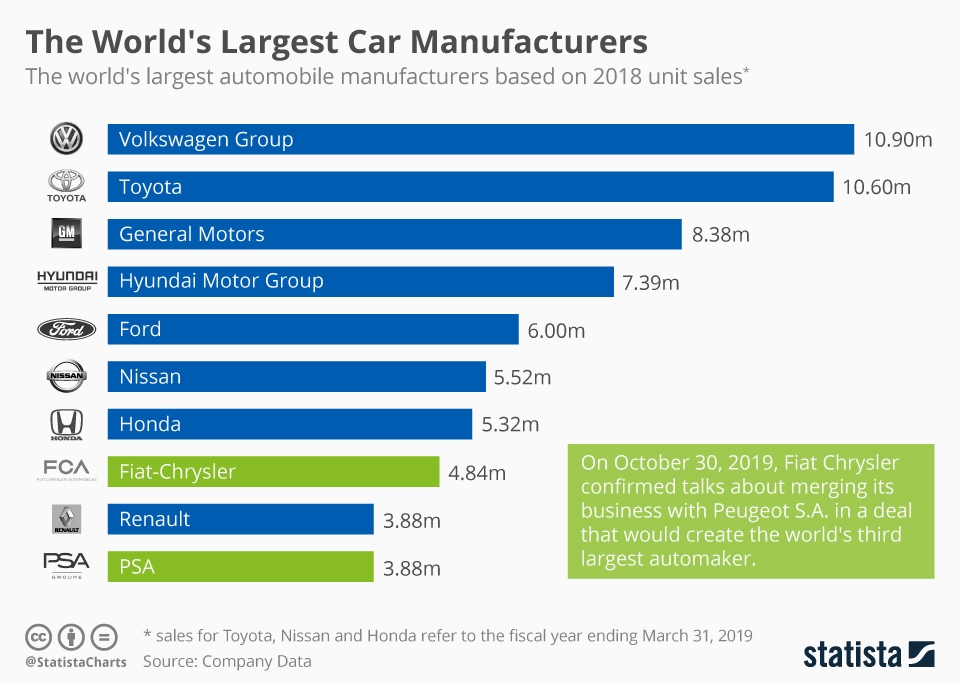 Weaknesses
Below are the major weaknesses of Volkswagen.
High Competition
The luxury vehicle industry is one that has a very high level of competition. Due to this reason, Volkswagen has been facing difficulties in emerging markets. There are many new brands that are able to provide luxury elements in mid-range vehicles. So, Volkswagen's premium-priced vehicles are not being bought by those with the purchasing power in emerging economies.
Scandals
The emissions scandal had led to almost 11 million vehicles being considered dangerous and returned to the brand. This has forever acted as a blot on the otherwise incorruptible history of Volkswagen. The brand has spent enormous efforts in trying to publicize a renewed persona; however, this singular event led to major distrust among the consumers. The current generation is highly conservative about representing brands that add to the environmental crisis and thus such a scandal proves to be deadly for a brand such as Volkswagen.
Branding Cost
Certain brands under the Volkswagen umbrella require immensely high level of branding cost. Brands such as Porsche and Bentley are exclusively luxury vehicle brands and thus require a huge amount to sustain. These brands are also unable to perform as well as brands such as Maruti and Hyundai in emerging markets. Volkswagen is in immediate need of re-strategizing the future of these brands.
Opportunities
The following two, increment in purchasing power and innovative designs, are the opportunities of Volkswagen.
Increment in Purchasing Power
The global purchasing power is facing a sharp increment. Vehicles that were out of reach of the middle class, are now affordable by them. This is also the perfect opportunity for Volkswagen to strongly enter the semi-luxury vehicles market. This seems to be the vehicle class of choice for most emerging economies and can earn a huge amount of revenue for the brand. The capturing of these new markets will be highly decisive for the brand's future.
Innovative Designs
The overall technological landscape has advanced massively in recent times. Volkswagen should modern innovative vehicle designs to use as much as possible. Not only are these designs fuel-efficient, but they are also beneficial for the environment which is a burning issue right now. Auto driving vehicles is another sector that Volkswagen can venture into with the help of the alliances with the right tech brands. The amalgamation of high performing technology with luxury vehicles is clearly the path ahead for most such brands.
Threats
Below are the threats for Volkswagen in its external environment.
Lack of Market Expansion
Volkswagen is unable to successfully market itself to the millennial generation and the Gen Z. As a result, the brand persona is being looked at as some sort of ancient relic. Volkswagen needs to immediately rebrand itself in such a way that they expand their market to the newer generations. The inability to do this may result in the brand not being able to move ahead of their competitors.
Environmental Issues
The current climate crisis has weighed in heavily on vehicle manufacturing brands. Since vehicles account for a large amount of environmental degradation, the need for green vehicles from Volkswagen is an immediate necessity. And since they already have long-running environmental issues due to the emission scandal this would be a fresh way to market the brand as well.
Conclusion of SWOT Analysis of Volkswagen
So, these are the primary strengths, weaknesses, opportunities, and threats that concern the global vehicle manufacturing giant in current times. This article should provide a deeper insight into the brand that is Volkswagen and how it will perform in the upcoming market.
Clearly some of the primary factors that will guide the brand forward are its impeccable organizational skills and branding capacity. While the emissions scandal is something that will require solid rebranding in order to deal with it. It is safe to say that the future of Volkswagen lies in expanding its markets and implementing technological advancements in its vehicles.