Company Name
Target
Year Established
June 24, 1902
Industry
Retail
Founder
George Dayton (Target Corporation)
John Geisse (Target)
Headquarters
Target Plaza, Minneapolis, Minnesota, United States
Area Served.
United States
Net Revenue
$ 75.356 billion (2018)
Net Income
$ 2.937 billion (2018)
Employees
360,000
Products
Beauty and health products; bedding; clothing and accessories; electronics; food; furniture; jewelry; lawn and garden; pet supplies; shoes; small appliances; toys/games.
Competitors
1. Walmart
2. Amazon
3. Home Depot
4. Costco Wholesale
5. Kroger
6. Best Buy
7. Kmart
8. Lowe's
9. JC Penney
10. Macy's
Target Corporation is among the top ten largest retailers and highest employers in the US. It offers a wide range of products like electronic accessories, gardening tools, beauty cosmetics and health products, kid's toys and video games, appliances, beds, clothes, jewelry, pet's supplies, and shoes.
Target Corporation was established in 1902 by George Dayton. Currently, it has it headquarter in Minneapolis, Minnesota. It started by the name Goodfellow Dry Goods, and it kept on changing its names over the years, and finally, in 2000, it came to Target Corporation.
There are many things to discuss Target Corporation that we'll cover it in the SWOT analysis, here it follows;
Target's Strengths
Following are the major strengths of Target Corporation
Established Brand
Target Corporation is a well established over a century-old brand. It offers the best quality latest products to its customers at a very low price, because companies usually offer discounts on out of the seasoned product. But Target provides discounts on seasonal products which are in the trends. Its offer attracts people not only from the high-income families but also the customers from the middle class as well.
Amazing Customer Experience
Service qualities such as the plain floor, clean shopping carts and the clean shopping environment of Target is much better than its competitors like Walmart. Target is not only remodeling its stores but also dedicated "thousands of payroll hours" to train their employees to serve customers and improve shoppers' experience. This strategy will make customers visit again. The more people come, the more chances of sales.
Variety of Merchandise
Target offers a wide range of products to its customers like electronic accessories, clothes, beds, furniture, pharmacy, grocery stuff, sports-related goods and etc. Once the customer enters the store, he doesn't need to go anywhere else for the shopping. Even the mobile app of Target not only shows customers what they are looking for but also complementary products related to customers' interest.
Designer's Clothes
Target partners up with the famous US designers to offer their clothes to their customers at their stores. It is because media creates demand by showing the new fashion trends, and customers want the same clothes when they visit the mall. According to an estimate, Target earns over 20% of its total profit from the sale of designer's clothes, which comprises of roundabout 15 billion US dollars.

Alliance with Starbucks
Starbucks is a famous American coffee brand; Target has also made a partnership with Starbucks to open up a small Starbucks cafeteria at its stores. The purpose is to offer a leisure experience to its shoppers that would increase the traffic; more people traffic means more sales.
Social welfare Charity Work
Charitable social work and philanthropy have always been one of the key values ever since the launch of the Target Foundation in 1964. The company has made the policy of donating 5% of its annual profit to the foundation, which invests that money in the kid's health and education, and other natural disasters.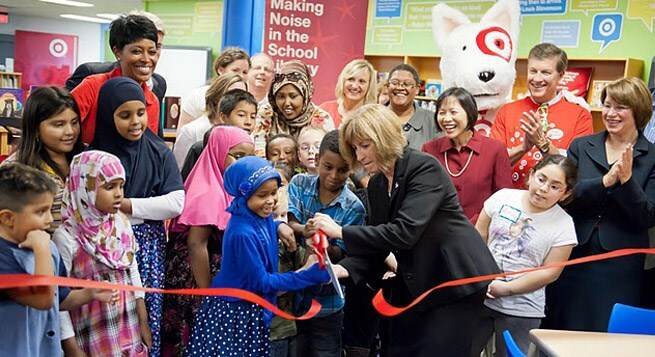 Distribution System
Target has a very efficient system of distribution that makes the products available to its customers across all of its stores. To do that, companies employ not only its own 40 distribution centers, but it also hires local carriers for distribution purposes.
Network of Stores
The company has a very strong network of its location points and stores across the US, Canada, and Australia. The numbers of stores are approximately 1864. Out of which Target has maximum stores, 287, in California, then 150 in Taxes, and 123 in Florida.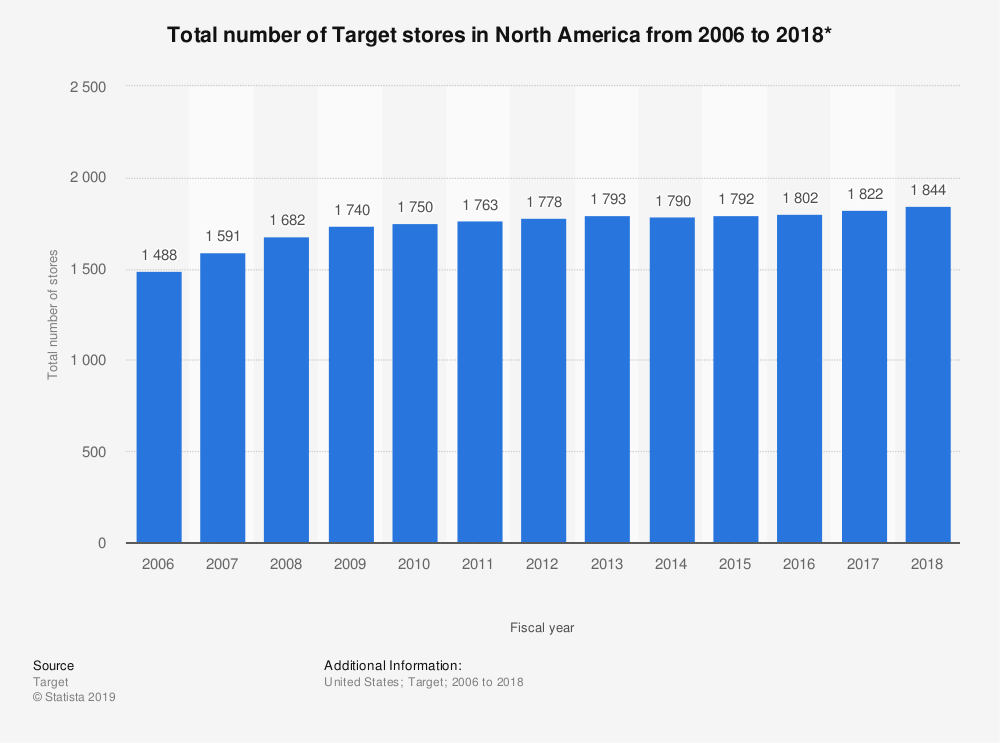 Inventory Management System
Inventory management is usually troubling problems for big organizations, but Target employs various inventory techniques like forecasting, seasonality, vendor management, and planning. The company uses different models depending on the situation to overcome the lost sales, inventory spoilage and markdown issues.
Mobile App
The company has also launched a mobile app by the name of ''cartwheel'' that offers its users to shop online, check prices of the products, scan items, and the product available at different location points. It also allows customers to use coupons, and credit cards for shopping.
Target's Weaknesses
Below are the key weaknesses of Target Corporation.
High Prices
Critics usually accuse Target of being a costly retailer store. Business insider conducted a study and according to its report, the prices of Target are approximately 15% higher than the prices of other retailer malls like Walmart, on the biggest competitors of the Target.
Less Expansion in the International Market
Target is over a century old organization, but it hasn't crossed many borders like other multinational brands. It has only been successful across the US, but not outside. The company has launched 133 retail stores in Canada from 2011 to 2015, which the company has to shut down all of its stores later. It was one of the biggest failures of Target in the international market, and the company didn't make any more try to expand globally.
Breach in Customer's Database Record
In 2014, there was a breach in the record of the customer's database of Target, and hackers stole the debit/credit card information of over 70 million customers. As a result, Target had to face multiple class-action lawsuits. This news greatly damages the reputation of the company in terms of cybersecurity, trust, and confidentiality.
Target's Opportunities
Find out the important opportunities for Target Corporation.
Delivery System
The company has recently launched a new service of delivering the product within one day, just like its competitors Amazon and Walmart. It became possible when Target acquired the same service for approximately 500 million US dollars, Shipt, which other competitors are using. Online shopping and delivery system have become a very competitive business in recent times. Therefore, you have to provide extraordinary service to stand out in the competition.
Redcard Reward Program
Redcard is a customer's loyalty program which the retailer store uses in the US, it offers customer some rewards and discount. The company gets an insight into customer's buying and shopping details in return. You can find out the behavior of the customers with it. However, this reward program is a great opportunity for Target to win the loyalty of customers, by providing them what they're looking for.
Expansion in terms of Label Brands
Target is offering multiple products of various categories, but it hasn't started the label branding yet. If Target starts its own private label branding, then they can differentiate themselves from other retailers.
Partnerships CVS Health
CVS Health is one of the country's leading health care service providers. In 2015, when CVS health partnered up with Target pharmacy, they made a deal of roundabout 1.9 billion US dollars. However, Target pharmacies are now working under CVS health, which means that the customer would receive better professional services.
Small Stores
Target has been launching small stores on the campuses of colleges, universities and urban areas. These stores aren't big, but they cover the market in those areas.
Target's Threats
The following are the threats of Target Corporation.
Growing Competition
The retail store market is becoming very competitive, and there are many competitors in the market like Kroger, Walmart, Costco, and Home Depot and etc. These stores are nearer to residential and commercial sites, where people can easily visit.
Less Differentiation
Target has been failing to differentiate its products from the competitors, and loyalties of the people are also being shifted because of the price and online shopping.
Customer's Preferences
The trend of online shopping has been increasing in recent years, and it can have a disastrous impact on the growth and business of Target. Amazon is moving much faster in terms of growth and delivering the product on time. On-time delivery of products is putting great pressure on Target.
Open Barriers
Retail is a very easy access business to start, although you need a big investment to start, but it's doable. If any new competitor offers the same product at fewer prices, then it'll attract the maximum market share of Target.
Relying on the National Economy
The business and sale of the Target is heavily relying on the national economic factors of the US government like per capita, employment, and salaries of the people. On the other, the US economy hasn't been performing well in terms of the above-mentioned factors. Therefore, it has a very negative impact on the overall performance of Target. Competitors are taking advantage of it by offering the same products at fewer prices.
Conclusion
It is no doubt Target is one of the most reputed retail stores in the US, but it should take advantage of the opportunities available to it. Like an online delivery system, differentiating its products by adding some extra value in it, and launching its own private brand. The market is becoming very competitive because of the online competition, and customers' loyalties are also being changed with the passage of time. Target must provide some discounts and rewards to keep the customers intact.