The business world has become very competitive in recent years. The information has become accessible to everyone but finding the right, exact, and precise information matching your needs and wishes is a difficult task. That's why entrepreneurs and brands ask for ideas and input from customers to come up with something new.
Today, we'll talk about co-creation, its types, and pros and cons.
What is Co-creation?
Co-creation is a process of developing a new product or service in teamwork with suppliers, customers, stakeholders, experts, and employees. The goal of collaborative co-creation is to promote the culture of sharing ideas, instead of keeping it to yourself, in order to improve productivity. Mass-customization and open source are the two relevant terms that are closely related and work alongside.
Easily accessibility of knowledge and information has transformed the operations and functionality of the company and made them innovative. Now, they encourage customers to share their feedback and reviews.
The concept of the 1% Rule is growing and developing. Some studies have found that 1% of the people in any society and community; they're more creative and perform better in the group. Some companies have already launched the co-creation project to deal with the changing competitive world. But it's still a new alien thing for many companies and businesses.
Many companies are still hesitating to open up toward co-creation with other people who aren't part of the company. It's a normal thing not allowing and trusting everyone. However, it's the new product, design, profit, and benefits that matter in the end. 
It doesn't mean co-creation can't fail and prove to failure. In fact, co-creation doesn't guarantee anything that the new product/idea would succeed in the market. But it would allow you to inspire ideas, have a fresh perspective, and brainstorm with like-minded people. It would guide you to move in the right direction. 
Therefore, you should consider;
Working with 1% of the innovative people to develop something new
Bringing new energy to the team
Decreasing the risk factor by testing the product
Have the ability to know a good idea
Connecting with creative customers, partners, and stakeholders
Working with other dissimilar industries
Unlocking the creative world
Knowing the new trends and business drives
Having a new perspective on your business
Facing the tough challenges
Guiding Principles of Co-creation Strategy
Inspire participation
You should challenge people to open up and share their thoughts. You have to make sure that the challenge should be intriguing and interesting. Most importantly, people would participate when you tell them what's in it for them.
Once people start participating, now you have to create a favorable environment where they would feel comfortable and openly share their thoughts.
For instance, Alessi has had a lot of experience working with various designers, and they get professional exposure and share experience in return.
Choose the best
You need the best talent of people to generate the best ideas. Your selected team may generate a lot of new ideas. The next stage is to evaluate the best idea out of many. You should have a keen eye to select an idea that has more potential for the company's growth. You have to work with the best 1% of the creative people in order to achieve your goals.
Qualities like better communication, peer recognition, constructive and creative thinking, experience, proven track record, and thought leadership works in play to deliver you the best result.
For instance, Innocentive is a platform of scientists where researchers, experts, and scientists get together to solve difficult scientific issues. The platform has an impressive track record; it solves 30% of the problems.
Connect with Innovative Minds
The goal of co-creation strategy would only complete when bright and creative minds work together. When you creating a team, make sure everyone should bring something different to the table. Your focus should be on unlocking the potential of everyone in the group, allowing open discussion, and positive criticism.
You should avoid hidden agendas, withholding information, traditional research method, and covert research. They would hold you back from moving forward.
For instance, Lego decided to create a Mindstorm product with the ideas of users, instead of just creating it by themselves. The lead users and Lego developers have had a creatively competitive relationship, and they have become a part of the Lego product development community.
Result Sharing
Co-creation could result in many forms like team insight, solving the problem, starting the new venture, and road mapping of the product. But there should be something in it for the contributors and participants. Therefore, you should give back something tangible, clear, and monetary. 
For instance, Apple iPhone App Store invites developers to launch their user applications on the platform. 30% of the profit takes the stores, and the remaining 70% is for the application developers.
Continuous Development
Co-creation would only deliver beneficial results when it works continuously over a period of time. The result of co-creation usually falls under the category of 20% to 80% of the completion. It requires a lot of polishing and development even after the delivery.
For instance, Procter & Gamble invites people from different fields to share their creative thoughts, and the company provides those resources and expertise.
Types of Co-creation with examples
Co creation has got four main types, and they're as follows;
Club of Experts
Club of experts is when a certain situation and specific challenge require the expertise and idea to solve it. If the participants have specific expertise, only then they would be able to contribute to it. The understanding and chemistry among team members define the success of the team.
For instance, Nokia develops a team of lead users and developers, and they work together to create something new.
The crowd of People/Crowdsourcing
The crowd of people is an open group where everyone could join and participate in the group. It follows the concept of the Rule of Big Number. It means that anyone who has a unique idea deserves an opportunity to participate. The online platform allows people to suggest, rate, and respond to their experiences.
Crowdsourcing is a bit time-consuming process. But it unlocks the creativity of mass people. It doesn't guarantee whether the right people would participate in the platform or not.
For instance, Threadless is an e-commerce t-shirt platform, where designers share their designs and developer/users rate their feedback. The company shares 30% of the profit on the most sold and rated t-shirt items.
Coalition of Parties
A coalition of parties is when various expert parties collaborate to share investment and ideas.
Every member party brings some type of new skill and expertise to the table. When multiple parties team up to share resources, a new realization occurs.
For instance, Heineken started a co-creation partnership with Krups. They agree to work together for 10 years and the partnership resulted in the form of innovative packaging beer for a long time.
Community of Kindred Spirit
Community kindred spirit is when people collaborate to develop something of a greater good. The group usually involves people of similar interests.
For instance, developer users developed an open-source operating system, Linux. No one owns the operating system and it's free for everyone.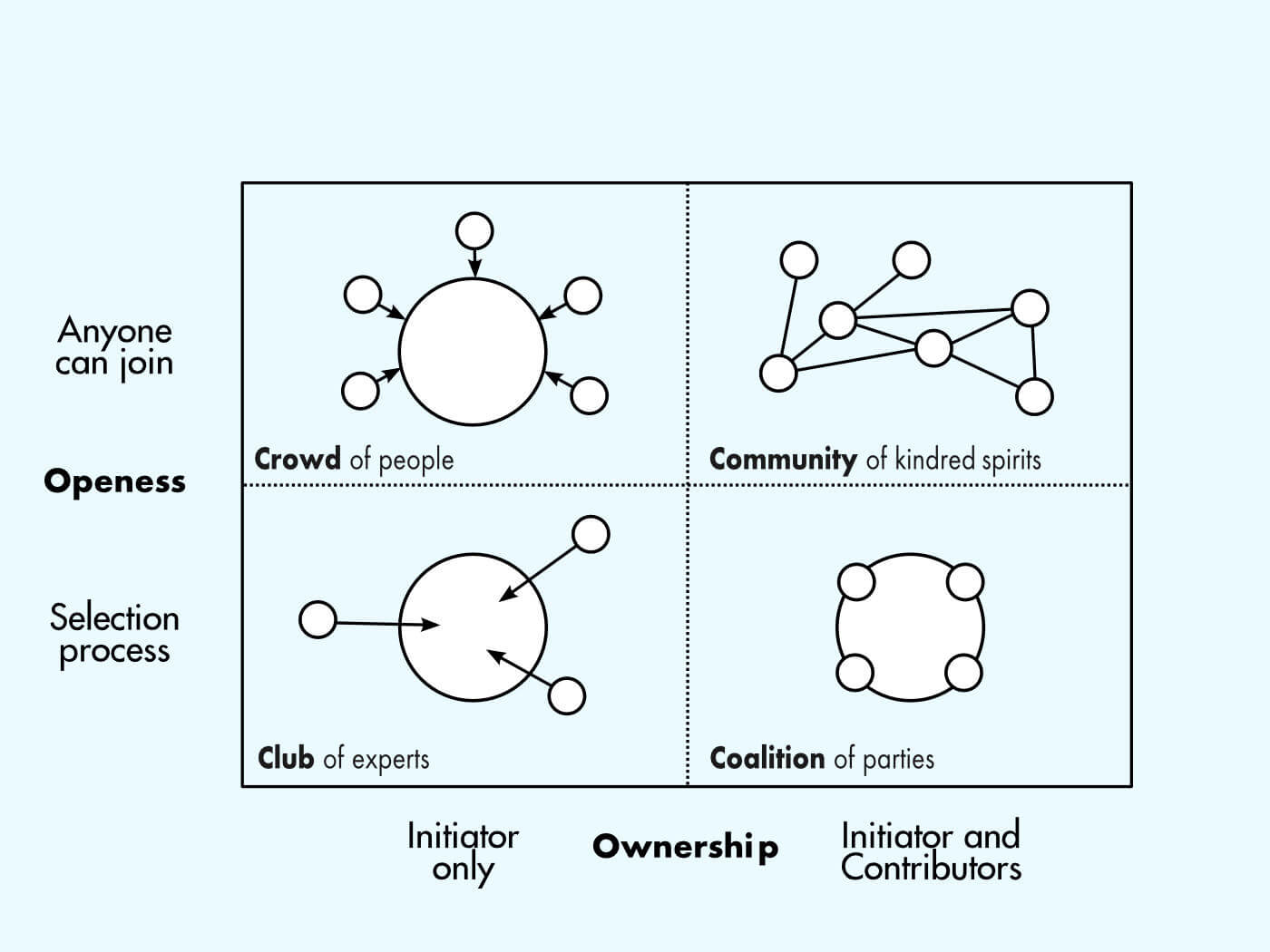 Areas of Value in Co-creation
Co-creation creates value in four areas, and they're as follows;
Direct Results. The initiation point of direct result is to create some type of new product or service. The goal is to add and create some economic value out of it. 
Direct Spinoffs. Some results produce great quality, but you can't evaluate their worth in terms of profit. Sometimes, unexpected results would also be in place. For instance, the contacts and links you develop during the co-creation serve you long after the gathering. 
Future Results. A new product after the co-creation would inspire to add an extension of the same category of new products. That's why it's called the snowball effect 
Future Spinoffs. Sometimes, the results of co-creation initiate a chain reaction of productivity and they have long-term impacts. The future spinoffs aren't always clear and they're difficult to predict. It is because some actions would have reactions in the future. 
Benefits of Co-creation
Brand Awareness. Brand awareness is when companies introduce or change the perception of the product in the market. Customers usually remember a brand or product because of its benefits. Co-creation helps the company either to improve brand awareness or product benefits. 
Brand Loyalty. If a company develops better relations with the customers, they would tend to be more loyal to the company. That's why the focus of marketers is to increase the customers' engagements.
Intellectual Resources. When customers engage with a certain brand and share their feedback for the improvement of the product. They're expanding the intellectual capabilities of the company. 
Customer Insight. Customers' feedback helps the company in two ways; improve the product and have a better understanding of the customers' needs and wishes. 
Examples of Co-creation
Unilever
Unilever is the world's leading consumer goods producing company. The brand is operating its business in over 190 countries worldwide. The company has over 400 brands under its umbrella. Unilever openly invites designers, academics, consumers, and many other people to give their suggestions on a certain challenge.
The challenge could be anything ranging from freezing, cooling system, oil oxidation technology, or something else. The owner of the good suggests would receive professional recognition and a commercial contract.
DeWalt
Dewalt is the world's leading power tool manufacturing company. The brand launched an insight community in 2015, where customers could share their product development ideas. The platform has thousands of users.
The company encourages customers' engagement to discuss various ideas like website usability, design, packaging, and product development. The platform helps the company to develop better products.
Challenges of Co-creation
Firms should also keep in the challenges they might face in the process.
If the participants' idea focuses on the negative aspects of a product/service, and it will affect your brand image.
During a contest, if you are not able to meet the expectations of participants the whole event may give a negative word of mouth.
Every submission by the participants is not applicable and some are impractical. The firm has to reject such ideas ingeniously, otherwise, the customers/participants will feel rejected and lead to disengagement.