Company Name
The Coca Cola Company
Year Established
January 29, 1892
Industry
Beverage
Founder
John Stith Pemberton
Headquarters
Atlanta, Georgia, United States
Area Served.
WorldWide
Net Revenue
$ 31.85 billion (2018)
Net Income
$ 6.43 billion (2018)
Employees
62,600
Products
500 Plus Licensed Brands
Competitors
1. PepsiCo
2. Red Bull
3. Dr Pepper Snaple
4. Gatorade
5. Nestle
6. Tropicana
7. Mondelez
8. Unilever
In this article, I will perform the second largest beverage manufacturer Coca Cola swot analysis and how this company utilizes its competitive advantages to remain profitable in this competitive environment.
Introduction
The Coca Cola Company is a multinational company that is a manufacturer, retailer and marketer of nonalcoholic beverage brands. The company is founded in 1892 by John Stith Pemberton, Asa Griggs Candler and headquartered in Atlanta, Georgia. You can also read Coca Cola Pestle Analysis.
One of the leading nonalcoholic beverage company, the Coca Cola have more than 500 licensed brands i.e. soft drinks, water, energy drinks, diary and plant-based beverages, juices and sports drinks. Cola-Cola makes and sells its branded beverage to consumers in more than 200 countries with the help of owned as well as independent bottling partners, wholesalers, distributors and retailers.
The Coca Cola brands are successful due to loyal customer base and huge variety of beverage brands that caters customer needs and lifestyles. The company is able to effectively meet deadlines and customers expectation in more than 200 countries and territories every day. Source: The information is based on The Coca Cola Company Annual Report 2019
Let us discuss Swot analysis of Coca-Cola in detail
Coca Cola Strengths
Following are the major strengths of Coca Cola.
Valuable Brand
Coca Cola is one of the most leading brands in the world and generate 6 to 8 billion net income dollars every year. The CocaCola has diversified product portfolio that target different demographics and lifestyles with the help of its valuable brands like Coke, Coke Diet, Sprite and Fanta. According to interbrand.com estimated brand value of Coca Cola is $66.3 billion in the year 2018.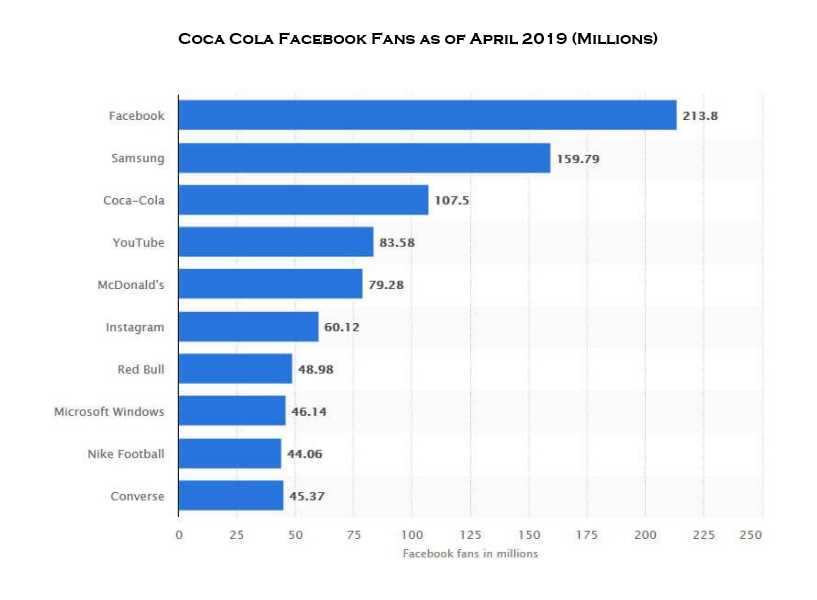 Coca Cola is one of the leading and recognizable brand worldwide. After Facebook and Samsung, Coca Cola Facebook followers are 108 million. It has 3.34 million followers on twitter.
Global Reach
Coca Cola global reach means 200+ countries and 5 operating segments. It has more than 500 brands satisfying customer globally. Coca-Cola Company sells more than 1.9 billion servings per day almost in every market in the world. This global presence is one of the main factors to its brand building strategies.
Distribution System
One of the key strengths of Coca Cola is the distribution system of the company. It is operating in more than 200 countries and territories and satisfying customer needs on every days basis. Coca Cola sold 29.2 and 29.6 billion unit cases of their brands in 2017 and 2018 respectively. All these operations were made possible due its largest beverage distribution system in the world.
Coca Cola 500+ Brands
The company has a large distribution system which enables it to deliver more than 500 brands to its target market around globe. The brands include soft drinks, mineral water, sports drinks, energy drinks and many more. Out of theses 500 brands, 17 brands generate almost US$1 billion each, in revenue. Following are the most valuable brands of Coca Cola.
Coca Cola Classic
Diet Coke
Dr. Pepper
Sprite
Fanta
Coca Cola Zero
Powerade
Minute Maid
Del Valle
Fuze
Dasani
Market Share of Coca Cola
The two beverage industry giants Coca Cola and Pepsi control 60% of non-alcoholic beverage industry out of which Coca Cola holds 40% while Pepsi holds 20%. Coca Cola has a leading position and holds the largest market share.
Loyal Customer Base
Coca Cola is operating from the past 125 years. Over the years coca-cola brands have successfully built a strong emotional connection with its customers. The company has several billion dollar brands like Coca Cola, Dasani, Coca-Cola Zero, Fanta, and Sprite which have a huge loyal customer base. Most of the time it is difficult for customers to find substitutes due to its taste and availability.
Coca Cola Weaknesses
Below are the major weaknesses of Coca Cola Company
Water Management
Water is a crucial part of all Coca Cola products. It is not a commodity rather it is a precious natural resource and plays a vital role in the prosperity of human beings. Just like every natural resource water is also limited in several part of the world. Not only the popular. World population is increasing day by day as a result water is becoming scarce and the overall water quality is comprised. As water is the main ingredient of Coca Cola products, it has to bear higher costs to meet the consumers demand otherwise, low production can affect coca cola demand and profitability.
Core Business Model and Health Issues
The Coca Cola main business model has severed its consumers well since 1894. It has carbonated beverages with main ingredients sweeteners and different flavors. But today people are more aware of diabetes and obesity. These sugary beverages and sodas increase the chances of diabetes and obesity. It is one the weaknesses of Coca Cola that has also affected its revenue stream. The Company generated US$31.85 billion in 2018 which was 10% less from previous year US$35.410 billion. It should concentrate on protein and milkshakes and other healthy beverages.
Coca Cola Opportunities
Below are the three opportunities for Coca Cola Company
New products
Launching new products is crucial if Coca Cola wants to diversity its current bestseller offerings and increase market share. Coca Cola has strong distribution system and loyal customer base to back up its new offerings.
Acquisitions
Coca Cola is competing with international, national and local brands in more than 200 countries. It can buy out competition where it is possible. The Coca-Cola Company is a successful and powerful beverage brand and able to take such aggressive steps to beat competition and turn their profit into its own strengths. For example Coca Cola acquired Costa Coffee for 3.9 billion pound.
Advertisement of Unpopular Products
The Coca Cola has more than 3500 products under the umbrella of 500 brands. Everyone is familiar with Coke, Sprite, Fanta, Diet Coke but what about rest of the products. Advertisement and marketing of such products in the respective target markets is huge opportunity for Coca Cola to capitalize.
Coca Cola Threats
Below are the threats of Coca Cola.
Fierce Competition
Coca Cola brands are sold in more than 200 countries and competes with international and local brands in each country. But apart from this, according to the company annual report the main competitors of coca cola are but not limited to PepsiCo, Dr Pepper Snaple, Nestle, The Kraft Heinz Company, Unilever, Mondelēz International, Suntory Beverage and Food Limited. There are many regional and local competitors who are mostly operating small companies and selling directly to consumers through brick and mortar and online platforms.
Government Regulations
Government Laws and regulations have a direction impact on Coca Cola productivity and profitability as it falls under foods product category. These laws vary from country to country and coca cola has to meet such regulations where it is operating. The company should be careful with lawsuits as it is a wealthy and successful brand and people try to exploit the unhealthy side of this brand. This can be a huge threat for the brand success and revenue stream.
Taxation
Government taxation on sugar products is another gray area that is changing Coca Cola business strategy. Recently UK imposed sugar tax in the UK and Coca Cola invested 10 million pounds to relaunch Diet Coke. Coca-cola has to meet every customer expectation whether he wants Coca Cola with sugar or Coke Zero sugar.
Health Conscious Consumers
There is no doubt that Coca Cola is a profitable company in the non-alcoholic beverage industry yet it is facing sales decline consecutively from the fourth quarter. Today people are more health conscious and avoid carbonated and sugar drinks. Not only in developed countries i.e. the United States and European markets but also in developing countries calorie conscious consumers taste is changing. Changing Consumer taste is an alarming threat to Coca Cola, Pepsi and other soda companies in beverage industry.