Starbucks also known as Starbucks Coffee Company, is a premium coffeehouse chain providing hot and cold coffee beverages, tea and snacks. The company is enjoying a huge presence in 30,000 location and 78 markets. Presented below is the swot analysis of Starbucks which will analyze the company's strengths, weaknesses, opportunities, and threats. All analysis is created based on the standing of the company as of the beginning of 2019.
I recommend you Pestle Analysis of Starbucks.
Starbucks Strengths
Strong Financial Performance
Starbucks coffeehouse chain is enjoying strong financial strength. As of 2018, the company generated $24.71 billion whereas its net income was 4.51 billion with a strong net profit margin. According to interbrand.com the brand value of Starbucks is $9.615 billion. Undoubtedly the company has shown strong commitment and financial growth over the years.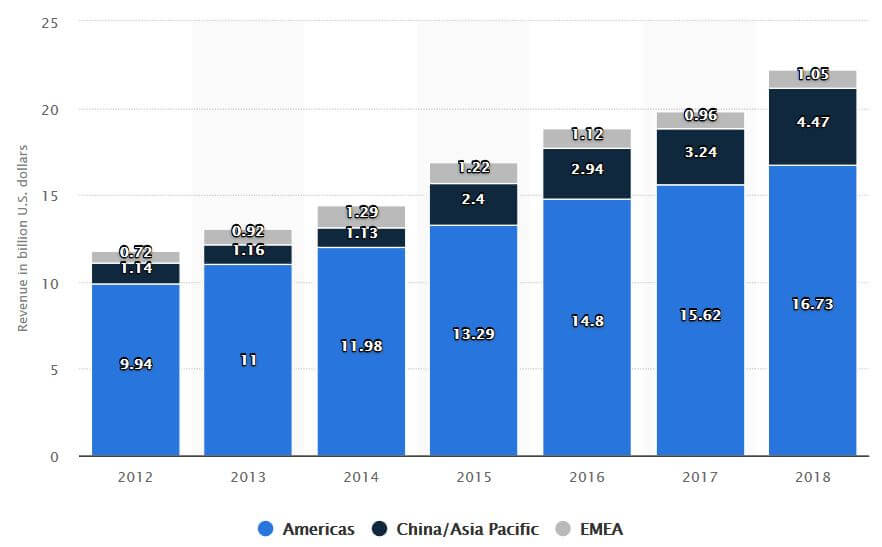 Global Presence
The humongous global presence of Starbucks is also a major strength of the company. The company currently sport over 30,000 locations and 78 counties and territories. No other premium coffee and beverages brand serves in as many countries as Starbucks. Their recent venture into the Indian and Chinese market has also broadened their customer base.
Reinvestment Strategy
Starbucks ensures that a large portion of its profits are spent on business expansions and R&D to discover new hot and cold beverages that will be perfect for the market. They also ensure that an impeccable level of marketing is always in place. These combined create a reinvestment strategy that is hard to achieve by their competitor brands.
Product Quality
Starbucks is a premium coffeehouse chain, always ensures that its products are some of the best in the market and also caters highly towards maintaining a friendly environment and customer service. These factors allow Starbucks to maintain their premium status in the market.
Acquisition
Since its foundation in the year 1971, Starbucks coffee shop has acquired several companies like Tazo Tea (1999), Seattle Coffee Company (2003), Ethos Water (2005), Evolution Fresh and Teavana. The acquisition strategy of Starbucks is a crucial part of the company success and global presence.
Starbucks Weaknesses
Premium Pricing
Starbucks holds a few acute weaknesses that limit their market and one of the primary ones is its price range. Prices for most of Starbucks' products fall in the premium to the high-mid range. As a result, a huge portion of the working class still cannot afford the pricing of Starbucks. Outlets such as McDonald's have a better grasp at this market and Starbucks has to rely on customers who can afford their premium pricing. Starbucks also offers very few discounts and offers in its products. Such offers help increase one's market reach.
Dependency on the U.S. Market
Starbucks is depending on the U.S market which is a major weaknesses for the company. Out of $24.71 billion revenue, the company generated 16.7 billion US dollar from the American market. The company should concentrate on marketing strategies and alliances to increase its market share in the other parts of the where it is operating i.e. China, Asia Pacific, Europe, the Middle East, and Africa EMEA.
Fewer and Generalized Products
As a hot and cold beverages retailer, most of Starbucks products are generalized i.e. similar to other premium retailers. This makes it easier for customers to switch from Starbucks to any other retailer such as McDonald's or Burger King which also serve similar beverages along with a larger range of food items.
Starbucks Opportunities
Business Expansion
The company can expand to various countries that it has not ventured into. For example, countries such as India have only very limited access to Starbucks and so does China. Expanding in these two countries alone will provide Starbucks with at least a billion more consumers. However, Starbucks' pricing may become a reason of concern in such a case.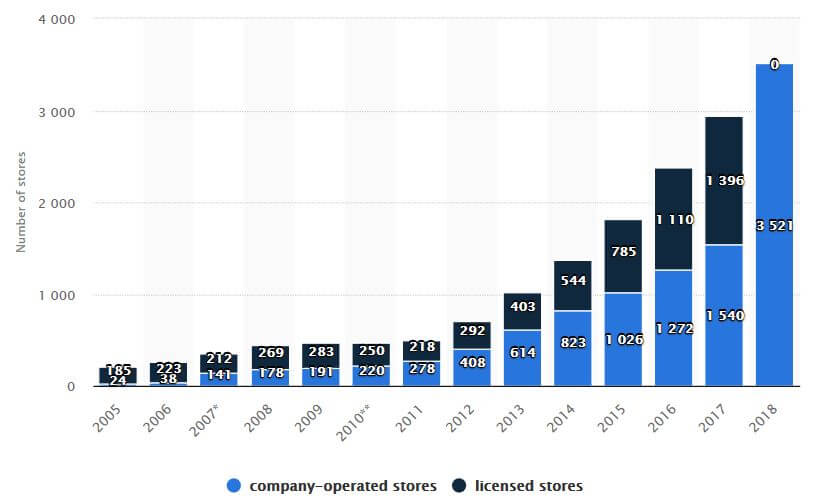 Introducing New Products
As we discussed in the earlier segment, introducing more menu items will allow Starbucks to grab hold of a much larger customer base than the one they currently serve. People prefer to have their morning coffee and breakfast from the same vendor and not from different ones. So by introducing new food products Starbucks can achieve a higher profit level.
Strategic Alliances
Starbucks has the ability to partner with food delivery services such as Uber Eats to allow for easy home delivery options and also provide various offers. The current market trend shows that more consumers prefer to order their breakfast rather than have it at an outlet. So, by allowing such access to their products they will be able to sell more products.
One of the best business partnership deals that Starbucks has made in recent times is the joining up with Nestle. The latter company has purchased the rights to market, distribute, and sell Starbucks' coffee products in their stores. This deal gained Starbucks a massive $7.15 billion. Due to their business size and globalization factor Starbucks can make such deals possible.
Starbucks Threats
Stiff Competition
Premium coffee retailers serve a very niche segment of the market. For this reason, local coffee houses that serve a wider range of products or have lower pricing can prove to be a threat to Starbucks' profit levels. And as a result, the company has to constantly spend a huge amount on its advertising campaigns. Brands such as McDonald's and Burger King, which were more eatery based are also introducing newer beverages to enter the premium coffee market. So, the company is sure to face even higher levels of competition in the future.
Imitative Business Model
Newer brands are imitating Starbucks' business model and trying to create a loyal customer base. Since the products of Starbucks are highly generalized, any other brand can put out a similar menu. And in case a Starbucks outlet is not available in a customer's vicinity, then they are most likely to go for the alternative brand which sells more or less a similar product. Smaller imitative brands are also taking away Starbucks' customer base by offering similar products at non-premium prices.
Consumer Tastes and Preferences
Starbucks essentially sells very few items in both beverages and snacks sections. So, if people want to eat or drink something else Starbucks is sure to lose these customers. Unless Starbucks chooses to broaden their product section they will always face this particular threat. It essentially tries to bank on the social trend of premium coffee beverages which is a risky business model.