Eighteen years ago, who would have thought that a dating website from Jawed Karim, Steve Chen, and Chad Hurley would become one of the biggest video repositories in the world? YouTube started as a dating website in 2005, but now, it is the second biggest search engine and the largest video repository and sharing platform in the world.
The platform is a global success as more than 400 hours of content or videos are uploaded every minute. Similarly, people from across the globe collectively spend over one billion hours on YouTube daily. Currently, YouTube is available in 76 different languages.
It is easy to understand that YouTube is a massive playground for businesses, companies, firms, service providers, professionals, and influencers. They use this platform for branding, advertising, marketing, and educating their potential audience, and earning money.
However, the question stands; how does YouTube make money? Which business model does YouTube follow to generate income? You can get your answers in this blog post by Marketing Tutor.
What Is YouTube, And How Does It Work?
Google, as mentioned earlier, is a video repository that is now owned by Google LLC. The platform allows its users to upload and share video content. Users can also like and comment on videos and subscribe to channels on YouTube, while creators or YouTubers earn money via monetizing their videos or channels.
In addition to that, YouTube also provides a dedicated platform for games and music but again, how does YouTube make money? You would think if everyone has free access to the platform, how does it generate revenue? Let's get a basic understanding of the YouTube business model.
YouTube Business Model
Although the videos on YouTube are free to access and millions of users watch them daily (1.8 billion every month), YouTube's actual source of earning is its users. That said, such a massive user base attracts businesses from all over the world to advertise or market their content.
The platform allows business to advertise their products and services, and in return, it charges a fee. In simple words, YouTube earns through the advertisement-based business model. In addition to that, YouTube also generates revenue through the subscription-based business model. A notable example is YouTube premium. It allows subscribers to enjoy exclusive benefits by paying nominal membership charges.
In a nutshell, YouTube mainly generates money via
Advertisement-based business model, and
Subscription-based business model
Here are different ways how YouTube makes money.
How Does YouTube Make Money – 7 Common Ways
There are different ways how YouTube makes money through advertisements. It also makes the 11% of the total revenue generated by Google through ads in the United States. YouTube is now shifting to generating more revenue from the subscription-based model, but currently, advertisements stand as its major source of income.
Sponsored Videos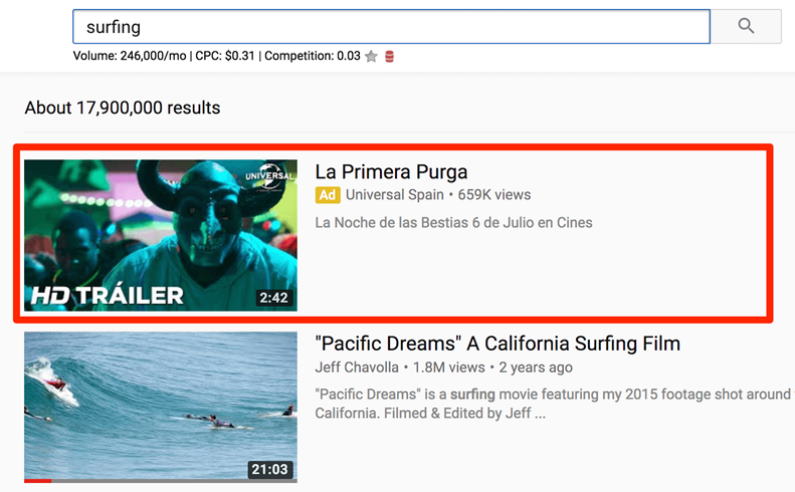 Sponsored advertisements are among the biggest sources of revenue generation for YouTube. In the above-mentioned image, the area in the red box is a paid advertisement. The advertiser will pay YouTube every time a user or visitor clicks on the advertisement. The greater the number of views, the more revenue for the platform.
Landing Page Advertisements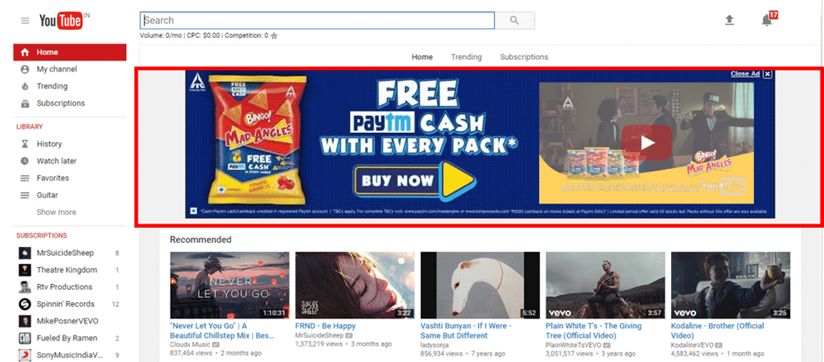 A landing page is a website page that greets you whenever you open a website. YouTube uses its landing page for advertisements. You would have noticed a banner-sized advertisement whenever you open YouTube without logging in. These ads can be in the form of pictures and videos. Generally, the costs of such advertisements are high, and they target specific regions. The image above is an example of a YouTube landing page advertisement.
Embedded Advertisements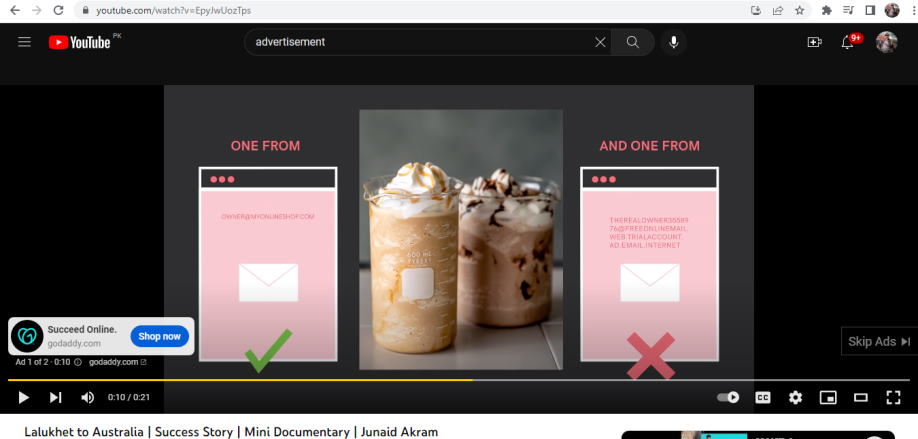 Embedded advertisements are also pretty common and a massive method of revenue generation for YouTube. As you can see in the picture above, YouTube places or embeds an ad (image or small video clip) at the start, middle, or anywhere in the YouTube video.
Just like sponsored ads, every single click on the advertisement will pay YouTube, and a specific portion of that revenue also goes to the video creator or YouTuber.
YouTube Premium
YouTube Premium is a business model inspired by Netflix's business model. It is a subscription-based model which gives YouTube users a better and uninterrupted experience on YouTube Music, YouTube videos, and YouTube Gaming.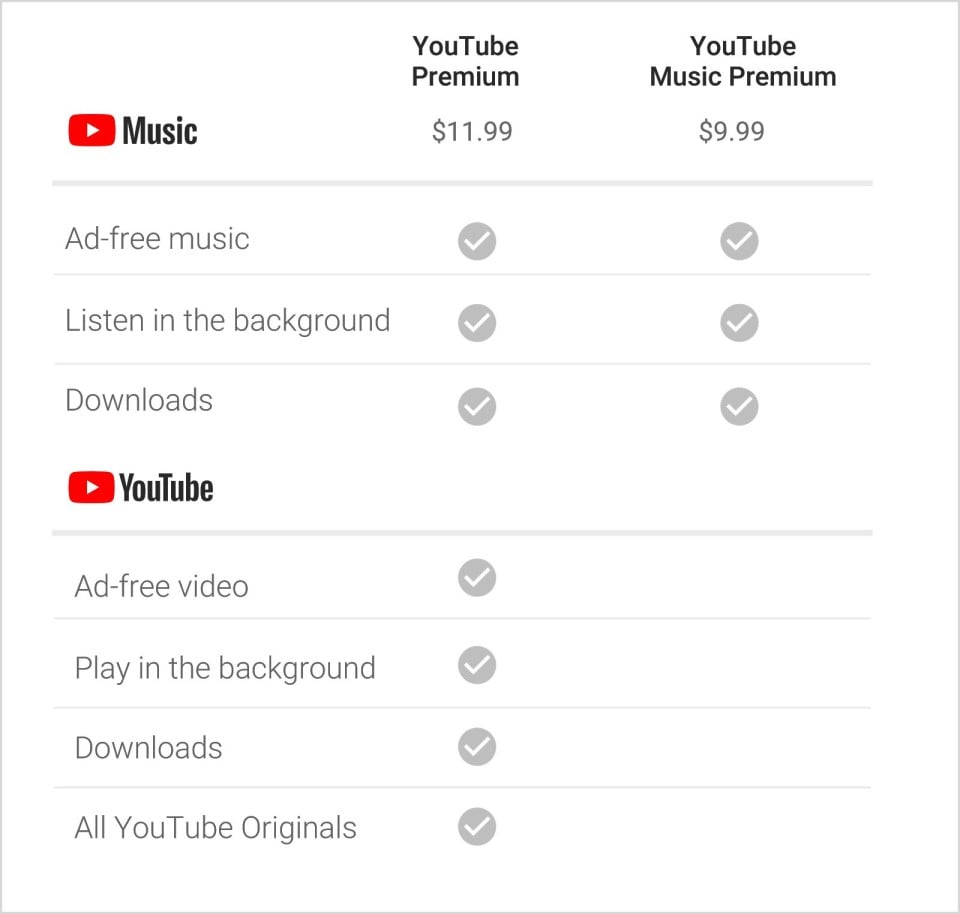 Premium YouTube members enjoy multiple benefits that include:
Access to YouTube Music Premium
Totally ad-free videos
Offline songs and videos
Access to YouTube premium content
Ability to play YouTube in the background or when your device's screen is off.
The monthly charges for premium subscriptions vary from country to country. In the United States, monthly subscription charges to YouTube premium are $11.99.
YouTube TV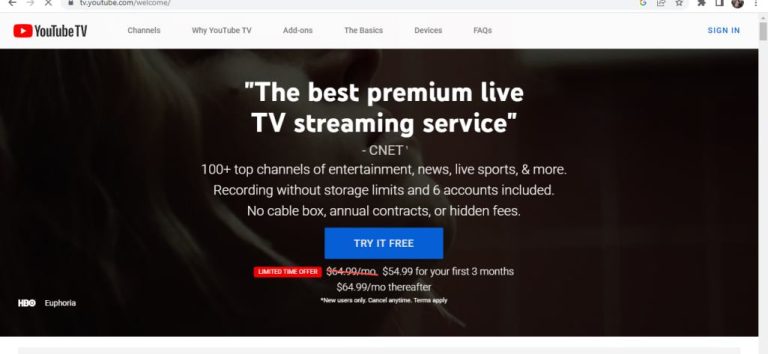 YouTube is a live streaming service that allows subscribers to watch a wide range of TV channels like CNN, DISNEY, ESPN, FOX, NBC, etc. it is also a subscription-based model and is expanding at a rapid rate. However, it is currently available in the United States only.
YouTube TV is somehow an idea inspired by Hulu's business model, which has also made YouTube its strong competitor. In fact, YouTube's massive user base makes it easy for the platform to attract more people to subscribe to YouTube TV. YouTube TV:
Costs $49.99 a month
Offers over 70 networks/TV channels, and
Comes with 6 different accounts
In addition to that, you can subscribe to more channels by paying an extra amount.
Channel Membership
Channel membership is technically a partnership between YouTube content creators/publishers and the platform. It allows YouTubers to engage their fans or viewers in a better way, while YouTube and creators generate revenue through subscriptions. The membership model is inspired by Patreon's business model.
The channel membership model allows YouTube creators to engage with their audience by offering them additional perks like offers, merchandizes, and special discounts on different products. The subscription fee is generally $4.99 a month, but it varies from country to country. 30% of the subscription fee goes to YouTube.
Affiliate Earning
YouTube allows businesses (affiliate partners) to advertise their products by placing them under some YouTube videos. These products redirect YouTube users to the affiliate partners (businesses). In return, businesses pay a commission to YouTube for every product purchased through this.
So, these were some major sources of revenue generation for YouTube. Let us know if we need to include anything on how does YouTube make money.