In 2016, a period when environmental movements were at its peak, Fabriko, a clothing company was planning to expand its business online. It was offering eco-friendly clothes, but the online market was crowded with competitors and the company wanted to make its name.
However, the company came up with the unique idea of shipping the product in the tote bags that could later be used for other purposes. The target market of Fabriko was those people who wanted a product that could create less waste. Within a month of promotional marketing, the company started receiving inquiries from retailers for its products and bags.
What is Promotional Marketing?
Promotional Marketing is the process of offering something unique and different to your targeted customers, which helps you not only to stand out from the competition but also it would influence people to buy your product.
Promotional marketing falls in the category of direct marketing, like emails, coupons or anything free. The purpose is to create the interest of people and convincing them about the product or service. When people have awareness about the product, then they'd try your product, it could be your existing customers or new ones.
Objectives of Promotional Marketing
Promotion marketing is very important for every business to achieve overall company's objectives. However, different businesses have different objectives, and their promotional marketing strategies also vary from business to business. Some of the common objectives are as follows;
Generate Demand
The main objective of every business is to have the demand for its product in the market; marketers perform multiple activities to create desire among customers. Like catchy advertisements, personal and direct selling, the purpose is to make people to take some action in terms of purchase. What companies is that they highlight the needs and wants of customers in their ads so that people can relate to it.
To Inform Customers
The other objective of promotional marketing is to spread awareness about the company's products and services. It could be information about the product's features, designs, price, specs, etc. Because different people buy the same product for different reasons, therefore, they look for multiple features. Some people are price conscious, they look for price. Quality conscious people would look for the quality of material, and how long it would be sustainable.
Brand Awareness
When customers buy a certain product, then the company sells not only the product but also the name and brand. It doesn't matter whether the product is big or small, there'll always be a brand logo of the company on it. When a customer would come across the product, then the logo will remind him or her about the company.
Promoting New Products and Services
When a company launches a new product or service in the market, then the company promotes the product for two reasons. First is to bring new customers, and secondly, is to retain and retarget its existing customers. The advertisers usually add two messages in their ad campaigns; how the product would help you to make your life easier for the new customers. It also highlights its new features to retarget its existing customer to try the new version.
Brand Image
All the promotional activities a company performs like advertisements, billboards, pamphlets, personal and direct selling. The objective is to maintain and improve the name, image, and reputation of the company.
Companies like Samsung, Honda, Hero, Sony, and Philip are some of the multinational companies that have successfully maintained the image of their brands over the years. They're consistent with their promotional strategies, and they reached to customers across the world. The reason is for their success is because of one thing that their brand effectively communicates with its customers.
Marketing Promotional Statistics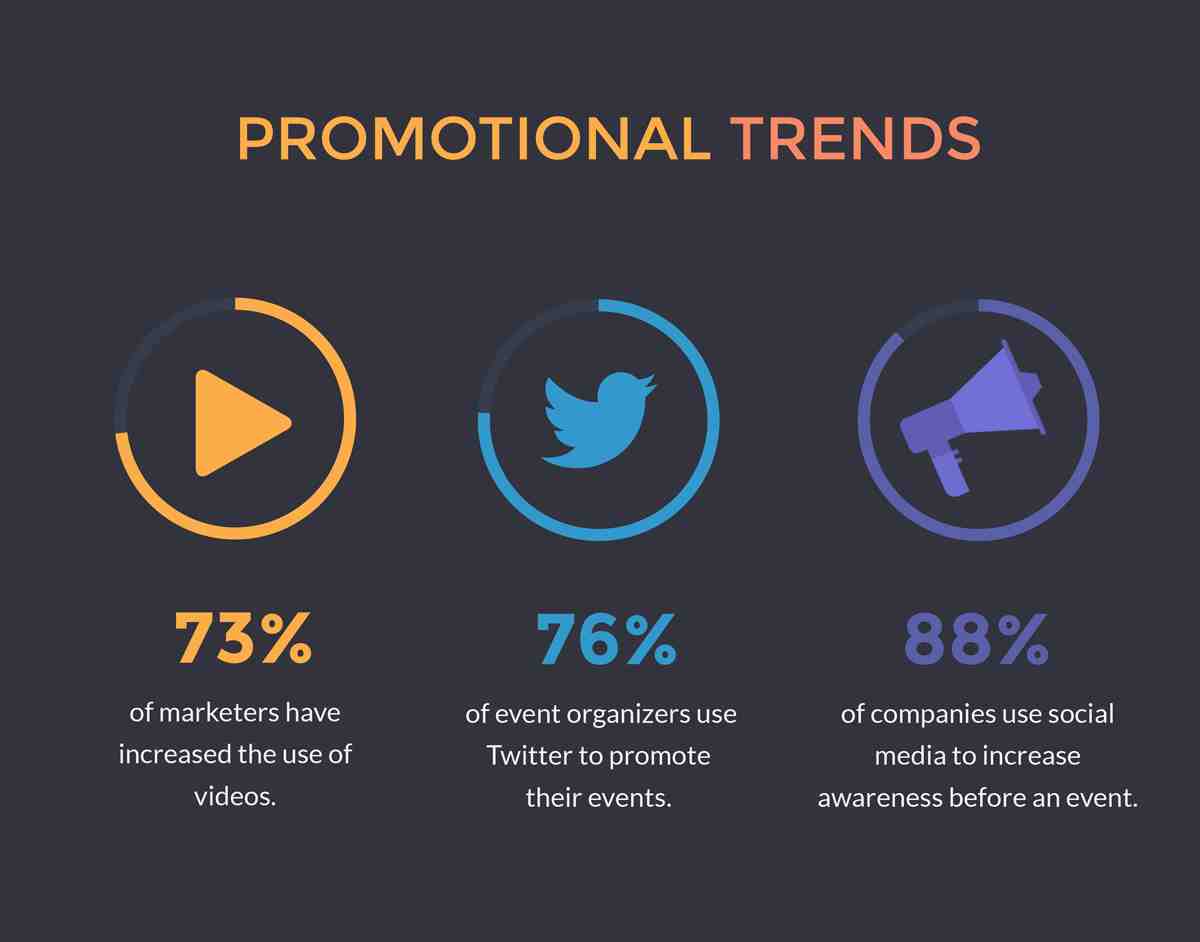 Some businesses are very effective in their promotional marketing, they do it so perfectly that it has become the main reason for their success. Here are some of the astonishing statistics about promotional marketing;
89% of the customers say that they can remember the advertisers of the promotional product or service what they've seen for the past two years.
63% of the customers say that they share the product (promotional) with their customers when they don't use it anymore.
85% of people said that they've done business with those companies who have offered them promotional products.
Promotional products bring 53 times more favorable impressions to the advertisers.
31% of the American customers say that they have a promotional bag which they use.
77% of the customers say that they keep the promotional product safe if it is useful to them. However, computer accessories, health medicines, and writing instruments fall into the categories of useful products.
91% of the customers say that they have a minimum one promotional product in their house kitchen. 74% say that they have minimum one in their office and workspace. 55% of the people say that they have a minimum on product (promotional) in the houses and bedrooms.
Types of Promotional Marketing
Also known as marketing mix, companies use various types of promotion of their products and services. Some of the important types which the businesses usually perform are as follows;
Personal Selling
Personal selling involves face to face meeting between seller and the buyer. Where the seller promotes his product or service by convincing the buyer in many ways; like with his attitude and behavior, focusing on the features of the product, or offering some free samples.
Advertising
Advertising is the process of communicating with your targeted customers to influence their buying decision. Advertising is also one of the promotional techniques which marketers use to catch the attention of their customer, and then convince them to buy their product.
Direct Marketing
Direct marketing is the process of communicating with your customer directly via emails or telephonic calls. Companies also use direct marketing for the promotion of their existing product, or whenever they launch something relevant to their existing customers.
Sales Promotions
Sales promotion is one of the elements of the marketing mix, where companies use multiple activities (short terms) to increase the sale of their product or service. Sales promotions involve everything in marketing that could stimulate and increase the overall sale of the company.
Public Relations
Public relations is the process of building and maintaining a relationship between the public and individual who's representing the company. When a person represents a company and speaks on its behalf, then he's promoting the interests of the company. Multinational companies have their PR specialist who promotes their products and services on different platforms.
How to Plan Promotional Marketing Campaign
Whenever you're planning to launch a new product or expanding your business into the new market. Then you require a well planned promotional marketing campaign to achieve your business objectives. When it comes to planning, then it's a step by step process to launch a successful campaign, here are some of the following key points to follow;
Know Your Target Market
The most important point is to know your customer of your target, by know I mean their needs, wants, likes and dislikeness, where they live, their buying habit and decision-making process. All of these things are very important because if you know them, then you can talk to them effectively.
Choose Communication Channels
When you know your target market and your customer, then the next step is how you're going to communicate to them. Whether you should choose the personal marketing communication channel like direct marketing, personal selling, and telephonic calls; or you'd choose non-personal marketing communication channels like TV, Radio, internet, etc.
Define Your Objectives
It's better if you differentiate your promotional objectives from marketing plans because your customers are already familiar with your product or service in the promotional stage. Therefore, you should clarify it and write it down on a paper, whether they're short term or long term, and what actions you expect from your customers to take.
Develop Your Promotional Mix
You've cleared your objectives, now you should allocate a separate budget for personal selling, advertising, publicity, and sale promotion. You shouldn't skip any of these promotional mixes because all of these are tools to spread awareness about your product.
Craft Your Promotional Message
Now, you have to sit down with your promotional marketing team and brainstorm different ideas to come up with the most effective message. The message should be appealing and well structured, and it should align with your company's objectives.
Develop Your Promotional Budget
You've already allocated a separate budget for your marketing, out of which how much you're going to use for the promotion. It also includes breaking the total promotional budget into smaller parts for different territories. Where you need more to generate sales, and how much your business can afford.
Monitor the Outcomes
You should note down your overall objectives, the sale volume and the figure you want to achieve. You must set up matrices to evaluate the performance of your business. If it requires collecting information from your target market, then you should do it. It would tell your plus and weak points, where you need improvements.
Promotional Marketing Ideas
When it comes to promoting the products and services of your business, then it is always difficult to pin down where exactly to start. Here are some of the following promotional marketing ideas,
Create a Giveaway or Social Media Contest
Launch easy, engaging and fun quizzes and Q & A sessions on social media, the purpose is to increase user engagements with such contests. Offer them some reward at the end to keep them motivated. Ask for their email address once they complete the test.
Free Shipping
Offer them free shipment on certain products; it's a very good promotional scheme which companies launch it on out of seasoned products.
Freebie with Purchases
Offer them some gift on every purchase they complete, it'd also encourage your customers to take advantage of this opportunity, and they'll do it. Freebie gifts should be catchy and interesting, the more interesting the gifts are, the more buyers it would bring.
Deals on Gift Cards
According to a survey conducted by NRF, it showed that every 6 out of 10 people love receiving gift cards. Offer your target customer to choose a gift card for themselves, both in the e-format and in the plastic or paper packing as well. It depends on your promotional budget, how many gift cards your business can afford. But it's worth trying to attract new customers to your store.
Facebook Advertisement
Facebook is a very big social media platform with approximately 1.5 billion monthly active users across the world. Facebook ads are well précised, they allow you to target your audience based on gender, age, location, and interests. It also allows you to choose your budget plan.
Offer an Upgrade or Trade-In
If your business offer services like software, salon, spa, health or fitness, then you should consider offering complementary services to your targeted customers. It would increase loyalty among your customers. If you've launched a newer version, then you should offer them an upgrade to the previous version.
Share Customer Reviews
Allowing people to share their reviews about your product or service; when you offer something free, then it's a great time to receive their reviews. When share their views, make it public so the people can see and read it. They'd also bring new users on your platform to try your services.
Promotional Marketing Examples
Some real-life examples of promotional marketing are as follows;
BuildASign.com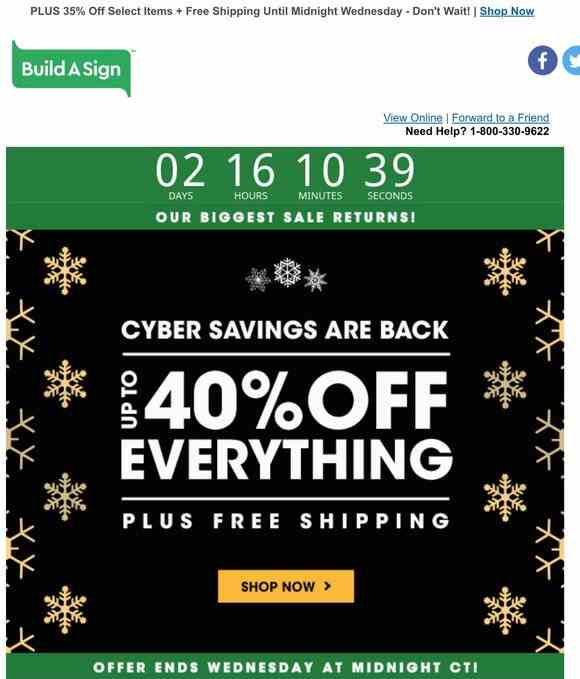 BuildASign.com used a flash sale Gif image to attract the attention of the people, where they offer different schemes like 25% off or 50% off per sale or free shipment. Then there's a call-to-action button like shop now.
Scrubs & Beyond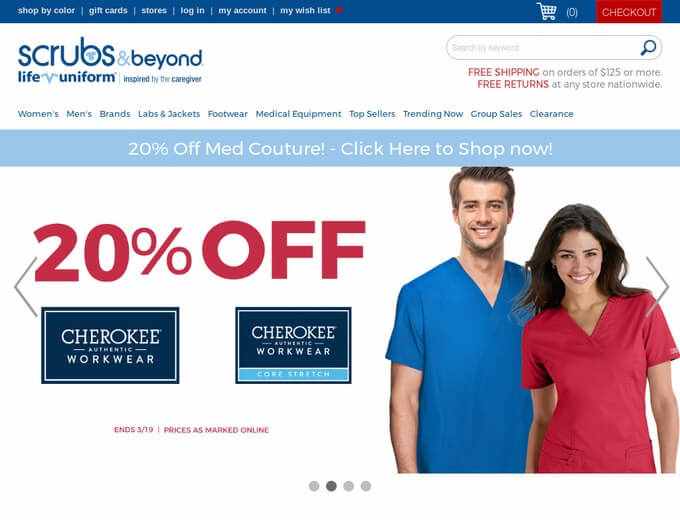 Scrubs & Beyond offer is mostly used in the medical industry, where the company gives discounts to its customers. Decrease in price increases the sale. It is very close to flash sale if the company advertise it like a billboard or banner.
Hype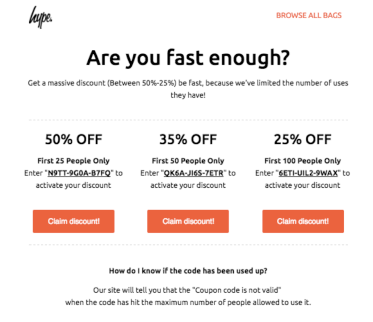 Hype is also an interesting promotional strategy where the company offers a series of discounts to its customers. Like if you're first 25 customers, then you'll get 50% off. If you're among the 50 customers, then you'd receive 35% off. Finally, if you're among 100 customers, then you'll get 25%. It encourages people to be quick and be among the first ones, sale increase as a result.
Conclusion
Before launching any promotional marketing campaign in the market; it's better if you know your customer in your market, and what channel of communication would be best for them to use. Then the promotional budget of your company should be aligned with the company's objective and market well. When everything is in place, then launch the promotional scheme.