What is Service Marketing?
Service marketing is the marketing and selling of intangible products (non-physical products). Services comprise all of those personal facilities which we require from time to time like; medical care, education, renting of living spaces and vehicles, hair cut, spas, musical concerts, dance classes, etc.
However, the purpose of service marketing is to utilize the effective method of communication to create demand for service among customers like advertisement, promotional deals or offers.
For instance, Las Vegas, an American city, launched a very famous and successful service marketing campaign to attract tourists from across the US. The marketing phrase was ''what happens in Vegas, stays in Vegas,'' the purpose was to offer maximum freedom to tourists.
Features of Service Marketing
Different service providing companies offer different services both to businesses and customers as well. However, when we talk about service as a facility, then it has various features that are different from the products. Some of the features of the service are as follows;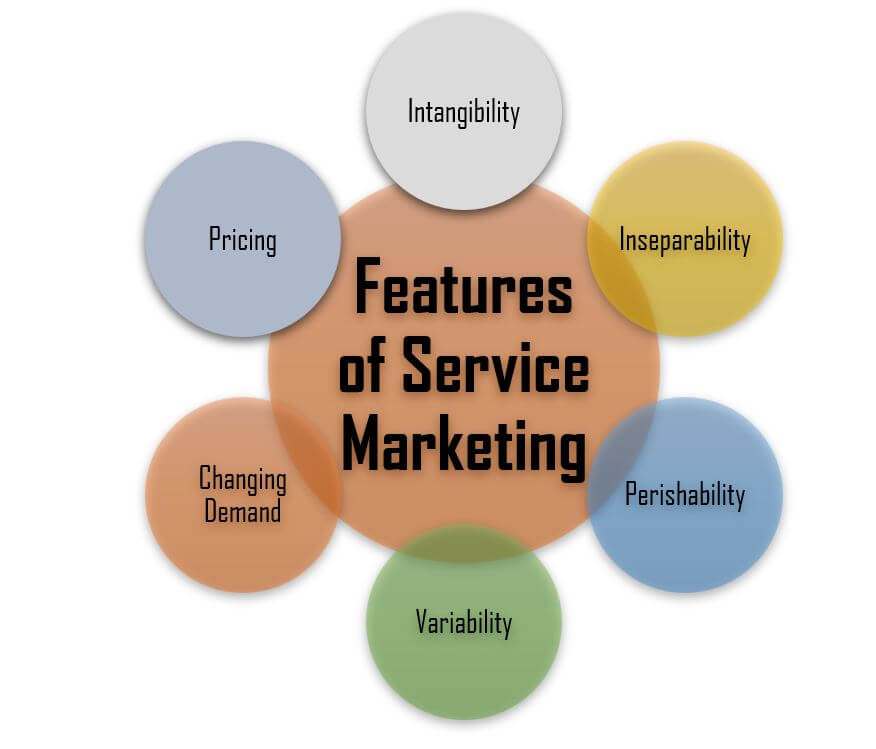 Intangibility. Tangible products are physical. Intangible, on the other hand, do not have any physical existence, texture or color that you could see with your naked eyes. Therefore, it is difficult for marketers to convince people of its utility which they cannot see.
Inseparability. Unlike any physical product that you receive it from the seller, then consume it later. Services work completely differently. The customer receives the service and consumes it at the same time. You cannot separate its receiving and consumption. For instance, a barber is providing the service of hair cut and the customer is consuming it at the same time. Online doctors and lawyers provide legal and medicinal services to their clients.
Perishability. You can store physical products and save it for sometime later. But you can't store services for later, they perish with time. For instance, you have booked an airplane seat for today; you cannot use the same seat for tomorrow or any other day. If you miss the opportunity of using it, then it will perish.
Variability. When service providers are different people, then their services may vary from person to person. For instance, you are receiving a dance, acting, music or any other kind of training, then the training method and content material will be different, and vary from trainer to trainer.
Change Demand. Demand of service industry changes with the season, winter services would be different from the summer services. There are different sport seasons, the service demand of cricket season would be different than the service demand of football season.
Services Pricing. You cannot have standards for the pricing of services. There are usually different prices for different seasons like; the prices of hotel rooms would be higher in the crowded season than the normal days. When the demand of service goes up, then the price of the services also go up.
Service Marketing Triangle
The service marketing triangle also goes by the name of the service triangle; it involves the relationship between service, service provider and the consumer of the service. Building and maintaining a relationship is very significant to the life of every business; service industry is not an exception. However, the service triangle has three types of service marketing which usually happens within it, they are as follows;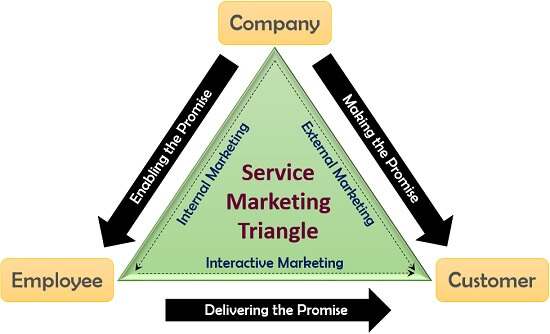 Internal marketing
Internal marketing in the service triangle is used for those companies and organizations that motivate their employees. They give parties to their employees to keep their spirit up. The purpose is to keep them satisfied when they are satisfied, then they can use their creative abilities better for the satisfaction of customers.
Such companies also decentralize the power into their employees, so that they would be able to decide on their own. Empowering them with decision-making would increase their loyalty, and they would take responsibility for their actions.
External marketing
External marketing is a very general type of marketing that companies usually perform to increase their sale and brand awareness. It involves all of such activities which companies usually employ towards their customers. Sale promotion, personal selling, direct sale, offers, and direct marketing fall in the category of external marketing.
Interactive Marketing
Interactive marketing involves interaction between the employees of your company and customers. It occurs at the retail stalls, customer service counter of bank, hotels, restaurants and all those places employees and customers get in contact with one another.
Interaction marketing influences the decision-making of buyers, because the customer needs help to make the choice, and the employees of your company help him to do so. If the representative provides positive and valuable information about what customers are looking for, then it would also increase the conversion rate.
Services Marketing Mix
Service marketing mix comprises of 7ps of marketing, out of which four of them belong to the product mix (product, price, promotion, and place). The rest (people, process, and physical evidence) combines with the product mix and makes the service marketing mix of total of 7ps, which are as follows;
Product
Service product is also like any other physical product of product mix, but it is intangible and you cannot measure its utility.
Education, health care and tourism are very good examples of a service products. You can't own the service products. The service provider must design the service product with care.
Price
Pricing of the service product is a bit technical process because it involves other expenses which aren't directly the part of the service product.
In the hotel industry, if you charge customers only for the food they eat. Then who'd pay for the salaries of service providers like cook, waiter, and cleaner, hotels rents, and other indirect expenses to run the business. You can't serve food to your customers if you don't incur such expenses. Therefore, you have to include all of those service expenses in a proper portion to keep your business running.
Place
Place is the location point where you offer your services to your customers. There are many things to consider before selecting a location point because you have to keep in mind the traffic of people if you're going to start public business like hotels, restaurants, petrol, and gas station.
If you want to start a software house or any other tech companies, then you should choose a place where there are other tech companies are already there. Having a place in the competitive market would keep you up to date, rather than in the village where you don't know anything.
Promotion
When you're offering some service, then you aren't the only one in the market who's providing such services. Then you need a strong promotional strategy to stand out from the crowd.
Service industry and products are very fragile, because if you don't protect your service product with the brand and copyrights. Then competitors will copy it.
People
People include all of those personnel who are working within your company, and those people define the service of your organization.
Doctors and nurses of the hospital; employees of the banks; and teachers of the school are few examples of the people who work in the service industry. Such people can make or break your company.
Many companies invest in their people by providing them training regularly to keep their skills up to date. They also provide their employees with various facilities to keep them satisfied because satisfied employees can perform better.
Process
The process is the way through which you deliver your service to your customers. McDonald's and FedEx are two very famous service-providing companies because people have complete confidence and trust in their delivery process.
The service delivery process of your company should be cautious, because if it destroys the quality of the service, then it won't be any use of it.
Physical Evidence
As we know that the nature of service is intangible if you add some tangible element to your service to make the experience of the customers better. Then it would enhance the value of service.
A well-furnished hotel with good lighting, furniture, and a clean atmosphere would attract the customers more than an ordinary hotel with no service facility at all.
The service quality of a private and a government hospital differs because of the building, staff, equipment, and clean atmosphere.
Types of Service Marketing Strategies
Having said that service is something which you can't see or touch, therefore, when it comes to marketing of services, then its marketing strategy would be completely different. However, launching a service marketing campaign, then you have to add more explanation and more relevant information about the service. It is because customers can't see or touch your service, you have to provide them a simulation experience.
Anyways, service marketing strategies are as follows;
Referral
Word of mouth is a very good service marketing strategy. It is because when a happy customer would share his experience with his friends and social circle, then it's highly likely that they'd come to experience your service.
Some companies even offer different free service for every new subscription or referral their customers would bring. That's how they promote referral marketing to increase the sale of their service.
Educating Customers
It is better if you educate your customers about the service that you're planning to launch. The more aware your customers are, the more chances are they would demand your service. More demand means more sales.
You can start by writing a pro-article about your service in the newspaper, or you can arrange meetups, seminars, and talk shows about your service. One thing to keep in mind that when you're at the educational marketing stage, that it's better if you focus on the benefits and the utility of the service, instead of talking about the price.
For instance, if you're running a business of dogs and cats grooming, then you should arrange shows and write an article about the effects and dangers of flea and pet tickets. How your grooming service can take care of pets of people.
Social Media
We live in the time of social media where almost everyone is using different social media platforms. Facebook is at the top of the list of social media, which offers a great opportunity to the local small businesses to market their services.
The interesting thing about Facebook that it offers some of its basic advertising tools for free, and if you want the paid method, then it offers you to plan your package depending on your budget. Facebook also allows its users to make free business pages, where people can leave reviews. People can also Like, comment, and share your posts from your page.
Demonstration
People are usually hesitant and shy about using new products, especially if they don't have the information of heard of it before. But if you offer them free demonstration and utility of the product, and then they're like to buy it.
For instance, if you're planning to start yoga classes, then you should start with a one-day free session. So the people could feel the impact of meditation on the human body and soul. If they like the impact of it, then they'll take your training.
Service Marketing Examples
Healthcare Industry
Doctors, nurses, surgeons, and other hospital staff are a very good example of service marketing. They sell their health service by seeing and looking after their patients.
Hospitality Industry
Hotels and restaurants fall in the category of hospitality industry, where they offer cooking, rooms, massage, and other services to their clients.
Professional Services
Accountants, lawyers, teachers, writers, mason, carpenter, chef, electrician, and plumber also some of the examples of service providing professions, where they offer multiple services to their clients vary from profession to profession.
Conclusion
There are different marketing strategies for different services, therefore, you have to be very careful about your niche and then apply the relevant strategy.
If you are already in the service industry and running a business, then you should keep your employees motivated and satisfied because it is a creative field. Motivated and mentally satisfied people can perform better in the creative line of work.