Today I have decided to perform SWOT Analysis of Uber to find out strengths, weaknesses, opportunities and threats and how it became one of the leading brand name in the ride-haling transportation Industry.
Name. Uber Technologies Inc.
Industry. Transportation
Founded. March, 2009
Founder. Garrett Camp, Travis Kalanick
Headquarter. San Francisco, California
Area Served. 65 Countries
Revenue. US$11.27 billion (2018)
Net Income. –US$2.836 billion (2018)
Employees. 22,263 (2019)
Main Competitors. Lyft, Didi, Taxi, and Ola
Website. www.uber.com
Uber is a ride hailing-app service that allows its customers to catch a ride with only a few easy taps of their mobile phones. It is an American based multinational transportation network company that was founded in 2009 by Travis Kalanick and Garrett Camp and was launched a year later in 2010.
Do you know that Uber has 110 million active platform users, it has completed 10 billion plus trips, it is operating in 65 countries and 785 plus metropolitan areas and lastly that it has 14 million trips completed each day.
Uber ride-sharing app is the major stakeholder in the shared economy. Gone were the days when people have to step out to hire a taxi which was a time consuming activity. Uber App platform provides you the same service at your doorstep. Dynamic pricing is a win win situation which is based on demand and supply on route at the time of ride is requested by rider.
SWOT Analysis of Uber
Without any further due let's start Uber SWOT analysis in detail.
Uber Strengths – Internal Factors
Global Market Leader
In the past 10 years, Uber has grown into a global market leader with its services extending in over 65 countries and 785 plus cities. It has 69% market share in the United States ride-hailing market. It has created a strong brand identity, which makes it easier for Uber to enter into new geographies.
Pricing Strategy
One of the key strengths of Uber is dynamic pricing strategy, where Uber use several factors to determine the price for a ride. For example higher demand in the same area at the same time means higher prices. In this case surge is applied and Uber app informs customers about surge live in the area. Uber dynamic pricing strategy is not only good for customers but also facilitate drivers to get on the roads and drive to those areas where demand is higher.
Uber Growth
According to the Uber financials, the company generated US$11.3 billion revenue with adjusted loss of $1.8 billion in the in year 2018. The revenue was 43% up as compare to 2017. The company gross booking were up 45% amounted US$50 billion. The overall Uber growth is slow but there is a noticeable improvement in the revenue and adjusted loss. Uber services were available in merely 100 cities in 2014, which are now available in more than 785+ cities.
Uber Revenue by Quarter 2017-2018
Brand Value
US$72 billion is looking an unrealistic figure but it was a pre-IPO Uber valuation. Uber IPO is one of the great events of all time. At the time of IPO Alibaba and Facebook value was $179 billion and $115 billion respectively. Uber was expected $120 billion but rounded up to $82.2 billion. The company offered 189 million shares at $45 per share and the whole stock sold out in just three days. During this initial public offering this tech unicorn raised $8.1 billion.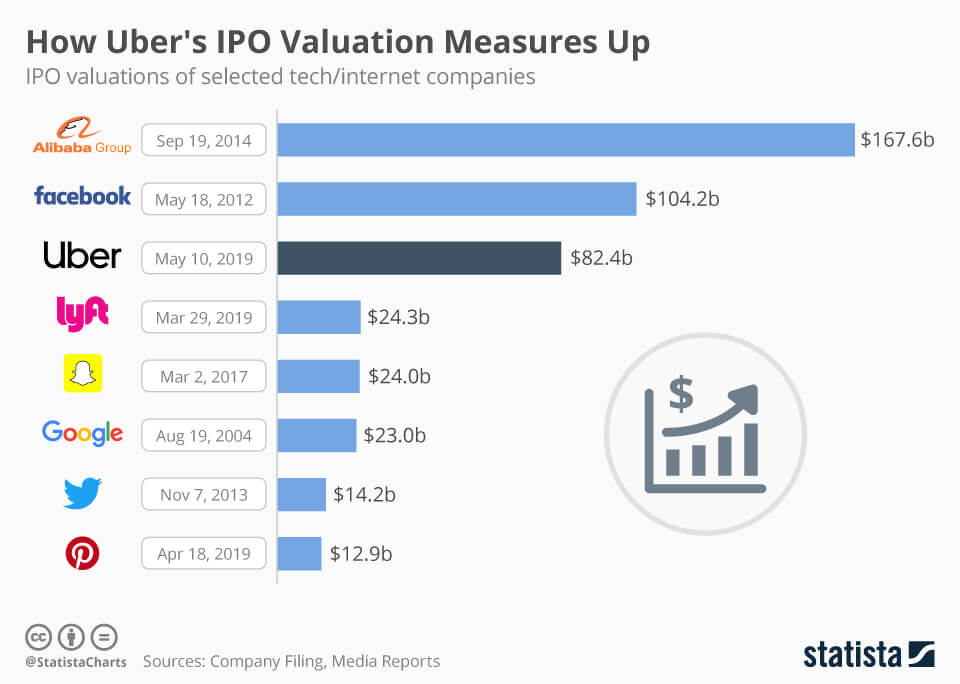 Adaptability and Change
Uber has a unique business model that started to provide rides. The company is serving millions of customer on a daily basis in different nationalities and territories. One of the key success factors of Uber is adaptability and change. A good example of Uber adaptive nature is starting different business like Uber Easts, Uber Freight (logistics), Uber Health and Uber Bike and now looking to change the future of autonomous transportation technology by introducing self-driving vehicles.
Customer-Centric Approach
Uber business model emphasis on customer feedback and customer satisfaction. Uber provides an opportunity to both riders and drivers to rate one another on a scale of 1 to 5 stars which is based on trip experience. This system is like a check and balance system to measure the customer satisfaction.
Uber Weaknesses – Internal Factors
Imitated Business Model
There are allegations that Uber has imitated its business model from Lyft, while some others claim that Lyft has copied Uber. It is debatable, but the real issue is the ride-sharing industry is not proprietary and protectable. There are low barriers to entry for new entrants in the ride-sharing industry. A good example is OLA which is running at full throttle in the Indian ride-hailing market.
Uber Dependency on Drivers
Though Uber has not direct interaction with its workforce (drivers) still it is depending on workforce which makes the relationship questionable. There has been certain cases where the customers have claimed that Uber drivers misbehaved with them or came drunk at pick up points. Recently, a women resident of Washington, DC, sued Uber for sexual assaulted by driver. These incidents show that Uber is not a safe mode of transportation for female passengers which can badly affect the brand image and profitability.
Internet Dependency
One of the key weaknesses of Uber business model is the dependency on Internet and smart phone devices. For example, developing and emerging countries where internet is not available in all parts of the countries or people don't have technical skills to operate Uber app. In this case, Uber potential customers are those who have smartphone and internet availability.
Heated Debate over Controversies
Besides all the success and growth, Uber is also center of the news and controversies since its inception. Uber and Lyft drivers called for a strike in many parts of the world against Uber and Lyft about low wages and lack of transparency just one day ahead of its IPO. These are several other controversies that affected brand image and create a mistrust the mind of customer and drivers.
Uber Opportunities – External Factors
Internet Savvy World
Because Uber is a technology company, therefore, internet savvy world is a lucrative opportunity for Uber to utilize. Today people spend hours on their mobile phones and don't like to walk around. Uber Apps is a great platform to motivate these users to interact and use Uber Apps like Uber Eats, Bike and Health. This will be a great opportunity for Uber to increase their customer base and profitability.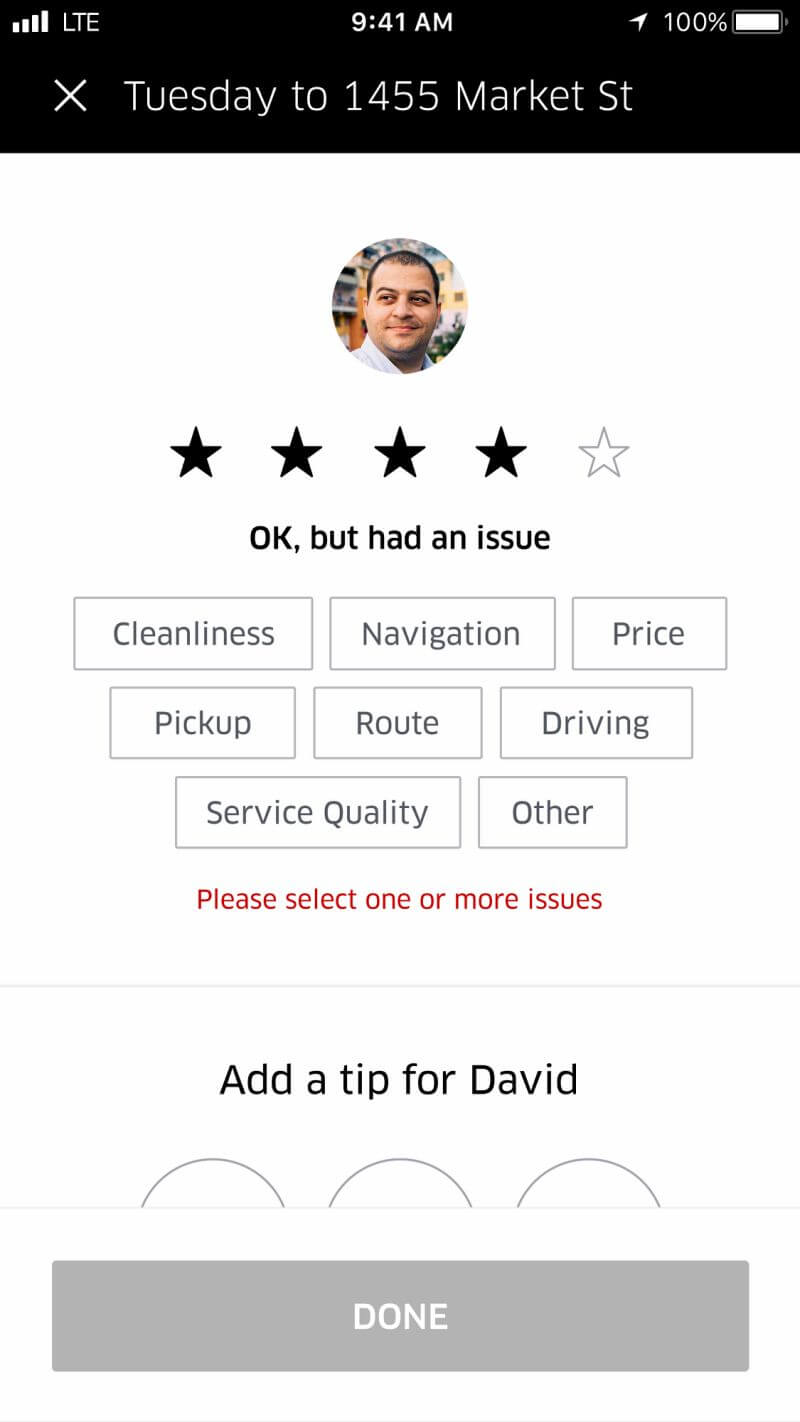 Rating and Review System
There are several Taxi service providers where some are private companies and other are individuals taxi drivers. Such companies and drivers don't follow any guidelines and rules. This situation creates an unorganized cab market where customer are unsatisfied. But Uber Rating system has the ability to measure performance of drivers on the roads. To further enhance this accountability system, the company should introduce separate rating system for drivers, price changed etc.
Driver-less Technology
At the same time, driverless cars on the road is a huge opportunity and challenge for Uber Technologies. If the company is able to bring safe and reliable self-driving experience to its customers, it will make Uber more profitable and advanced technology company is the world. Investors have already shown interest where Toyota, Denso and SoftBank's vision fund have invested $1 billion. The company has already received $500 million from Toyota in August 2018.
Business Expansion to other Modes of Transport
As a Tech company, Uber is offering several services like Uber Eats, Uber Bike and Uber Health. To expand its mode of transport services Uber has many alternative options, for example, Ambulance services, School Van Services. Since Uber is operating in more than 700 cities it can also offer tourism services. In populated and developing countries general bus service can also be considered a good opportunity for Uber Technologies.
Uber Threats – External Factors
Fierce Competition
Uber is facing strong competition from companies like OLA, DIDI and Lyft. The increased competition in the long run can also lead to lowering the industry rates. On the other hand, when competition increases, customers and employees retention is turn to be a difficult task for Uber. This can affect profitability and the market share of Uber in the ride-hailing industry.
Drivers Low Profit Margin
According to Uber's initial public offering, it will make people very rich excluding its workforce (drivers). Uber App is trying to provide maximum number of rides to drivers but the drivers are facing low profit margin. This will affect the overall quality of services by the drivers which will lead to dissatisfied customers. As a result, customer have several options to switch to service providers like OLA, Taxi and lyft or individual cabs.
Data Breach
Uber records customers' personal information, their pick up and dropping locations. It is the legal responsibility of Uber to protect customers and drivers data from misuse and theft. Uber fined £385,000 for data breach happened in 2016 which affect more than 3 million users.
Legal Regulations and Lawsuits
Complying with legal regulations of the countries and territories where Uber operating is a challenging task for Uber. For example In Texas disabled people filed a complaint against Lyft and Uber due to their cars are not wheelchair friendly. According to Americans with Disabilities Act (ADA) taxi service providers must have vehicles that can accommodate wheel chairs. Another lawsuit of US$650 million is facing by Uber filed by London cab drivers.