What is Video Marketing
It is said that a picture worth a thousand words. Now imagine the worth of a video, it would be a million times more. Moving images and interactive clips are an excellent source of video marketing strategy.
However, the purpose of video marketing is to build a friendly connection with your targeting market to promote your brand, product or service. It can also perform other functions like education, guide, motivational help, or entertainment.
Why Video Marketing Matters
We live in the world of internet and social media. However, the videos aren't just limited to the videos of TV, movies, and shows. The concept of video marketing has become so broadened that it includes everything starting from YouTube's short clips to Facebook and tiktok's voice over videos. These videos could be taken from number devices that may vary from user to user; android, apple's iPhone, Tablet, window phones, etc.
According to a study, 82% of the internet traffic is going to be comprised of videos by the end of 2020; which is 15 times higher than in 2017. Some of the other important statistics of video marketing are as follows;
In 2018
The demographic ranging from the age of 24-34 watched 85% of the video content over the internet on different devices in the USA. The same study reported that Adult men spent 40% more time watching videos than adult women.
A Nielsen case study commissioned by Google
The 27% of the new generation aren't among the regular television watchers and the demographic from the age 17-49 considers themselves ''light'' when it comes to TV. Nielsen also said that people with WiFi internet connections are 64% watch more live streaming than on mobile data connection. This number has increased by 17% since last year.
Forrester Research
While contrasting words with videos; it said that watching one minute of video is worth reading 1.8 million words.
Key Benefits of Video Marketing
We have discussed the importance of video marketing so far; now the question is how it benefits our business. Some of the important benefits of video marketing are as follows.
Conversion Rate
According to the HubSpot's analysis that videos are a great investment opportunity, if it conveys exactly the right message to the right audience at the right time, then it can increase the chances of sales up to 80%. If you compare videos with written ads, then videos focus on the emotions of people and emotions create desires among customers. Once customers are emotionally attached to something, then they will desire it.
Build Trust and Credibility
Videos give a personal touch to the product or service which is being offered because seeing the product live helps them to visualize it in their mind. They imagine how it would feel to use it. This personal touch helps them to trust the brand. If you can't see it, which means you can't trust them.
According to a research study, 90% of the customers say that it's the videos that help them to decide whether to buy the product or not.
Video is the Best Practice for SEO
If the video is engaging, captioned it right and people are viewing it more, then search engine notices this pattern and increase the ranking of it in the searches. As we know, YouTube is the second top search engine after Google, if your video is well organized plus website name is mentioned and people are sharing on different social media websites. Then it's highly probable, that the video would appear in the top searches of Google.
Video Increase Social Shares
Let's face the fact; if your video is interesting, then people would share it in their social circles. That's how videos go viral, it could be a cooking video, how-to video, puppy dog video or Facebook live streaming video. Anything which brings more views to your video falls in this category.
If an ad of a product is funny, then people would share it with their friends to have a good laughter. In other words, more sales.
Video is Effective & Emotional
Having said earlier that the emotional element is an effective part of a video to create a desire among viewers; if the background music and expressions are well attached to it, then desire creation is almost certain.
Comparing it with only reading text, a video can invoke more emotions among the targeted audience.
Types of Marketing Videos
When we talk about video marketing, then there are various types of videos of different categories representing each niche. You can't be master in all the categories, choose one niche and start making it. Some of the important types of videos are as follows;
Demo Videos. Demo videos are like a user guide video about the product or service that how a particular product would work. It is like opening up a box and showing the physical product to the customers.
Brand Videos. Brand videos are usually a part of the advertising campaign of bigger companies who want to promote their brand by telling people about their mission, purpose and how they are going to serve their customers.
Event Videos. As the name implies event videos are about the coverage or the presentation of a particular event, it could be the conference, interviews, or a fundraising event. There is always an event in the event videos.
Expert Interviews. Experts of different fields are invited to discuss a certain pre-decided topic to target certain people. It could be the one on one interview, or the panel discussion and debate.
Educational Videos. Educational videos are comprised of teaching and educating your audience about the knowledge of certain fields. These videos can also be sold if the content is worth watching and listening to it.
Animated Videos. Sometimes the content of certain fields is very difficult to understand, therefore, cartoon characters or portraits are used to make the concept simpler and easier to understand.
Vlog. Vlog is the short form of ''video blogging,'' it's the latest development and addition in the field of blogging. Vloggers make videos on a certain niche and post it on their vlog.
Tutorials. Tutorials or how-to videos is a step by step complete guide of using a certain product or service, tutorial videos are usually comprised of a series of videos. They also teach their audience about different features and functions of the product and how they can use it.
Webinars. It is the event, seminar or conference which is conducted over the internet; webinars are usually live and open for everyone. Since companies launch webinars over the internet, everyone can join it from everywhere.
Customer Testimonial Videos. Customer testimonial videos are like reviews and recommendations from satisfied customers, but they are in the video format. Short video clips from some users of the product or service, how was their experience when they used a certain product.
Live Videos. Most of the social media platforms offer live streaming video online, they're usually very effective. The purpose of live videos is to show your targeting market about the transparency of your product and brand. Secondly, live videos are very engaging.
Trending Videos. Also known as breaking news videos are almost of the same type where the company's news is broken out in the form of a video interview or a simple video message. These are among the top-ranking videos in the searches. An important event happening somewhere or something tragic or unknown happens anywhere, then it becomes a great opportunity to jump in the conversation.
How to Create a Video Marketing Strategy
Now, the most obvious question which comes to our mind is how we can create an effective video marketing strategy which would deliver us the desired results. However, when we talk video marketing strategy, it is a step by step process; the following are the steps;
Understand Your Audience
First of all, create your audience avatar. Audience avatar means that you must know your audience, for instance, their age, choices, financial background, their likes and dislike ness, their attitude and behavior.
Now, the question is what's the point of knowing all of this? The better you know your audience, the better you'll plan. By knowing I mean the niche which you're going to focus, the audience of your target market.
Determine Your Goals
Once you know your target audience, the next step is to determine your goals for the videos.
For instance, you're planning to make videos on cricket. Your target market is young males' cricket lover. Now, you draw your goal is to make them watch your videos whenever you upload some new video. The question is how'd you know that they would watch your videos? You've to provide the answers to what they are looking for.
Allocate Resources
Your goals are all set; the next step is to allocate your resources to execute your goals. Now, the resource allocations vary from video to video, because different types of videos require different resources.
For instance, travel videos require transportation, camera crew, and video editor. Research and case study videos require a researcher and skilled editor. Sports videos require sports analyst, sports researcher, camera crew and a team of editors if you're planning to go for live video telecast.
Outline Your Video Plan
After the allocation of resources, the next step is to plan your video according to resource allocation. If your resources are less, then look for an economical way to achieve your execute your videos plan.
For instance, if you're planning for travel video with fewer resources; then you choose public transport instead of personal transport. Personal customized transport is a luxury that you can't afford at the moment.
If you're creating research case study videos, outlining of video plans would be completely different.
Develop Your Video
The recording of video is completed at this stage; the 2nd last step is to edit your videos before publishing it. Different things are noticed in different types of videos.
For instance, audio plus video has to match and it should audible clearly if it's a discussion and an interview video.
For a travel video, zoom in and out of different clips, background music should be matched with the location and scenery of the place.
Publish Your Video
Once the editing is done, the final step is to publish your video. Description of the video should briefly describe the content the way it is, the title of the video should be catchy and attractive that it should attract the attention of the people.
Most importantly, title and description should be written in a way that the video should be found easily in the searches.
Analyze the Metrics
After publishing the video keep on checking the metrics of the video campaign. Whether it's delivering the required result or not, if it does not provide the desired result; then check for the metrics what the video lacks. You have to check whether it is targeting the right audience, the right message is being perceived by the audience, easily found in the searches or not. Metrics would provide you the analytics of the video, and those analytics would help you to avoid mistakes in the future.
Examples for Marketing Videos
In the era of digitalization, video is becoming so popular. Here you will notice several examples of marketing videos.
Leadership Videos
Leadership videos are the type of videos of experts in a particular niche; these experts in their leadership videos solve different problems. Or tell their audience a new way to use things, there is always something new in their content. That people wait for their next videos.
Randy Fishkin, CEO and founder of MOZ, in his weekly series of ''Whitboard Friday,'' he teaches his viewers search engine optimization (SEO) in unique manner.
There are many other examples of leader videos on YouTube, different types of series videos fall in this category.
Demo Videos
Demo videos are the short form of tutorial videos, whenever a new product or service is launched by a company. They start with the demo video of their product that how it works; key features and highlights are mentioned in the video.
The most common example of the demo video is ''FTP Today'' for the audience of the medical field; it provides easy software instructions that how people can use the service to meet with the compliance of HIPPA.
Paid Advertising Videos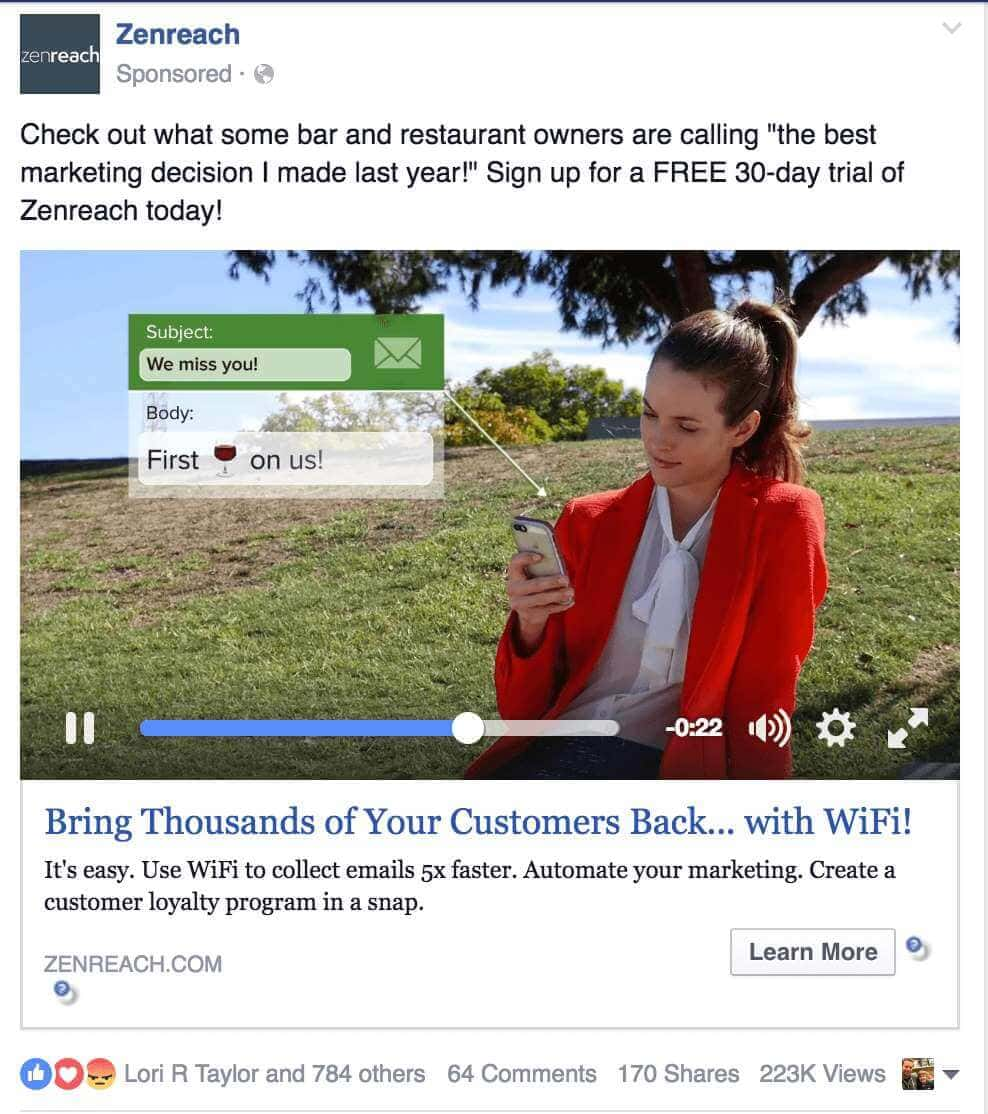 Facebook is a great source for paid advertising which gives you the option of advertising your video exactly to the target market that you want. If marketing managers are able to use facebook advertising well, then they deliver a very effective result.
Perhaps you've observed that Facebook videos start playing without the audio while scrolling up; how the video would convey its message. Zenreach came up with the counter technique of using captions within the video, textual images keep on appearing in the video. If it starts playing without the audio, captions and text will convey the message of the video.