Netflix has evolved to become the world's leading subscription streaming service. Boasting over 238 million members across 190+ countries, it offers an unrivaled selection of films, TV series, and original productions in multiple languages.
Originally founded in 1997 as a DVD-by-mail rental service, Netflix pivoted to online streaming in 2007. This proved a masterstroke, allowing convenient on-demand access. By boldly focusing on exclusive content, Netflix now houses over 50% of original programming in the US.
Through constant innovation and understanding of user needs, Netflix maintains its advantage. The company's meteoric rise from DVD rentals to a dominant streaming force is a testament to the visionary leadership of Reed Hastings and Marc Randolph.
Who owns Netflix?
Being a publicly traded company, Netflix's ownership is shared among many Individuals and institutional investors, with no single entity owning it completely.
Who Created Netflix?
Netflix began as the brainchild of Reed Hastings and Marc Randolph in 1997. Their novel idea? A DVD rental service that delivers movies straight to people's homes. For many millennials, getting those iconic red envelopes was a childhood ritual.
It took a decade for both visionaries to go completely upstream. Since launching the service in 2007, Netflix has transformed the way we consume entertainment. The rest is history, as online streaming led to rapid growth in subscribers. Today, Netflix dominates the sector it helped create.
We have Hastings and Randolph to thank for this innovation that forever changed the way entertainment was viewed.
Since there is no single entity that owns Netflix, we will go into great detail about its major shareholders.
Reed Hastings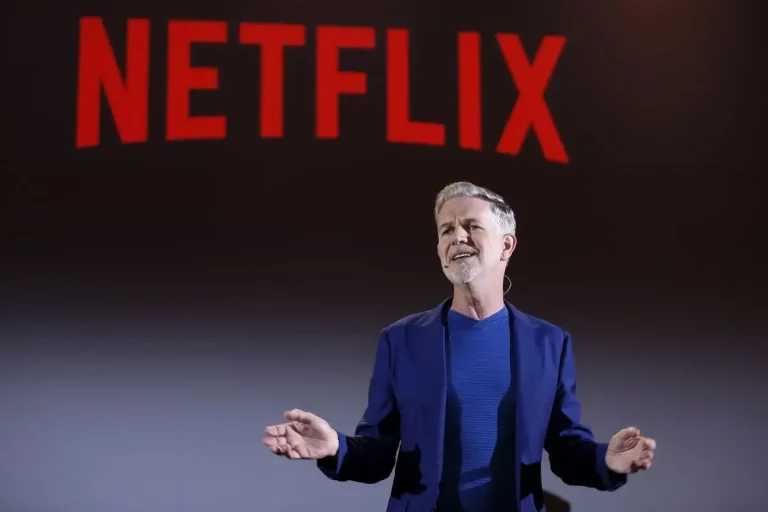 Reed Hastings stands out as the pioneering founder of Netflix, the service that upended entertainment. After co-launching Netflix in 1997 as a DVD rental business, Hastings spearheaded the company's successful transition into streaming in 2007. This disruptive move redefined how the world watches movies and shows.
Today, Hastings serves as Chairman of Netflix's Board of Directors after stepping back from the co-CEO role in 2023. He entrusted leadership to new co-CEOs Ted Sarandos and Greg Peters. Despite this, Hastings' vision still charts Netflix's course, as he retains 2% ownership. His astute decisions have earned Hastings an estimated net worth of $2 billion.
Interestingly, Hastings never expected to revolutionize entertainment when he started out. His background was in software engineering and math. But by recognizing shifting consumer preferences early on, Hastings was able to transition Netflix from mailing DVDs to households into the ubiquitous streaming platform it is today. His willingness to cannibalize the old business model in favor of streaming was a watershed moment in tech history.
Marc Randolph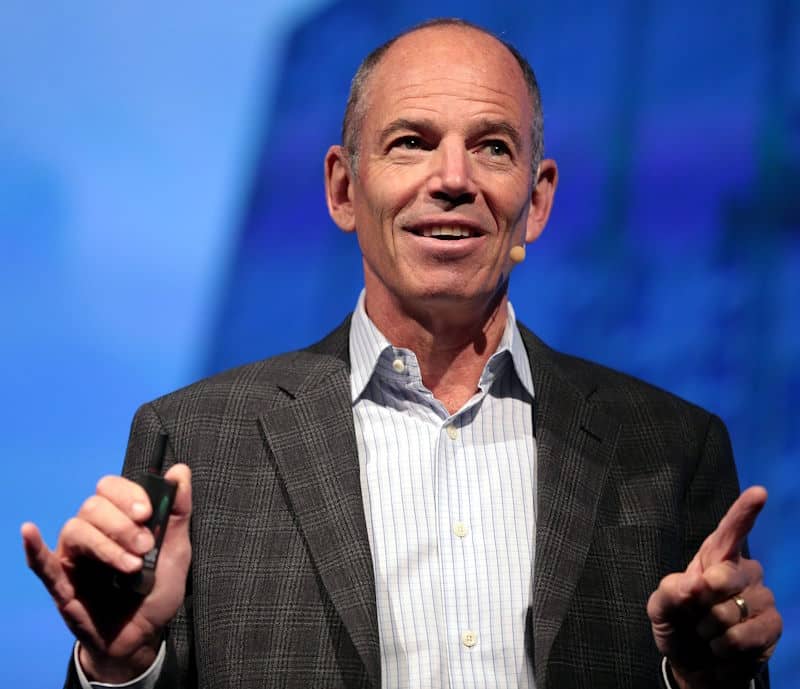 As co-founder of Netflix, Marc Randolph was instrumental in pioneering the DVD rental model that launched the company. Though less visible than Hastings, Randolph still owned 4% of shares pre-IPO.
He served on Netflix's board, providing strategic guidance during the critical late 1990s and early 2000s period.
Randolph's foresight helped Netflix gain traction and ultimately dethrone retail rental giant Blockbuster.
Though no longer involved daily, Randolph is an integral insider shareholder thanks to his co-founding role and shares accumulated in Netflix's early days. His initial vision to rent DVDs by mail disrupted an industry and laid the foundation for Netflix's future streaming innovation under Hastings.
David Hyman
As Netflix's first CFO, David Hyman was critical to getting the company off the ground financially. He built key operations like DVD subscription payments and logistics that fueled growth.
Hyman likely acquired over 50,000 shares during his 2000–2003 CFO tenure, based on SEC filings.
Though his shares represent just a tiny fraction of the overall stock, Hyman remains an insider shareholder.
As General Counsel since 2002, David Hyman masterfully steers Netflix's legal strategy and regulatory compliance. His guidance enables Netflix to ethically navigate complex governance while expanding globally. Hyman's oversight of all legal affairs and public policy initiatives proves critical to Netflix's continued success and growth.
Leslie Kilgore
As Netflix's first marketing executive, Leslie Kilgore played an instrumental role in the company's early days. She led branding and promotion as VP of Marketing from 2000 to 2005, helping scale Netflix's DVD-by-mail subscribers during the critical growth years.
With her marketing moxie, Kilgore likely acquired quite a few shares (almost 35,000) and options during her tenure. Even though she's no longer in the trenches at Netflix, I'd bet Kilgore retains insider status thanks to those early share rewards.
While Hastings and Randolph get more of the glory, savvy marketers like Kilgore have built the Netflix brand brick by brick. Her pioneering work in the DVD era laid vital groundwork for the rise of streaming. Even now, Kilgore remains an insider shareholder because of her vision back in Netflix's formative years.
Greg Peters
Greg Peters has quietly become one of Netflix's most influential insiders. He joined back in 2008, as the streaming wars were heating up. With his analytical chops, Peters quickly rose through the ranks, tackling roles from product to business operations.
Over the course of a decade, navigating Netflix's key growth years likely earned Peters a sizable personal stake. Though details are scarce, he's now co-CEO alongside founder Reed Hastings, so his shares could be substantial.
With Hastings providing big-picture vision and Peters bringing analytics expertise, they're a dynamic duo leading Netflix's next chapter. Peters' journey from employee to co-CEO cements him as an insider-shaping strategy. When Hastings eventually steps back, Peters seems poised to take the helm thanks to his diverse experience across multiple domains. He'll be steering Netflix into the future.
Institutional investors
While Netflix lacks a single owner, it's backed by some heavyweight institutional investors. These big fund companies hold the largest stakes:
Vanguard packs a powerful punch with over 22 million shares, making it the largest institutional owner. The investment giant has been ramping up its position as Netflix disrupts Hollywood.
BlackRock isn't far behind, boasting ownership of over 19 million shares. As the world's biggest asset manager, they recognize Netflix's immense growth potential.
Capital Group stakes round out the top three institutional holders with over 14 million shares. The investment advisor began snapping up shares after Netflix's successful streaming transition.
Other major holders include Fidelity Investments, SSgA Funds Management, and T. Rowe Price, each with multi-million-share positions.
These savvy institutions invest billions in Netflix, backing its strategy. Their substantial stakes signal confidence in Netflix's continued ascent. Even as leadership changes, Netflix relies on marquee institutions to provide the capital fueling innovation. Their investments empower Netflix to aggressively pursue new opportunities.
Netflix Key Highlights
Founded in 1997 by Reed Hastings and Marc Randolph as a DVD rental by mail service
Pivoted to online streaming in 2007, disrupting the entertainment industry.
Now the world's leading subscription streaming service, with over 200 million members globally
Offers a vast on-demand library of TV shows, movies, documentaries, and original programming.
Produces acclaimed original content like Stranger Things, The Crown, and Bridgerton.
Moved to a subscription model in 1999, abandoning the traditional rental model.
Went public on NASDAQ in 2002 under the ticker NFLX.
Headquarters are in Los Gatos, California, with over 12,800 employees (2022).
CEOs are founders Reed Hastings and Ted Sarandos.
Market cap over $180 billion, with stock splits multiple times.
Top investors include Vanguard, BlackRock, and Fidelity.
Revenue was over $31 billion in 2022, with net income exceeding $4.49 billion
Final Thoughts: Who Owns Netflix?
Unlike private companies, Netflix lacks a single owner due to its public status. But this distribution of ownership enabled immense success. With backing from institutional titans like Vanguard and BlackRock and visionary insiders like Reed Hastings, Netflix capitalized on collective contributions. No one entity could have solely financed Netflix's meteoric growth. It took an entire community of investors to join forces. Together, their funding fueled monumental leaps from DVDs by mail to pioneering streaming.
Now a media leader, Netflix confirms that innovation flourishes through diverse ownership, powering possibility. Its revolution stands as a testament to shared belief and boundless potential.