PepsiCo, commonly known as Pepsi, is one of the largest foods, snacks and beverages brands that operate globally. With its headquarters in New York, the brand currently spans across 200+ countries, earning a net revenue of $64.66 billion (2018). Its top competitors are brands such as Coca Cola, Nestle, etc.
Below presented is the Pepsico SWOT Analysis strengths, weaknesses, opportunities, and threats as of 2019.
Pepsico Strengths
Brand Portfolio
The biggest strength of the company lies in the ability of its multinational branding. Pepsi has been termed as the company of the youth due to its capability to direct great advertisements. Forbes has listed it as one of the top 30 most influential brands in the world and the company has also been rising up on this chart. It currently holds 22 brands that span the food and beverages sector, and it total net worth makes it the second largest beverage brand in the world.
Pepsico has 22 billion dollar brands and each brand generated $1 billion or more retail sales in the financial year 2018. These 22 brands include;
Sparkling Brands. Pepsi, Diet Pepsi, Pepsi Max, Mountain Dew, Diet Mountain Dew, 7 Up, Mirinda
Still Brands. Gatorade, Tropicana, Aquafina, Lipton, Brisk, Starbucks RTD Beverage
Food Brands. Quaker, Lay's, Walkers, Doritos, Ruffles, Fritos, Cheetos, Tostitos
Most commonly Pepsi is known for carbonated drinks but in the above 22 billion dollar brands only 8 are carbonated brands. Out of 22, 6 brands include in still brands and remaining 8 brands Food brands. Pepsico is offering a huge versatility of beverages and snacks to satisfy consumer needs.
Brand Recognition
Due to its overwhelming presence in the international market, Pepsi can be easily recognized by almost every consumer in the market. In the Indian market itself the brand hosted two of its beverages in the list of top 5 beverages sold in the previous year. Pepsi and its subsidiary brands are amongst the most sold products all over the world. Since the brand does face stiff competition, its high brand recognition level keeps the company ahead of brands such as Coca Cola.
Pepsi is operating with divisions and below is the Pepsico's revenue by Division.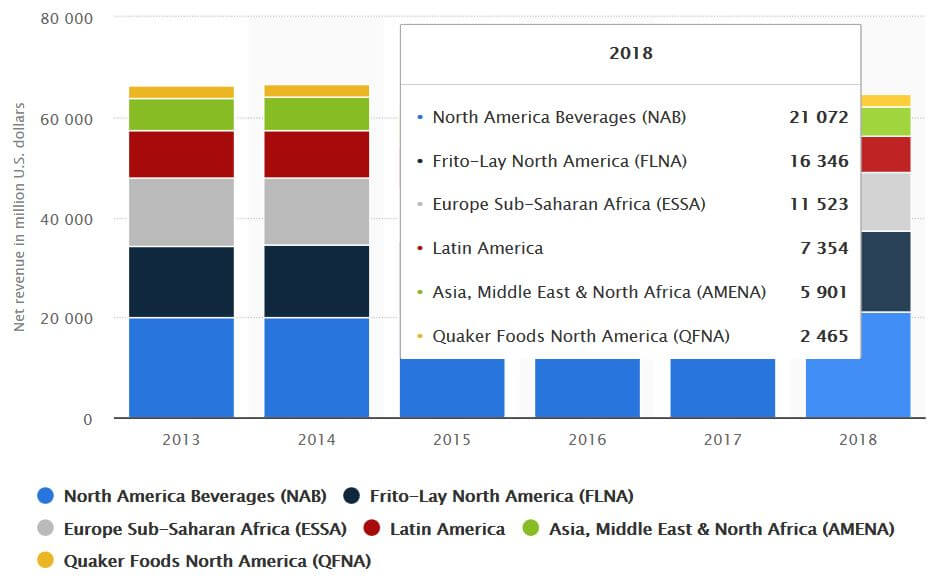 Sports Marketing
Pepsi has been successful in branding itself alongside major sports events such as cricket, soccer, etc. It continues to fund some of the biggest teams and also actively uses sports personalities as brand ambassadors. This is one of the primary reasons why it has been able to stay relevant in the market without having to diversify its product range. In countries such as India cricket is closely associated with the Pepsi brand.
Strong Distribution Network
Whether it be global presence or a strong supply chain network, PepsiCo can boast of both. Its ability to ensure that its products reach across every end of the world is truly one of the most solid strengths.
Pepsico Weaknesses
Health Conscious Consumers
A huge part of the revenue of PepsiCo is dependent on its carbonated beverages and chips. However, these are products that are not necessarily healthy and over consumption of such products can lead to health problems. And since the current market is becoming overtly conscious about the health factor in their foods, the sale of such products has taken a drop. The continuous dependency on a few products to earn large amount of the revenue is one of the main weaknesses of the brand.
Limited Business Portfolio
While the brand has fared quite well in terms of the market it serves, its limited business capability within the food and beverages sphere may be quite harmful in the long run. Especially since it's certain products are losing market value due to various reasons.
Failed Products
Pepsi has launched many products that have hurt the brand image. Variations of the original Pepsi drink such as Pepsi Gold, Pepsi Blue, and Crystal Pepsi have all been deemed failures. The brand has undertaken many such endeavors that have resulted in loss of revenue.
Sole Focus on Food Industry
Product diversification is the need of the hour for the company and this needs to happen outside the food industry. If Pepsi continues to operate solely within the food industry it risks losing a lot of revenue to competitor brands that produce healthy products.
Pepsico Opportunities
Product Diversification
PepsiCo has a total of 22 brands under it serving various products such as sodas, energy drinks, chips, fruity beverages, etc. However, all these 22 brands are concentrated within a singular industry. Many a times its subsidiary brands are competing against each other. If Pepsi was to diversify its products into other markets such as clothing, sports equipment, etc., it will be able to achieve a much better state of market stability than its condition right now. It can also choose to diversify itself within the food and beverages market as well by introducing healthier products.
Alliances and Partnerships
The brand has already entered into a partnership with Nestle and Starbucks whereby a revenue share will allow PepsiCo to sell its products in said outlets. If the brand carries on such business partnerships with other brands across the world, the results may turn out to be highly favorable in the long run.
Addition of Flavors
Pepsi has always tried releasing new flavors to bring in more customers; however most of these flavors have not favored their endeavors. They can perhaps try fruit based flavors in their carbonated drinks section in order to draw more consumers.
Pepsico Threats
Stiff Competition
The food and beverages market is a highly competitive one, and its primary market rival, Coca Cola is a force to be reckoned with. Both the brands have identical product portfolios and also apply similar marketing strategies. As a result, PepsiCo is required to spend a huge amount in advertising so that their rivals do not overtake them.
Economic Recession
The current global market is showing strong signs of recession, and as a result people are less likely to buy luxurious products such as carbonated drinks, chips, etc. If a full-fledged recession was to actually hit the market, then the brand would suffer insurmountable losses. And since its products are concentrated in a single market, they are always more likely to be hit by recession than ones who are in different markets.
Government Laws and Regulations
Since the product range of PepsiCo is not exactly a health conscious one, various laws and regulations might require the brand to change the composition of the products. Added to this is the tax factor in various countries due to which the price of their products may be deemed higher. Once again the result of such a scenario is the fact that their products are less likely to be bought in a recession scenario.